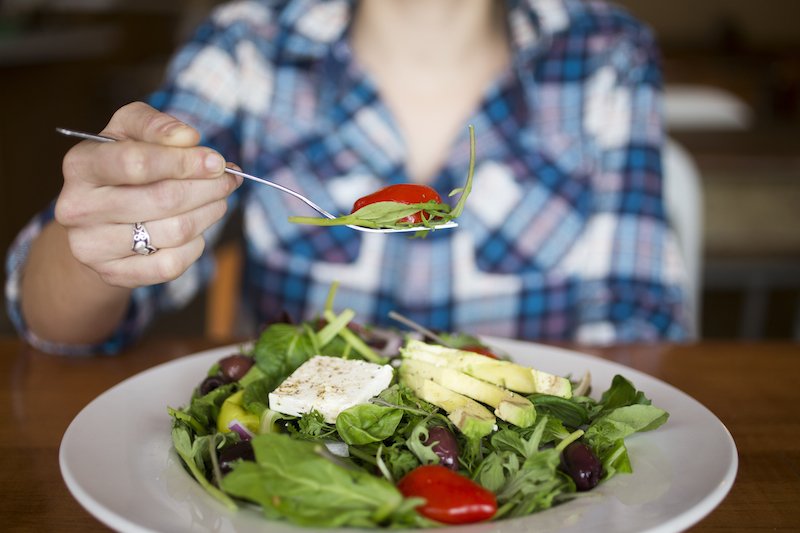 When the new year began, we knew many would turn to diets to aid their resolutions of losing weight or changing their lifestyle in 2015. But dining out on a diet can be difficult.
"Going out to eat doesn't have to be a diet buster at all," says Betsy Day, University of Arkansas for Medical Sciences clinical manager and registered dietitian. "The most important thing is to be aware and be educated, and, if you know in advance where you are going, to do some research."
Day encourages researching prospective restaurants before dining and asking your server questions about food preparation and presentation.
"Most restaurants have nutritional information, or you can get access to national information by looking at their menu," she says. "Just eat wisely. Split an entree with someone. Eat a salad or an appetizer. Most entrees you get at Macaroni Grill or Olive Garden are going to be 700 or 800 calories. That would be your total caloric intake for the day, not just one meal."
She adds that she doesn't endorse any of the diets on our list because they all are "too restrictive." Dietitians generally endorse a regimen of eating a balanced diet that includes all the nutrients the body needs, along with exercise.
We recognize that fad diets remain popular, so we want to help. We picked five popular diets — paleo, gluten-free, vegan, keto and raw food — and our staff chose five dishes from metro restaurants that adhere to the principles of each diet. So, you can still enjoy dining out while sticking to your nutritional requirements. We also asked Day her professional opinion on each diet.
Only three of the Sync-chosen diets made U.S. News and World Report's Best Diets Overall list for this year. Of the 34 diets included, vegan checked in at 19, followed by raw food at 32 and paleo at 34.
*Note: Sync staff, not a dietitian, chose the following dishes. Ask questions when ordering to make sure dishes are prepared in a way that won't compromise your diet.
Gluten-free
This diet excludes the protein gluten that can be found in grains such as wheat, barley, rye and triticale, a cross of rye and wheat.
Day does not encourage this diet for anyone unless they have celiac disease or an allergic reaction to wheat. However, if you are following this plan, there are plenty of options, as there is a trend among restaurants to cater to a gluten-free lifestyle.
Both stores and restaurants are on board with providing gluten-free options. "I bought a bag of that 15-bean soup at Kroger, and their tag line was 'gluten-free,'" Day says.
Everything on the menu at Dempsey Bakery
323 Cross St., dempseybakery.com
For the gluten-free set, Dempsey's is an essential stop. Both a store and a cafe, this downtown spot has been churning out gluten-free baked goods since 2011. A daily lunch lineup includes soups and sandwiches, or you can stock up on take-home favorites such as cookies, brownies, cakes, breads, pizza dough, rolls and more.
Strip steak at Ya Ya's Euro Bistro
17711 Chenal Parkway, yayasarkansas.com
Ya Ya's makes it easy for gluten-free diners by marking dishes on the menu with a "GF" tag if they meet dietary requirements. While options such as steak and vegetables are often good for people avoiding gluten, flour in sauces can be a hidden danger. This steak with bacon and Brussels sprouts passes the test with no added grains.
Local Carnitas at Local Lime
17809 Chenal Parkway, locallimetaco.com
Like Ya Ya's, this Promenade restaurant marks its gluten-free options on the menu. Among them are the local carnitas, tacos with a mix of roasted pork, pickled onion, cheese, red pepper creme and cilantro served on corn tortillas rather than flour. Local Lime's cilantro lime rice, jicama-jalapeno slaw, black beans and pickled vegetables sides are also all suitable for gluten-free eaters.
Gluten-free pizza at Mellow Mushroom
16103 Chenal Parkway, mellowmushroom.com
This Georgia-based pizza chain lets gluten-free dieters get in on the pizza action by offering a handful of 12-inch pizzas served on gluten-free crusts made of beans, rice and tapioca flour. Options include the Mighty Meaty with mozzarella, pepperoni, sausage, ground beef, ham and bacon or the Kosmic Karma with mozzarella, sun-dried tomatoes, spinach, feta, fresh tomatoes and pesto.
Chargrilled lamb at Taziki's
Multiple locations, tazikiscafe.com
Taziki's makes it pretty easy for gluten-free diners: With the exception of desserts, pasta dishes and breads, everything on the menu is gluten-free. That includes most of its "Taziki's Feasts" such as the grilled lamb with skordalia, a garlic-based puree.
Raw food
The premise behind this approach is that cooking fruits and vegetables can destroy nutrients and natural enzymes that help the digestion. According to the U.S. News and World Report's overview of the diet, foods may be heated but never above 115 degrees Fahrenheit. Many raw-food dieters are vegan, but some choose to include raw meats and fish.
"I think it is a misnomer," Day says. "If I am going to cook green beans and cook them until they are brown, you have probably eliminated some of the vitamins and minerals that are found in fresh green beans. I don't think cooking them until they are crisp, tender is negating all of the health benefits."
Day also adds, "It would be really hard to eat at a local restaurant. [The diet] would pretty much limit you to a salad."
Various dishes at That's So Raw
423 Dupree in Jacksonville, thatssoraw.org
That's So Raw specializes in "raw vegan and vegan wellness catering," its website says. Much of its offerings, including mains, snacks and desserts, are plant-based and raw, but there are some cooked menu items, as well. It also offers personalized meal plans, catering and cooking classes.
Trio sashimi at Sushi Cafe
5823 Kavanaugh Blvd., sushicaferocks.com
While many who are on a raw-food diet are vegan, others are not. For nonvegan raw-food dieters, sashimi is a great high-protein option. Sushi Cafe's trio sashimi includes tuna, salmon and white tuna.
Frutas salad at Cafe Bossa Nova
2701 Kavanaugh Blvd., Suite 105, cafebossanova.com
A colorful plate of fresh fruit is a raw dieter's dream. Cafe Bossa Nova's frutas salad comes with Fuji apples, oranges, pineapple, mango, blueberries and papaya, and small and large versions are available. The optional gooseberry syrup is not raw, so opt out.
Ceviche rosada at The Fold
3501 Old Cantrell Hill Road, thefoldlr.com
Ceviche is another nonvegan option for those on a raw-food diet. The Fold's ceviche rosada is a dish of tuna, mango, jalapeno, red onion, avocado and orange. Opting out of the tortilla chips that it comes with will keep the meal raw. While the citrus marinade changes raw fish's proteins, it is considered denaturation, not cooking.
Create-your-own salad at ZaZa Fine Salad & Wood Oven Pizza Co.
5600 Kavanaugh Blvd., zazapizzaandsalad.com
Known for its signature salads, ZaZa also offers an assortment of veggies and fruits to toss in with the greens. Choose spinach, romaine or a spring mix, and then a handful of raw toppings — cucumber, peppers, carrots, avocado, strawberries, basil, cilantro and more. A squeeze of lemon in place of dressing will keep your salad raw.
Vegan
The vegan diet falls under a vegetarian diet but excludes all animal products or byproducts such as eggs, dairy and honey. It is also vegan practice to avoid leather, fur, silk, wool, cosmetics, soaps or other products made from animals.
"I like that it is plant-based, but it is restrictive," Day says, "and you can't have meat or dairy products, and sometimes that is challenging when you are eating out because you eat a vegetarian soup, but maybe they are using chicken broth. Most restaurants are going to be able to serve vegetables that are not prepared with meat products, but you need to know how things are prepared so there is no cross contamination. Are they cooking your veggie burger on the same grill they are cooking a regular burger on? It's about asking questions and doing your research."
Tofu Scrambler at The Root Cafe
1500 Main St., therootcafe.com
Stop by The Root for a vegan meal to start your day. Its tofu scrambler dish on the breakfast menu seasons tofu with turmeric and nutritional yeast and scrambles in peppers and grilled onions. The side of a small salad adds extra veggies.
Various dishes at Rosalia's Family Bakery
2701 Kavanaugh Blvd., Suite 101, cafebossanova.com/rosalias-bakery
This bakery is next door to and owned by the same team behind Brazilian-inspired spot Cafe Bossa Nova. Stop by for lunch for a vegan calzone — filled with hearts of palm, spinach and red bell peppers — or a coxinha, which is a deep-fried fritter. The bakery also supplies sweets such as chocolate cake, carrot cake and cupcakes.
Hot tamale platter at Izzy's
5601 Ranch Drive, izzyslittlerock.com
Izzy's offers menus for various diets, and the vegan menu includes an order of two large tamales. The handmade tamales are rolled in corn shucks and can be topped with salsa. A side of corn chips gives the dish a change of texture.
Various dishes at The Veg
400 President Clinton Ave., facebook.com/theveglr
Located in the River Market, The Veg is a downtown Little Rock spot for many vegans. The Veg also aims to use locally produced foods as much as possible. Try the chickpea salad sandwich or vegan pulled barbecue sandwich, and end your trip with a bit of vegan strawberry shortcake.
Korean bibim bop tofu, Lilly's Dim Sum Then Some
11121 N. Rodney Parham Road, lillysdimsum.net
This dish at vegan-friendly restaurant Lilly's Dim Sum Then Some combines tofu and mixed vegetables stirfried in a spicy chili and soy sauce, and it is served over brown rice. Egg also comes with this meal, but the staff will be glad to omit it for you.
Ketogenic (Keto)
Keto is a high-fat, low-carbohydrate diet. The program is similar to the Atkins diet, a low-carb plan that was first introduced in 1972 and grew more popular in the early 2000s. Of the five diets, Day says keto could be the worst because of its focus on fatty meats.
"I can't advocate it because of the limiting of carbohydrates," she says. "You can't tell me eating a pound of bacon is healthier than eating half of a turkey sandwich on whole-wheat bread. Increasing saturated fats and cholesterol, and you are eliminating the health benefits of whole grains and other carbohydrates and fruits that are very, very helpful."
Adhering to this diet while eating out won't be hard if you stick with meat and loose the bun on burgers.
Petit Jean bacon and avocado burger at Big Orange
multiple locations, bigorangeburger.com
Finally, a diet that actually encourages a bacon burger! You'll want to hold the bun and cheese, but the trio of bacon, beef and avocado is perfect for keto dieters. If the mayo is full-fat, it's fine to keep. Lettuce is relatively low-carb, but ditch the tomato, which, as a fruit, has a bit more sugar than you want.
Grilled salmon fillet at Flying Fish
511 President Clinton Ave., flyingfishinthe.net
Oily fish is a great source of fat. But the grilled salmon here comes with beans and rice, in addition to grilled vegetables (usually squash and zucchini), so ask if you can substitute a side of spinach for the starches. Low-carb veggies such as leafy greens, squash and asparagus are fine in moderation, while root vegetables and corn are absolutely off-limits.
Steak & eggs at Red Door
3701 Old Cantrell Road, reddoorrestaurant.net
Dining out for brunch on a keto diet is easy enough, given that you stick to eggs and meats. Since this dish comes with potatoes and bread, ask if you can hold the carbs and order a side of country ham, spicy Italian sausage or grilled Angus tenderloin medallions, instead.
Old world style brat at The Root Cafe
1500 Main St., therootcafe.com
The pasture-raised brats at The Root are high in fat, which is key, and topped with house mayo (full-fat since it's made in-house), Dijon mustard and homemade sauerkraut — cabbage is a low-carb vegetable, so the dish gets keto points there, too. Of course, don't forget to hold the bun.
The Pantry's board at The Pantry
multiple locations, littlerockpantry.com
The charcuterie board at The Pantry includes smoked turkey, pork rillette, pate, country terrine, bratwurst, cheese, bread and mustard — which is all high-fat, low-carb and great for a keto diet except for, you guessed it, the bread. Pass the bread to your nonketo dinner date, limit your cheese intake (there are some sneaky carbs in there) and dive into that forcemeat.
Paleo
That's paleo as in the Paleolithic Age. According to thepaleodiet.com, the regimen "is based upon everyday, modern foods that mimic the food groups of our pre-agricultural, hunter-gatherer ancestors."
Day says those following this diet should be able to find plenty of dining-out options. However, "You have to make sure there aren't any sauces or butter added," she says, since the diet doesn't allow the consumption of dairy products. Grains aren't permitted, either.
Pezcado Veracruz at Local Lime
17809 Chenal Parkway, locallimetaco.com
The pezcado Veracruz is a sizzling iron skillet of grilled tilapia, tomatoes, peppers, garlic, olives, grilled green onions, capers, jalapeno and lemon. This is a hearty fish and veggie dish, so you won't mind skipping the corn tortillas.
Roasted chicken at The Pantry
multiple locations, littlerockpantry.com
Known for its menu full of comfort foods, The Pantry's roasted chicken is a good paleo-diet option. This is a simple but ample meat and veggie dish: half of a bird with grilled asparagus.
Yellow fin tuna steak at Heritage Grille Steak and Fin
3 Statehouse Plaza, heritagegrillelittlerock.com
Heritage Grille, located inside the Little Rock Marriott, has a variety of paleo-friendly menu items at both lunch and dinner. The grilled yellow fin tuna steak on the dinner menu is one such option. Add a side of grilled asparagus or steamed broccoli to round out the meal.
Grilled salmon salad nicoise at Capers Restaurant
14502 Cantrell Road, capersrestaurant.com
Capers takes a slightly different approach to the classic salad nicoise. This version includes spinach and arugula, along with green beans, new potatoes, tomatoes, purple onions and a grilled salmon fillet.
Fajitas at Local Lime
17809 Chenal Parkway, locallimetaco.com
Local Lime's sizzling plate of fajitas gives paleo dieters a choice of veggie, chicken, grilled steak or shrimp, along with grilled onions and peppers. Be sure to skip the queso fresco, sour cream and corn tortillas, but load up on guacamole and pico de gallo.
Starting slow key to diet success
by Emily Van Zandt
When patients come to see Kristen Rowe, registered dietitian and wellness specialist with Arkansas Blue Cross and Blue Shield and Green Leaf Grill in Little Rock, she talks to them about starting small.
While the New Year's resolution of heading to the gym three times a week and cutting back calories from day one sounds nice, Rowe says jumping into the deep end too soon causes diet plans to fail.
"I don't want to tell them, 'OK, tomorrow, you're going to eat perfectly,'" Rowe says. "People will do it for maybe two days and then go back to their old habits."
To kick-start a new diet plan, Rowe recommends starting with food first and looking at what tiny changes can be made. Often, that includes cutting out soda one week, increasing the number of vegetables the next and paying attention to portion sizes. Even small changes, Rowe says, can culminate in the loss of one or two pounds per week.
"It's shocking to see the difference small modifications can make because patients can actually stick with it," Rowe says.
Rowe recommends starting with a change in diet before launching into a heavy exercise routine because "it's hard to out-exercise a bad diet."
"People think that because they went to the gym for an hour, they deserve that piece of cake," Rowe says. "But that doesn't always equal out."
After modifications in diet are made, Rowe recommends her patients start with a simple exercise routine such as adding in 10 minutes of daily walking.
Sponsor Content