Arkansas soybean growers set records in 2014, producing 160.5 million bushels even as many row-crop farmers dealt with a rain-delayed planting followed by a cool summer and more wet weather as they closed in on harvest time.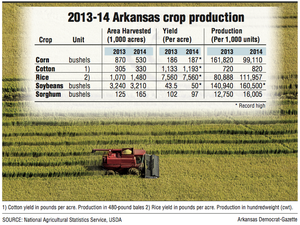 Photo by Source: National Agricultural Statistics Service, USDA / Arkansas Democrat-Gazette
Information about the 2013-14 Arkansas crop production.
The National Agricultural Statistics Service reported that soybean yields in Arkansas averaged 50 bushels per acre, up 6.5 bushels from 2013. Overall, growers harvested soybeans from 3.21 million acres.
"This is the third year we've set a new state record. In 2014, we blew the old state record, which was set in 2013, out of the water," said Jeremy Ross, a soybean agronomist for the University of Arkansas' Agriculture Division.
Arkansas farmers followed the national trend. The statistics service reported Monday that U.S. soybean production hit a record 3.97 billion bushels, up 18 percent from a year earlier. Overall, the nation's farmers harvested soybeans from 83.1 million acres in 2014.
The statistics service also reported that Arkansas farmers set per-acre yield records for corn and cotton in 2014.
Arkansas' cotton production beat forecasts, with growers harvesting 330,000 acres in 2014. Overall, 820,000 bales were harvested, 100,000 more than in 2013. A cotton bale weighs 480 pounds. Yields averaged 1,193 pounds per acre, up 60 pounds from the year before.
While the state's corn acreage dropped compared with 2013, Arkansas farmers still harvested 99.1 million bushels. Yields averaged a record 187 bushels per acre, up a bushel from 2013. Growers harvested 530,000 acres of corn, down from 870,000 a year earlier as growers shifted away from corn because of low prices.
Overall, the nation's farmers harvested a record 14.2 billion bushels of corn -- 3 percent more than in 2013, which had set the previous record. Nationally, per-acre yields hit 171 bushels, up 12.6 percent from the 158 bushels per acre in 2013. The record yield and crop came as U.S. farmers reduced overall corn acreage by 5 percent compared with 2013.
Row-crop farmers in Arkansas also produced 111.9 million hundredweight of rice, up 38 percent from 2013, as producers harvested 1.48 million acres of rice, a 410,000-acre increase over 2013. Yields averaged 7,560 pounds per acre, matching the previous record yield set in 2013.
Rice agronomist Jarrod Hardke of the UA Agriculture Division said Arkansas' rice acreage returned to normal levels in 2014 as growers shifted planting plans a year ago as commodity prices, particularly for corn, fell.
In talking to farmers, Hardke expects the state's 2015 acreage to range between 1.3 million and 1.6 million acres.
Arkansas produces more than half of the nation's rice crop.
Ross said weather conditions were behind the record yields, despite the late starts as muddy fields interfered with planting schedules.
"All the stars aligned and we just had a phenomenal year for soybean production," Ross said. He said growers were able to get the crop in the ground quickly when fields finally dried. A cool July helped plants as they entered their peak reproduction cycle, laying the foundation for high yields.
Ross said it's hard to predict what this year's soybean acreage will be, but he expects it to be close to 3.5 million acres.
Hardke said rice farmers and other row-crop farmers are expecting to benefit from lower diesel prices, which will reduce planting costs. He said growers also will benefit from lower fertilizer costs with the drop in price of urea from $4.80 a ton a year ago to around $3.90 a ton.
"If the lower diesel prices hold until March, then it will be huge, not just for rice farmers, but for all row-crop farmers," Hardke said.
Matt King, an economist with the Arkansas Farm Bureau, also expects to see more growers shift to soybeans in 2015, given that some farmers still have corn and rice stored in on-farm bins as they wait for prices to rise. He said cotton prices are still very low, partly because of huge stockpiles in China that are expected to reduce exports to that country.
Given the potential for crude-oil prices to fluctuate -- they've dropped 50 percent compared with a year ago -- growers are facing difficult decisions on when to buy fuel and how to budget for its cost, King said.
"The hardest decision right now is when to pull the trigger on price," King said. Some producers have already signed contracts for fuel at $2.50 to $2.70 per gallon -- low compared with a year ago. Now that prices have dropped below $2, he said, farmers are trying to reduce the average price they'll pay over the course of the growing season.
Many farmers sign forward contracts for fuel deliveries at a set price that could be either lower or higher than market prices at the time of delivery. That means if prices rise, farmers could be caught paying more for fuel than they anticipated at a time they need it most.
King said with per-bushel prices hovering in the $9 to $10 range for soybeans, it's likely there will be added soybean acreage in 2015 at the expense of corn, cotton and rice acreage.
Soybeans are popular because they're relatively inexpensive to grow, carry a lower risk and still have relatively good prices at market, he said. If U.S. growers overall plant more soybeans, and growers in other parts of the world such as South America, also produce record crops, then the excess supply could put downward pressure on commodity prices, he said.
"If you start to lose that market that's kind of been your safe haven, your low cost, low input, good return, lower risk, what are you going to grow here in the South?," King asked. He said current farm programs don't provide Arkansas growers, who make extensive use of irrigation, with affordable crop insurance in the event prices fall below production costs.
Business on 01/14/2015