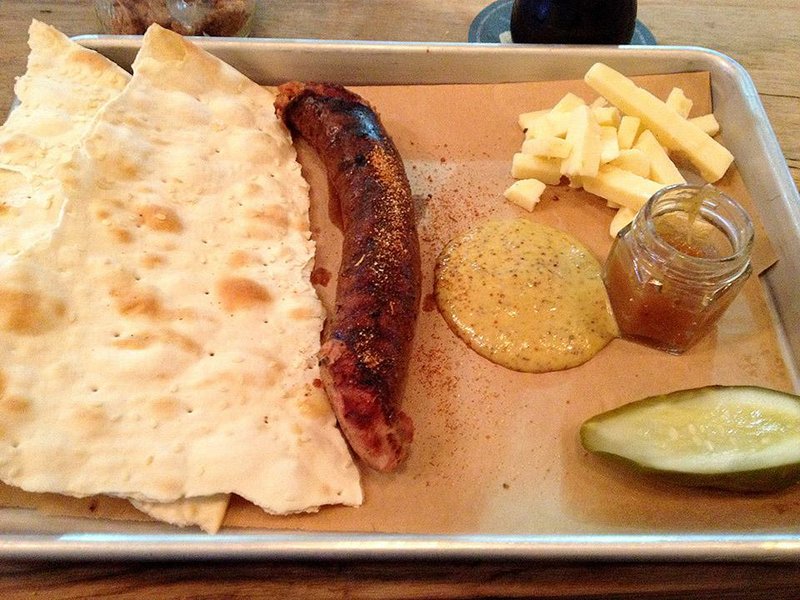 Kielbasa comes with lavash (flatbread), stone-ground mustard, peach marmalade, white cheddar and pickles at the Tap Room at Lost 40 Brewing. (Arkansas Democrat-Gazette / ERIC E. HARRISON )
The food at the Tap Room at Lost 40 Brewing is excellent.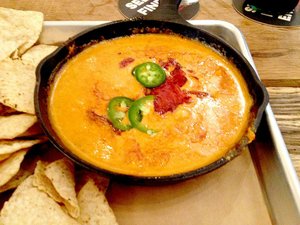 Photo by ERIC E. HARRISON / Arkansas Democrat-Gazette
Petit Jean Bacon + Cheese Dip arrives in a skillet in the Tap Room at Lost 40 Brewing.
We knew it would be, despite co-owner Scott McGehee's overmodest demurrers that, oh, the tap room is not quite a full-service restaurant and oh, what it's serving is mostly just stuff they can whip up behind the bar to fit with the handful of Lost 40 beers and specialty brews on tap.
The Tap Room at Lost 40
Address: 501 Byrd St., Little Rock
Hours: 11 a.m.-9 p.m. daily
Cuisine: "Munich beer-hall food meets the Delta"
Credit cards: V, MC, AE, D
Alcoholic beverages: Beer
Reservations: No
Wheelchair accessible: Yes, through the building lobby
Carryout: Yes
(501) 319-7335
facebook.com/lost40beer
We knew it would be, because we know that McGehee, now the biggest star in the Yellow Rocket Concepts constellation that has brought you the highly successful Big Orange, Local Lime and ZaZa, is probably totally incapable of serving inadequate food to his customers.
Aside from not quite having a big enough parking lot to accommodate the demand at peak periods, the only area in which we found that Lost 40 fell short is in the perfect storm of poor service we got during one lunch visit in which nothing but the food seemed to go right. We'll get to that in a minute.
The tap room, which almost but never quite took on the name "Pint & Pantry," is not a place we would recommend for a nice, quiet tete-a-tete. It has a high, unfinished ceiling and lots of stone, so it's going to be loud and echo-y even when it isn't crowded, which it certainly is during mealtimes and happier hours.
Moreover, communal consumption is a principal aim of Yellow Rocket Concepts' marketing director Amber Brewer's design. There are a few slightly lonelier seats along the window that separates the tap room from the brewery, but primarily the seating is in wood repaneled school chairs along 14-seat "mob" tables at which sharing conversations, along with menus, utensils and condiments (the latter two self-dispensed from on-table buckets), is the rule.
McGehee designed his "Munich beer hall food meets the Delta"-style bar food -- six appetizers (labeled "small beer snacks") and six sandwiches and entrees (labeled "big beer snacks") -- to match the brewery's beers, and the menu suggests the proper pairings.
And while they're aimed, as McGehee says, "squarely at craft-beer lovers," you don't have to consume them with beer; the tap room more or less grudgingly serves bottled $2.50 Mexican sodas, and the on-again, off-again, Harney & Sons iced tea (also $2.50) is on again. There's also a choice of wine -- one red and one white.
We tried five of the big beer snacks, and even with the elevated level of bar food we've been encountering lately, we'd recommend four of them as top-of-the-line.
We'll start with the House Made Smoked Kielbasa ($9.50), a good-size sausage served in a butcher-papered metal tray with a couple of pieces of lavash (a cracker-like flatbread), a sweet onion-peach marmalade, a puddle of Forest King Stout mustard (Forest King American Stout is one of the brewery's products), house pickles and a pile of white cheddar splinters.
The sausage comes "naked," so you'll need to grab a fork and knife from the buckets; it's equally good whether you slather it with the marmalade or dip it in the mustard. However, you cannot, at least not in any way we tried, successfully use the lavash as a bun.
Speaking of buns, the enormous House Made Bratwurst ($9) comes on one from Arkansas Fresh Bakery (the menu identifies all its locally sourced products -- the breads come from there, Boulevard Bread or Silvek's), topped with Sauteed Swartz Sauerkraut, also with stout-based mustard and Swartz Chicago Pickles on the side. The brat is moist and pleasantly juicy, braised, as it is, in Lost 40's Love Honey Bock, and you'd better be pretty hungry to take it on.
McGehee is justly proud of his fantastic Smoked Black Pepper Brisket ($11.50), a goodly portion of moist, tender beef in a black-ish, peppery honey brisket sauce, served with a grilled slice of Silvek's country bread, green tomato slices and a pert cabbage slaw.
And we would order again the surprisingly large Smoked Turkey + Brie Sandwich ($8.50), with plenty of turkey, oven-dried tomatoes, smoked tomato-chipotle mayonnaise, brie and arugula overflowing two thick slices of spent-grain molasses bread (from Boulevard, made using the spent grain from the brewing process). Sandwiches come with your choice of Zapp's chips -- regular or Cajun-spiced Voodoo.
The Gulf Shrimp Gumbo ($7.50), served over white rice (from Pocahontas) in a heat-and-eat glass jar, was nicely flavorful but merely ordinary. The thick slice of Silvek's garlic toast was by far the more exciting half of the meal.
Some of the small beer snacks are actually large enough to serve two. The most unusual: The Sorghum + Black Pepper Pecans ($4), the nuts from Hardin Farms, thickly coated in a sorghum/black pepper mix for a nice blend of contrasting flavors. It's also the quickest thing to come out of the kitchen we ordered, if you're looking for something you can get onto the table in a hurry.
Also served in a jar: The Hoppin' John Hummus ($6.50), essentially a glorified, slightly spicy bean dip made from black-eyed peas with oven-dried tomato slices for accent and served with lavash and a collection of house pickles, the liveliest of which is a pickled and curried (!) cauliflower.
The Grilled Bread + Butter Spreads ($4.50) consists of three good-size chunks of spent-grain molasses bread with three spreaders -- two cheeses and what appeared to be a meat-based mousse -- in lieu of the menu-promised dill, honey and jalapeno butters, and three kinds of pickles, including more of the cauliflower.
The Petit Jean Bacon + Cheese Dip ($6.50) was a little bit of a disappointment, mostly because the "bacon" part of it consisted of a couple of pieces as a garnish along with some jalapeno slices. The yellow dip, served in a skillet, was decent but not extraordinary, and it came with plenty of fresh, crunchy chips.
On ax-handle tap at Lost 40 are three constant beers -- the Bare Bones Pilsner, the Lost Forty Pale Ale and the Rockhound Imperial IPA -- and at least one seasonal brew (it's the Forest King American Stout for the rest of the winter). A couple of specialty brews rotate. The menu lists the alcohol content, the origin of the hops and other details for the true beer aficionado. You can also try a flight of four beers in 3-ounce portions for $9.
Service, in a series of peak and off-peak visits over a couple of weeks, was generally good, some better than others, and whether we were seated along the window or at a communal table.
For that lunch visit last week, however, arriving early to beat the rush definitely worked against us.
The tap room was hosting a crew from what appeared to be a local ad agency doing a photo shoot, which occupied a portion of two tables and the attention of management and kitchen staff.
Meanwhile, part of our party that arrived a little early sat unattended for 10 minutes, until the rest of us showed up, at which point waiter Austin finally deigned to drop by and take drink orders. Austin, who apparently was marking time until our "real" waitress, Ashley, came on board, also informed us that we were responsible for pouring our own water from pitchers on the sideboard -- which, by the way, was a fib.
We made the mistake of telling Austin we'd need a couple of minutes to peruse the menu; he vanished into parts unknown for more than 10 minutes. Once he finally took our order, we waited another 15 minutes for the delivery of our small beer snacks (a food runner supposedly snatches the stuff as the kitchen puts it into the window); our entrees popped out only about two minutes after that, flooding us with food.
We had to tap a passing food runner for to-go boxes and a couple of other amenities because neither our pre-waiter or our actual waiter, who was now occupied with several other later-arriving customers, was available at need. We also waited a longer than ordinary amount of time to get our check, and for the check to come back so we could sign the credit-card receipt. What should have been a half-hour lunch break turned into an hour-long-plus marathon.
We'll give credit to Ashley, who was aghast when we told her Austin had made us get our own water. And on a subsequent visit, she discounted our meal as a way of making partial amends.
Weekend on 01/29/2015
Print Headline: Lost 40 brews, food top finds
Sponsor Content