Authorities are investigating what caused the deaths of a father and son found Tuesday morning inside a vehicle that was partially submerged in the North Fork of the Saline River south of Lake Norrell.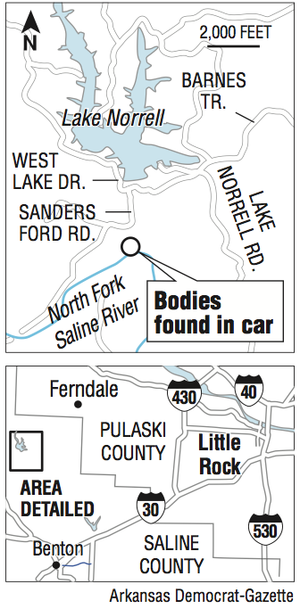 Photo by Arkansas Democrat-Gazette
A map showing the location where bodies were found in Saline County.
Photo by Stephen B. Thornton
Authorities found a Jeep Cherokee partially submerged early Tuesday in the Saline River shoreline south of Lake Norrell with the bodies of a Salem man and his son in the front seats.
Lonnie Moore, 38, and his 8-year-old son, both of nearby Salem, were found inside a white Jeep Cherokee with its back end immersed in the river near Brushy Creek, Saline County sheriff's office spokesman Lt. Jeffrey Silk said. The sheriff's office didn't release the name of the boy.
No cause of death has been released, but Silk said there was "no indication at all ... of any signs of foul play" and that drowning had been ruled out. The two bodies were not underwater, and there was no visible damage to the Cherokee. Its airbags hadn't deployed.
Authorities believe the father and son died Monday night or early Tuesday morning. Sheriff's deputies were called to the scene about 7:25 a.m. Tuesday after Moore's father called 911, Silk said.
Moore's father knew the two were in the area and found the Cherokee in the river.
The wooded spot where the Cherokee was found is accessed by a deeply rutted and muddy trail that connects Sanders Ford Road with the river. The Cherokee was found about 25 to 50 feet from the bank with Moore in the driver's seat and his son in the front passenger's seat.
Because the vehicle's tailpipe was submerged, authorities suspect carbon monoxide poisoning as the cause of death. The vehicle's windows were rolled up, though the driver's-side window was slightly cracked, Silk said.
"Indications show signs on the victims of carbon monoxide poisoning," Silk said. "If the vehicle was submerged with the tail in and the exhaust was covered, then it's possible that the victims could have been overcome by carbon monoxide gas. It's possible, but that is to be determined."
Detectives with the sheriff's office were at the scene Tuesday, along with members of the Lake Norrell Fire Department. The firefighters helped the deputies remove the Cherokee from the river.
The Cherokee was towed away about 12:30 p.m. -- about five hours after its discovery. It was stuck on a fallen tree that had to be cut away with chain saws before a flatbed tow truck could load the vehicle.
The Salem Fire Department and the Arkansas Game and Fish Commission also assisted the sheriff's office.
State Desk on 07/01/2015