Satanists, Hindus and secularists argue that the planned installation of a monument to the Ten Commandments at the state Capitol gives them equal claim to post their own monuments on the Capitol's lawn.
Photo by DANNY JOHNSTON / AP
Sen. Jason Rapert, R-Conway, center, speaks at a news conference at the Arkansas state Capitol in this 2014 file photo.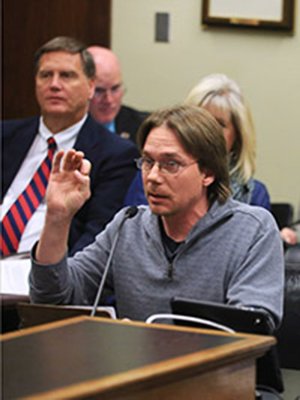 Photo by Rick McFarland
LeeWood Thomas, a spokesman for the Arkansas Society of Freethinkers, is shown in this file photo.
But the lawmaker behind the law that paved the way for the biblical code's placement suggested it would be a cold day in hell before lawmakers, the governor and voters would allow a demonic goat statue on the grounds.
Leaders of the New York-based Satanic Temple said they are interested in placing a 1.5-ton, 8.5-foot bronze tribute to Baphomet at the Arkansas Capitol.
On Tuesday, the leader of the Nevada-based Universal Society of Hinduism said he will urge Arkansas leaders to allow the erection of a statue in honor of Hindu deity Lord Hanuman, a monkey-faced god known for his strength as well as his exceptional grammar.
The Arkansas Society of Freethinkers has also indicated it will push for its own monument if the Ten Commandments monument is installed.
All of this follows a recent Oklahoma Supreme Court decision that prohibited the display of a Ten Commandments monument on the Sooner State's Capitol grounds.
Sen. Jason Rapert, R-Big­e­low, sponsored Act 1231, which compels the secretary of state to work with private groups willing to pay for a monument commemorating the historical impact of the Ten Commandments on Western law. Tuesday, he said that efforts by groups like The Satanic Temple to get "fringe" monuments on state grounds are a mix of harassment and theatrics.
"We know these fringe groups are always trying to do outrageous things," said Rapert, the founder of Holy Ghost Ministries Inc. and an ordained minister with Sanctuary of Hope Church. "[Act 1231] does not deal with the implementation of any other monument whatsoever. ... This can't be used by any other group. If they want to pursue that, they'll have to find a legislator willing to sign on [to] the bill, they'll have to lobby for the bill, and they'll have to find a governor willing to sign the bill, and I imagine the chances of that happening are slim to none."
Gov. Asa Hutchinson, a Southern Baptist who signed Act 1231 into law, said Tuesday that he opposes efforts to erect Satanist and Hindu displays.
"We don't want just every group putting a statue on the Capitol grounds. We want it to be exclusive, we want it to be reasoned, we want to reflective, and I think it's one of the reasons [Act 1231] went through the legislative process to accomplish that. It is not easy," Hutchinson said. "Any expansion of it would have to go through the same process with the secretary of state or through the Arkansas General Assembly."
Although the Satanists have shifted their attention to Arkansas, the Oklahoma dispute is still simmering. Attorney General Scott Pruitt has filed a petition asking his state's Supreme Court to reconsider the case.
Oklahoma lawmakers have also called for amending their state constitution as a way to keep the display.
Oklahoma Gov. Mary Fallin issued a statement Tuesday saying that "during this process, which will involve both legal appeals and potential legislative and constitutional changes, the Ten Commandments monument will remain on the Capitol grounds."
Chris Powell, a spokesman for Arkansas Secretary of State Mark Martin, said that any civic group can submit a proposal for a monument on Capitol grounds, but that it must be approved by the Capitol Arts and Grounds Commission, which Martin chairs.
Powell said Martin's office has not had any contact with The Satanic Temple or other groups about new proposals, but that officials have had an "informal" meeting with Rapert and others about the planned Ten Commandments monument.
Act 1231 requires Martin's office to approve a design for the monument, which would be privately funded.
"It's purely about the historical foundation of law," Rapert said. "This has nothing to do with upholding a religion or denomination or a faith background over any other. It is a part of our history."
Lucien Greaves, a spokesman for The Satanic Temple, said Rapert, and those who think like him, are way off.
The Satanic Temple is aimed at fighting the "tyranny" of overreach by Christian lawmakers leaning on "supernatural" authority, Greaves said, and it works to push back against instances in which private faith interferes with public policy.
Despite its name, Greaves said his group has a lot of support from non-Satanists.
"[Supporters] don't see it in terms of Satanism versus Christianity, and I think a lot of people see this accurately as a case of government overreach," Greaves said. "When you have people in the government trying to act as arbiters of religious expression, a lot of people, even Christians, realize it's a dangerous area to tread in."
Greaves said many of the dictates of the Ten Commandments call for a theocracy and contradict the ideals of the Founding Fathers, as well as violate aspects of the Bill of Rights.
He also said that in terms of historic value, his group's Baphomet monument would represent plurality, as well as be a symbol for those who fight against religious persecution.
"Our deep values are no less deeply held because we don't fall into a supernatural trap," Greaves said.
The group commissioned the monument, which cost over $100,000 to make, to be placed in Oklahoma after that Legislature approved a law similar to Arkansas' to allow for a monument to the Ten Commandments.
Baphomet, a goat-faced, winged creature, is often associated with paganism or the occult.
After the law was struck down late last month, Greaves said, his group was drawn to Arkansas because it's a state that's receptive to religion displays.
Another draw, Greaves said, was Rapert, whom he described as "ignorant" for "wast[ing] time in public office with such a petty effort to put forth a religious view on public grounds."
"Arkansas is appealing because it's immediate, it's happening right now," he said. "Rapert is just such a miseducated, odious little character that it seems he makes it so appealing to go up against."
Greaves -- who said he welcomes a public debate with Rapert over the constitutional questions surrounding the Ten Commandments monument -- said his group has members in Arkansas and is working with supporters to get the process rolling.
Rajan Zed, head of the Hindu group, said his group has not formalized any proposal or timeline for its monument.
LeeWood Thomas, a spokesman for the Arkansas Society of Freethinkers, said his group is still weighing ideas.
The Freethinkers have posted a Winter Solstice display at the Capitol since 2009, as a response to the state's yearly Nativity scene.
The group successfully sued in federal court after then-Secretary of State Charlie Daniels refused to approve their display.
If lawmakers are going to create a forum for the exchange of religious views, "we'd encourage everybody to get involved," Thomas said.
"If Rapert puts up the Ten Commandments, we've got no problem with other worldviews represented in our community. ... It can be pagans as well. It can be the Islamic community. It's got to be everybody. Everybody's got to be allowed access in order for it to be constitutional."
Rapert said he believes the planned Ten Commandment monument, which is still in the process of being funded, will stand up to a constitutional challenge.
Though he relied on language similar to the law struck down in Oklahoma, Rapert said that challenge relied on the Oklahoma Constitution, and he was confident the Arkansas Constitution would be interpreted to allow the monument.
Rapert also said he would decline any invitation for a debate with Greaves' group.
"There are just people trying to gain headlines to make attempts to make [the Ten Commandment monument] into something it is not," Rapert said. "I doubt that I'll be giving [Greaves] the opportunity for more publicity."
Metro on 07/08/2015