Scholarship funds raised by Arkansas' lottery fell by $9 million in the past fiscal year to $72.4 million, even though ticket sales barely declined.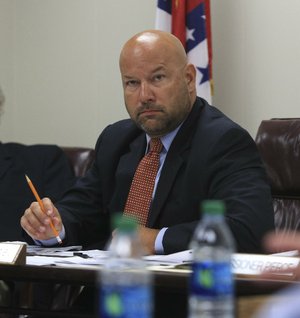 Photo by Staton Breidenthal
Arkansas Lottery Commission Director Bishop Woosley is shown in this file photo.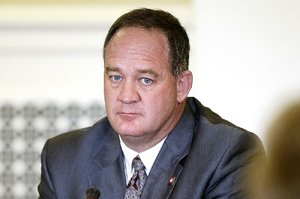 Photo by DANNY JOHNSTON / AP
In this photo taken July 1, 2014, Sen. Jimmy Hickey, R-Texarkana, attends a meeting of the Senate Committee on State Agencies and Governmental Affairs at the Arkansas state Capitol in Little Rock, Ark. Hickey is co-chairman of the Legislature's lottery oversight committee.
Fiscal 2015 is the third- consecutive year that the lottery's revenue and net proceeds raised for college scholarships have declined.
The lottery reported $409.2 million in revenue for the year ending June 30, a drop of $1.4 million.
"It's disappointing but not surprising," said state Rep. Chris Richey, D-Helena-West Helena, who is co-chairman of the Arkansas Legislature's lottery oversight committee.
Five months ago, state Department of Higher Education officials warned that lottery Director Bishop Woosley's previous projections had been unrealistically optimistic.
Earlier in fiscal 2015, Woosley had estimated there would be $78.2 million for scholarships; the department later predicted the amount would be lower -- between $72 million and $74 million.
Woosley eventually revised his figures downward, but not sharply enough.
A month ago, Woosley told lawmakers that he expected the lottery would raise about $74.3 million or $74.4 million for college scholarships in fiscal 2015 if it met June's revenue projections.
Woosley said Friday in a written statement that a $2 million winning scratch-off ticket was cashed on the same day that he testified, a payout that sharply changed the figures. "That prize and a few other large prizes reduced our cash proceeds for the month," he said in the statement.
Woosley, the lottery's $165,000-a-year director since February 2012, said that a drop in Mega Millions and Powerball ticket sales was largely responsible for the $9 million drop in scholarship proceeds.
"If not for the decline in those sales, we would have likely come very close to reaching our projected budget amount," he said.
Woosley is projecting the lottery's revenue at $411 million and net proceeds for college scholarships at $79.5 million in fiscal 2016, which started July 1.
Gov. Asa Hutchinson, whose administration assumed control of the lottery in February, said in a written statement that the "goal is to run the lottery efficiently in order to maximize the scholarships available for young Arkansans.
"Given that goal, even a modest reduction in the Scholarship Trust Fund is a concern, but we're hopeful that, over time, lottery revenue will stabilize," the Republican said.
The Arkansas Academic Challenge Scholarship program is financed by lottery proceeds plus $20 million a year in state general revenue. There's also a $20 million lottery reserve account that is used to cover temporary cash shortfalls in the program.
The lottery has helped finance more than 30,000 college scholarships during each of the past five fiscal years. But the Legislature has cut the size of the scholarship for some future recipients three times, in part because the lottery's net proceeds fell short of projections.
The lottery started selling tickets on Sept. 28, 2009.
After raising $82.7 million for scholarships in nine months in fiscal 2010, the lottery raised $94.2 million during the first full fiscal year, 2011.
Proceeds for scholarships climbed to $97.5 million in fiscal 2012, but dropped by $7.2 million to $90.3 million in 2013 and by $9.1 million to $81.4 million in 2014.
"I think we have work to do," said Sen. Jimmy Hickey, a Republican from Texarkana who is co-chairman of the Legislature's lottery oversight committee.
That's why he said he proposed legislation earlier this year to abolish the independent Arkansas Lottery Commission and place the lottery inside the state Department of Finance and Administration to make it more efficient.
Hutchinson signed the measure into law Feb. 26.
A year ago, the Legislature blocked the lottery's plans to install electronic monitor games in bars and restaurants. Woosley had hoped the games would help reverse declining ticket revenue and net proceeds for college scholarships.
Lottery officials voted to move forward with monitor games, despite opposition from a majority of the Legislature's lottery oversight committee.
During a special session, Hickey's legislation was passed to prevent the introduction of monitor games.
This year, the Legislature disbanded the Lottery Commission and placed the lottery under the Department of Finance and Administration.
Eight positions have been eliminated at the lottery since then, a move officials say will eliminate $477,000 in annual wage-and-benefit costs. The cuts leave the lottery with 64 employees and an annual wage-and-benefit cost of $4.9 million, according to Paul Louthian, the state's accounting administrator.
On June 29, the lottery's sales director Robert Stebbins was fired and replaced by Mitch Chandler, a former spokesman for the Arkansas Department of Economic Development who worked for current finance department Director Larry Walther when Walther directed the economic development agency.
The lottery is also in the process of hiring a consultant who can make recommendations about how to increase revenue and control costs. The consultant will also be asked to help create a comprehensive five-year business and strategic plan.
Richey said he hopes that "we can find the right consultant to get some good ideas and get this thing headed in the right direction."
It's the second time this year that a consultant has been hired to evaluate the lottery.
In September, at Hickey's request, the Legislative Council voted to hire, without taking bids, Camelot Global Services of Philadelphia and London.
The consultant told lawmakers in December that "the overriding strategy must be to move the lottery away from a gambling organization to a consumer goods sales and marketing organization." The consultant also said that the lottery has too many scratch-off and draw games, lags behind its peers in per capita sales and profits, pays more than its peers do to its vendors, and isn't perceived as trusted.
Camelot Global Services' consulting fee was $149,500 plus reimbursement for travel expenses of up to $20,000.
The lottery's revenue of $409.2 million in fiscal 2015 fell short of Woosley's projection of $416.8 million.
In fiscal 2015, the lottery's scratch-off ticket sales increased by $12.6 million over the previous fiscal year to $335 million, while the lottery's draw-game ticket sales, including the Powerball and Mega Millions jackpot games, dipped by $14 million to $73.6 million, the lottery reported Friday.
Woosley said he's very encouraged by the scratch-off ticket sales, saying they increased in eight of fiscal year's 12 months, compared to fiscal 2014.
"That is significant progress," he said.
Woosley said a new advertising campaign and a university partnership program highlighting recipients of the scholarships contributed to the increase in scratch-off ticket sales in fiscal 2015.
Lower gas prices also left consumers with more money to spend on tickets, he added.
Powerball ticket sales dropped from $35 million in fiscal 2014 to $27.1 million, and Mega Millions ticket sales dipped from $19.8 million in fiscal 2014 to $15.1 million, Woosley said.
"Whether we will see an increase in sales for Powerball and Mega Millions remains to be seen. I am hopeful that we will as those games have a significant impact on proceeds," he said.
Terry Rich, president of the North American Association of State and Provincial Lotteries, said scratch-off ticket sales have been "a little up" at lotteries across the nation during the past year and said these ticket sales have been helped by lower gas prices.
But he said Powerball and Mega Millions ticket sales have declined by double digits across the nation during the past year or so after a record year for these ticket sales.
The net proceeds raised by lotteries have been holding steady or increasing across the nation during the past year, he said, adding "gas prices have been a big boost for us."
Rich, who is the chief executive officer for the Iowa lottery, said the Arkansas lottery's decline in sales is pretty typical for a 6-year-old lottery.
Other state lotteries are increasing their ticket sales by taking actions such as deploying keno or monitor games, selling tickets on the Internet and being innovative, he said.
Metro on 07/11/2015