Arkansas home sales improved almost 11 percent in May compared with May of last year, the Arkansas Realtors Association said Tuesday.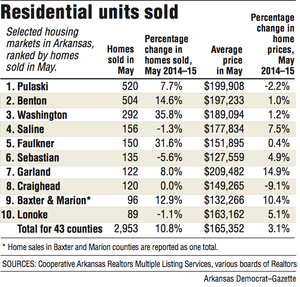 Photo by Sources: Cooperative Arkansas Realtors Multiple Services, various boards of Realtors / Arkansas Democrat-Gazette
Information about residential units sold in May in selected housing markets in Arkansas.
There were 2,953 homes sold in May, the highest total for any month in the past eight years, said Michael Pakko, chief economist at the Institute for Economic Advancement at the University of Arkansas at Little Rock.
"May is not the strongest month of the year [for home sales]," Pakko said. "Rather, it is typically June, July or August. So a strong May bodes well for the summer months."
Home sales appear to be strong for the entire state, Pakko said.
But sales are doing extremely well in the two largest markets of the state -- central Arkansas and Northwest Arkansas.
There were almost 800 homes sold in Benton and Washington counties in May, a 21.5 percent gain compared with May 2014.
Lindsey & Associates, which has offices throughout Northwest Arkansas as well as western and northern areas of the state, had the best May in the history of the company, said Tom Skipper, senior vice president and an executive broker with the firm. Lindsey & Associates had its best yearin 2014, Skipper said.
In the fall, John Carpenter, a senior vice president with Lindsey, said he expected to see the normal seasonal drop in sales.
"You expected a drop-off in October, but it wasn't happening, all the way through the holidays," said Carpenter, who has been in real estate for 24 years. "It just doesn't seem like we're having any kind of drop-off due to summer vacations or due to anything. It's been an incredibly busy year. I'm hearing it from all aspects, from the builders and other Realtors."
The inventory of homes is shrinking in Northwest Arkansas. One reason for the strong real estate market is the population growth in the area, Carpenter said.
The residential population in Benton and Washington counties grew 1.9 percent from 2014 to 2015, about double the national average, said Larry Martin, a principal with The Gadberry Group in Little Rock. The 16-year-old firm processes demographic information for the largest retailers in the country.
That means that slightly more than 700 people are moving into the two counties every month, according to Martin's calculations.
Northwest Arkansas is seeing a rush of first-time homebuyers, Carpenter said. The growth in home sales seems to be consistent with most firms in the area.
"New construction, especially under $200,000, has been phenomenal," Carpenter said. "Agents who have been used to doing one deal a week are doing two, and those who did three a week are doing four or five a week."
It is not uncommon for homeowners to get multiple offers now, Skipper said.
"That drives the prices up," Skipper said.
In the Little Rock metropolitan area, home sales increased more than 8 percent in May.
This spring was one of the best in the central Arkansas real estate market in years, said Roddy McCaskill, executive broker with Aspire Realty Group in Little Rock.
"Everything sold," McCaskill said. "I sold out of almost my entire inventory."
The market has not seen huge price increases, McCaskill said. Values have remained firm.
"We do have a good, healthy market," McCaskill said. "If you have something priced right, it will sell."
Business on 07/15/2015
Print Headline: Home sales in May best '14 by 11 percent
Sponsor Content