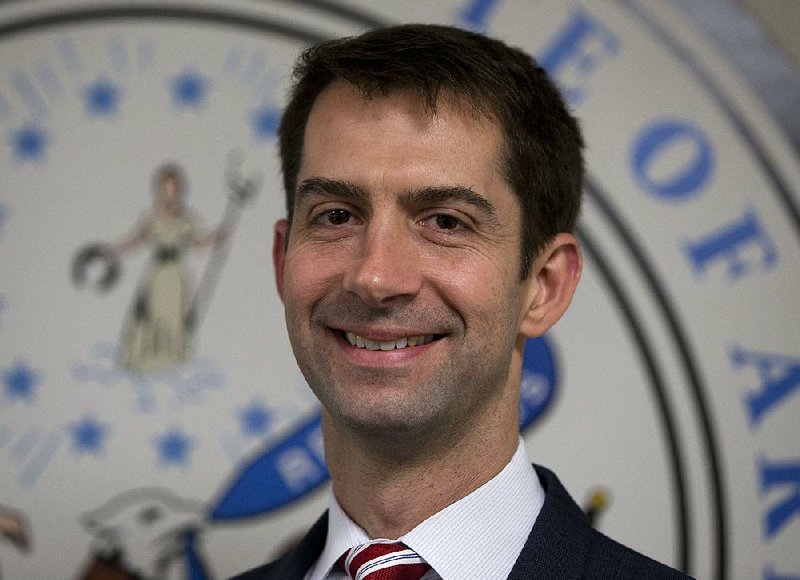 Sen. Tom Cotton, R-Ark. arrives to pose for photographers in his office on Capitol Hill in Washington in this Wednesday, March 11, 2015 file photo. (AP / CAROLYN KASTER )
WASHINGTON -- Members of Arkansas' congressional delegation said Tuesday that they're skeptical of the deal President Barack Obama's administration and other countries negotiated to restrict Iran's nuclear program, though several said they want to read it before passing judgment.
The deal with Tehran was announced Tuesday morning. Congress now has about two months to review the plan. Critics say they'll push for legislation blocking the plan, despite Obama's promise to veto any such effort.
U.S. Sen. Tom Cotton, R-Ark., a frequent and vocal critic of any attempt to negotiate a deal that permits Iran nuclear capabilities of any kind, pledged to whip up support to stop the plan.
"In the coming weeks I'm going to be working with my colleagues in the Senate and advocating to all Arkansans and all Americans that this is a very dangerous mistake and that we should reject this deal and return to negotiating from a position of strength, not one of weakness and supplication," Cotton said. "It's a bad deal, the American people will repudiate it and therefore Congress, I believe, will kill the deal."
In March, Cotton penned an open letter to Iranian leaders notifying them that a future president could invalidate any deal not approved by Congress. Democrats objected to the letter, which was signed by 46 other Republican senators, saying Cotton and the signing senators shouldn't interfere in foreign policy, which is commonly seen as the president's purview.
Weeks later Congress passed legislation granting itself authority to vote on any final agreement. Cotton was the only senator to object to the legislation, saying the Iranian deal should have been submitted to the Senate as a treaty. That would have required the president to get support from 67 senators rather than opponents having to get 67 senators to oppose it.
The other five lawmakers representing Arkansas on Capitol Hill -- all Republicans -- also have voiced reservations.
U.S. Sen. John Boozman said he thinks members will reject the plan if it is bad.
For now, he's still studying the details.
"The preliminary reading that I see is that I'm very, very concerned and think this is a bad deal, but we need to take our time and read through, carefully, the exact bill," he said. "Right now the Iranians are saying they got everything they want, if that's true that simply can't be too good for us. The truth is going to be in the details."
U.S. Rep. French Hill agreed, saying he doubts any deal will be worthwhile, but wants to get the perspective of those involved in the negotiations and countries near Iran before making a decision.
"I've always described myself as skeptical of the negotiations," he said. "But, I'm going to read the 80 pages or so. I think we have an obligation to read it. Congress needs to exercise its authority now to dig into the details, which we have not had."
Hill, who serves on the House Financial Services Committee's Terrorism Financing Task Force, said he wants to see how the agreement deals with as much as $140 billion belonging to Iran that has been frozen in banks worldwide as part of the sanctions.
He said he is worried that money could be used to finance terrorist activities around the world and wants to know how quickly sanctions can be reapplied if Iran violates its commitments.
U.S. Rep. Steve Womack said he still needs to read the plan closely, but "I have said many times that if there is an international issue that keeps me awake at night, it's the prospect of a nuclear-armed Iran."
"I'm not confident at all that the deal that has been struck is in the best interest of our country, our allies and the world at large. I have the history of Iran itself as a basis for my argument," Womack said. "I don't think it's a simple matter of just detesting anything that the Obama administration does. I think it is a legitimate concern that has been raised about the prospect of a nuclear-armed Iran."
Womack said if legislation to block the deal passes there will likely be enough votes to override a presidential veto in the House, but is uncertain whether the Senate will follow suit.
U.S. Rep. Rick Crawford said the United States never should have bargained with Tehran.
"I was against negotiating with Iran since the get-go. I just didn't see the point," Crawford said. "I still think its a bad [deal] based on what we're conceding and what they are getting."
He said the deal seems to assume that Iranian leaders will improve their behavior before the restrictions expire in 10 years.
"They have a long history demonstrated of not getting better and not wanting to be a productive part of the global community," Crawford said.
U.S. Rep. Bruce Westerman said he'll likely oppose the deal.
"I'm a 'no' unless there's some big revelation that comes out," he said.
Westerman said he was alarmed by recent video of Iranian leaders marching with people shouting "death to America" and "death to Israel."
"I just have to question whether those are the types of people we want to negotiate with," Westerman said. "I think we should keep the sanctions in place."
Metro on 07/15/2015
Print Headline: Skepticism high for Arkansas' 6
Sponsor Content