WASHINGTON -- For military recruiters, the shootings in Chattanooga, Tenn., on Thursday exposed an unavoidable risk of their jobs: They must work in the open, unarmed.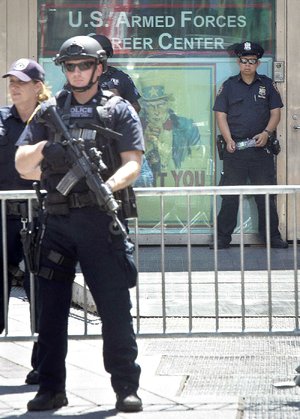 Photo by BEBETO MATTHEWS / AP
Members of the New York police anti-terrorism unit stand guard Friday at a recruiting station in Times Square.
To attract young men and women, recruiters need to work in places where young people hang out. That means placing recruiting centers in strip malls, small-town storefronts and at some of the busiest intersections in the country.
But except for those assigned to police and security work or engaged in certain kinds of exercises, military personnel generally are not armed when at military facilities.
Virtually all recruiting sites were open Friday, the day after a gunman killed four Marines in an attack that began at a Chattanooga recruiting station, military officials said.
As the service members working at the centers were doing their best to welcome potential recruits, a growing chorus of people -- including Arkansas Gov. Asa Hutchinson -- called for more security for the men and women working at such military facilities, including the ability to carry weapons.
Defense Secretary Ashton Carter late Friday asked the military services to determine if additional steps can be taken to ensure people are safe at military installations and said he wants a report back by the end of next week.
But officials said earlier Friday that there were no plans to change the policy that requires recruiters to work in full uniform without weapons. Any other way would defeat the point of the centers, which need to stand out and be as unintimidating as possible, officials said.
"Their mission is connecting to the community," a senior Pentagon official said. "So if we turn a recruiting center into Fort Knox, that impacts the mission, of course." The official spoke on the condition of anonymity because he was describing the Pentagon's internal security.
Since Thursday's shooting, Republican presidential candidates Scott Walker, Jeb Bush and Donald Trump have all called for an end to the ban on service members carrying guns in military recruiting offices.
"It seems to me that if you have military bases or recruiting offices, these are symbols of American might, they're targets," Bush said after a town hall-style event in Carson City, Nev.
In Arkansas, Hutchinson on Friday asked the head of the Arkansas National Guard to consider arming full-time Guardsmen in order to defend themselves against any future similar attacks.
In a written statement issued Friday evening, Hutchinson said he was directing Maj. Gen. Mark Berry, the Arkansas Guard's adjutant general, to "arm full-time personnel as he deems necessary at military installations."
"I want to join in those who are calling for greater security at our recruiting stations and military installations," Hutchinson said. "We've had numerous instances of attacks. Clearly they are a target, and for us to have unarmed military personnel makes no sense."
An attack on a recruiting center in Arkansas in 2009 injured one person and left another dead.
U.S. Army Pvt. William "Andy" Long, 23, of Conway was shot and killed in the Little Rock attack, and Pvt. Quinton Ezeagwula, then 18, of Jacksonville was wounded. Abdulhakim Mujahid Muhammad is serving a life term in an Arkansas prison for the shootings.
The decision on arming Guardsmen now lies with Berry, who is working on a plan with other Arkansas National Guard officials. The governor's authorization to arm personnel opens up another security option, said Guard spokesman Lt. Col. Joel Lynch.
"He's not decided anything; right now there's no specific plan," Lynch said. "Obviously, we're concerned about the safety and security of all military personnel. It's no secret that the military has become a target across the nation."
Lynch said he was unsure of when a plan would be put forward.
The state Guard owns approximately 60 armories and recruiting offices across the state. It's based at Camp Joseph T. Robinson in North Little Rock and has a training center, Fort Chaffee, near Fort Smith.
After the attack in Chattanooga on Thursday, the Arkansas Guard did not change its security levels, Lynch said. The security at the state's National Guard installations and all other U.S. military bases had already been bumped up in May to "Bravo," meaning there was an increased or predictable threat of terrorist activity.
The Arkansas National Guard employs about 600 full-time Guardsmen, Lynch said, but a plan issued by the adjutant general won't include arming that many people. Though a plan has not yet been issued, the state National Guard is mostly looking at arming "a couple key people" at different facilities, he said.
Elsewhere on Friday, as Navy Petty Officer 2nd Class Randall Smith fought for his life after being shot in the Tennessee attack, his grandmother said she wonders why troops at all military recruiting and reserve offices aren't allowed to have guns.
"A lot of people are learning our bases aren't guarded," said Linda Wallace of Midlothian, Texas.
What may be the most visible recruiting center in the U.S., a glass and steel box in the heart of Times Square in New York, was the target of an attack in March 2008.
An assailant planted a small bomb in front of the building, and it exploded early in the morning, one of the few times of day when few people walk through Times Square. No one was killed or wounded.
On Friday, about a dozen uniformed police officers stood outside the Times Square recruitment center, several of them carrying semi-automatic rifles and wearing helmets, and some with police dogs on leashes.
They were members of "Hercules" teams, which are dispatched around New York City as a show of force, often near landmarks or in busy commuter areas like Grand Central Terminal.
In early May, the military's Northern Command, which oversees operations in North America, increased security at all of its facilities after a number of threats, officials said. One threat involved an online posting by suspected supporters of the Islamic State extremist group of what they claimed were the names and addresses of 100 U.S. troops.
The alert level was raised "because of all this chatter we were hearing," the military official said. "It was in response to current events."
At recruitment centers, the elevated security meant that recruiters were not allowed to leave alone after dark -- they "had to have a buddy," the official said. They also had to make sure that each center had only one entrance, the official said. Emergency exits, such as back doors, had to be secured from the inside.
In San Diego, Army Sgt. Brandy Solis, 31, said that despite such measures, he and his fellow recruiters would prefer to be armed at their office, which is in a shopping plaza near a bakery, noodle restaurant and barber shop.
"Me, my colleagues and my boss, man, we would probably prefer being armed just for our own protection," Solis said.
Information for this article was contributed by Matthew Rosenbergand Elizabeth Harris of The New York Times; by Lolita C. Baldor, John Seewer, Pat Eaton-Robb, Julie Watson, Michelle Rindels and Catherine Lucey of The Associated Press; and by Nikki Wentling of the Arkansas Democrat-Gazette.
A Section on 07/18/2015