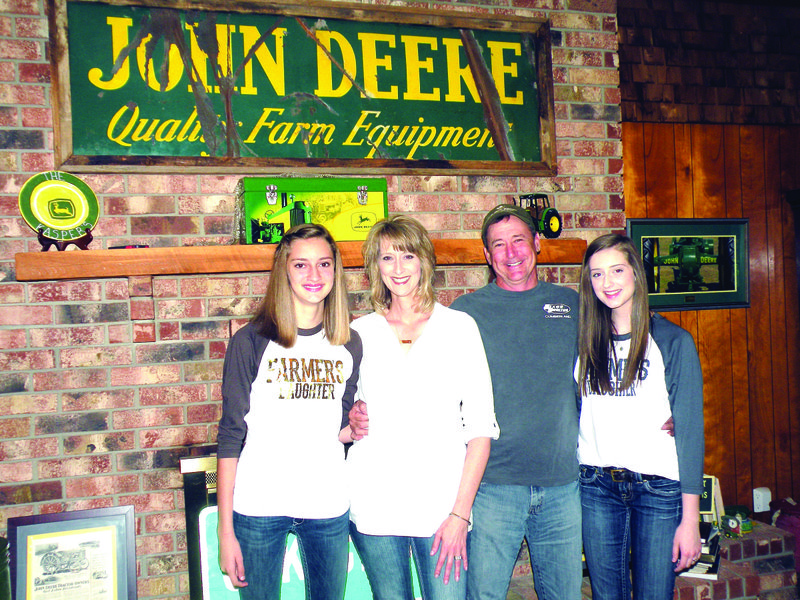 The Shane Kasper family of Atkins is the 2015 Pope County Farm Family of the Year. Family members include, from left, Ainsley, Angela, Shane and Avery. The family raises poultry and cattle on Pea Ridge north of Atkins. Shane is a "huge" collector of John Deere memorabilia.
ATKINS — Being named the 2015 Pope County Farm Family of the Year was a real "shocker" for Shane Kasper.
"I'm honored, of course," said Shane, 51, who shares the distinction with his wife, Angela, 44, and children, Doug, 20; Avery, 17; and Ainsley, 13. "I've always been impressed by the families that did receive it.
"It's a big responsibility. I never expected it. We don't do anything special. We are not near as big an operation as many are."
The Kaspers raise chickens and cattle on their 240-acre farm on Pea Ridge north of
Atkins. They raise 418,000 birds a year for Tyson Poultry in Clarksville. They market their Brangus cattle from their 25-head cow/calf operation at the county and state fairs and at the Blackwell Sale Barn.
They also have an orchard with peach, apricot and pear trees.
Although Shane had always wanted to farm, he said he never thought he would get the opportunity, especially because of the "huge startup cost."
His opportunity came about 25 years ago when he met the late Lorraine Reed, whose husband, the late L.C. Reed, had started the farm on Pea Ridge. Shane owned a feed mill with David Bubbus at the time.
Shane said Lorraine came in one day and asked if anyone knew how to fix an air compressor.
"I told her that I could fix most stuff. She stood there a minute and then asked if I was coming or not. I looked at David, and he said, 'You better go,'" Shane said.
"We drove around the corner to her farm, and she showed me the compressor, one her late husband had built from spare parts. After closer inspection, I discovered the points had burned up. I told her we could get a new set at the Oak Grove Market, so we were off. By this time, I had figured out patience was not her long suit," Shane said.
"When we came back, I put the points on, got the compressor going and thought I was done. She said she wanted to show me the place, so we got on two three-wheelers, and she gave me a tour of the farm. After we got back, she told me that the farm needed a young person on it. I said, 'It wouldn't hurt,' and she asked if I wanted to buy it," he said.
"I told her I had not got out of bed that morning thinking about it but would consider it," Shane said, laughing. "She really didn't take no for an answer very well, and after a few days, I told her I would take it. She called and said she was ready to leave. … A trip to the bank, and it was purchased.
"It was a God thing, … how it all worked out. She just wanted me to have it."
About a year after Shane bought the farm, he was asked by Con-Agra to build two broiler houses. Then a few years later, he built two more.
"At the same time, I worked for the Russellville Fire Department, Italian Gardens, Brown's Catfish, pastored a church (Durbin Freewill Baptist at Scranton) and had a cardboard recycling business," he said. "It was a very busy time.
"Several years later, Con-Agra sold out to Pilgrim's Pride, a time that was not the most pleasant in poultry-growing terms, which culminated in Pilgrim terminating our contract and pulling out overnight.
"After that I sat empty for about a year when Tyson Clarksville picked up my farm. This was a huge blessing, both because I finally had a contract again, and the Clarksville Complex is great to grow for."
Shane said he has gone through two "rough patches" in his life. "A divorce and when Pilgrim's Pride shut the doors," he said in describing those rough patches. "It was kinda surreal when they closed, but then [Tyson] Clarksville began to expand out this way and took us on.
"It's just the highs and lows of farming."
In addition to farming, the Kaspers own and operate the Pasta Grill restaurant in Clarksville.
"Besides the financial ways that it helps us on our farm, it occasionally allows [us] to employ farmhands who work for us there but need to make additional money," Shane said. "We employ some people who have a hard time getting jobs, and we try to help them get ahead in life, any way we can. Some are at risk, and the farm gives us a place to help them avoid their stumbling blocks in life. Those employees are just extended family to us."
Shane moved to Arkansas from Houston, Texas, when he was in the third grade. He grew up in the Oak Grove community and graduated from Atkins High School in 1982. He served in the Navy for seven months.
"I was kicked out for sleepwalking," he said.
Angela was born in Texas and raised in Saudi Arabia, where her father was in the oil business. She moved back to Houston, Texas, when she was in the ninth grade to live with her grandparents and attend public school. She worked for several years for United Health Group insurance in Houston but said she grew "tired of Houston with its 5 1/2 million people."
She asked her company to relocate her, and it created a position for her to cover four states.
"I moved to Dover," she said with a smile.
She met Shane three years ago, and they married. She now works as a patient-access manager at CARTI in Little Rock.
"She is the hardest-working woman in the country," Shane said. "She gets up at 4 a.m. to be in Little Rock. … She is normally not home until 7 p.m., cooks supper and gets ready to do it all over again.
"She coaches a power-walking group, is on the church cleaning team and sings regularly at our church."
Shane added that the couple attend Hector Assembly of God.
"She also helps manage our restaurant and helps to navigate problems and crises of employees in need," Shane said of his wife.
The Kaspers plan to open another restaurant in Russellville.
"We don't sit still well," Angela said with a laugh.
"We farm as a family," Shane said. "Our kids actively participate in our poultry and cattle operation."
However, the couple's son, Doug, is away at college and not able to help on the farm. He is serving an internship with NASA in Florida while he is working on a degree in emergency management.
Their daughter Avery is a senior at Dover High School, where she is a member of the National Honor Society, Beta Club and FFA. She shows cattle on the local and state level, competes on the local and state level in livestock-judging competitions and is the FFA junior adviser. She is responsible for the day-to-day management of the cattle on the farm.
Avery is an active member of the International Brangus Breeders Association and a former member of the Santa Gertrudis Breeders Association.
She plans to attend Arkansas Tech University in Russellville and major in chemistry. She hopes to become a pharmacologist.
The Kaspers' daughter Ainsley is also a student at Dover High School, where she is a member of the basketball team and is in the choir. She wants to be a chef.
Ainsley helps out with the poultry operation on the farm.
"In all the years we have farmed, our success is due to many things," Shane said.
"One is, the Lord has seen us through some very difficult times," he said. "We have also been blessed with friends that are nothing short of amazing. The Chris Vincent family is the only reason we are still farming today. They have provided more help and support that can ever be mentioned. … They are the backbone of what agriculture is. Ricky Hunt has also been indispensable. … We have also worked with wonderful vendors that we consider friends.
"Farming is tough but fulfilling. It is, as a Tyson employee said best, a lifestyle.
"You learn to get up, analyze and fix the worst problem you have that day, and then go to the next day and do the same, all the time realizing that you are, in a small way, helping to feed people. Through the financial problems, weather, regulations and a plethora of other things, at the end of the day, you know it is all worth it."
Sponsor Content