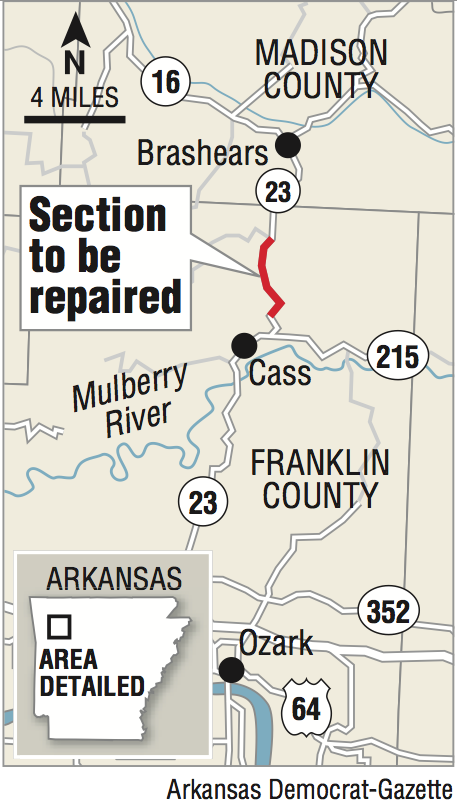 A map showing the Pig Trail section needing repair.
It will cost about $1.8 million and require 45,000 tons of rock to shore up a 740-foot section of Arkansas 23 in Franklin County after the foundation under it began sliding down the mountainside in May because of heavy rains.
That was the low bid submitted Tuesday by Kesser International Inc. of North Little Rock. The emergency repair is expected to be done by Oct. 30. The road will be closed until then.
The two-lane highway, also known as the Pig Trail Scenic Byway, has long been a "shortcut" for people driving between Little Rock and Fayetteville. While the Pig Trail route is 11 miles shorter than taking Interstate 49, dog-legged curves make for slow driving and not necessarily a quicker trip.
"Highway 23 is one of the most beautiful highways in the nation," said Ralph Vines II, president of Kesser International, who remembers driving on the Pig Trail when he was a student at the University of Arkansas at Fayetteville in the late 1980s.
That was before Interstate 540 -- now Interstate 49 -- was completed from Alma to Bella Vista in 1999.
Last year, an average of 770 vehicles per day traveled Arkansas 23 in the area of the landslide. That compares with 18,000 vehicles per day on Interstate 49, the four-lane freeway about 15 miles west of the Pig Trail.
The landslide is 19 miles north of Interstate 40 and 5.5 miles north of Cass. Both lanes of Arkansas 23 in that section have been closed since the slide, although one lane was reopened to traffic for four days in June before being closed again after more rain and more hill sliding.
The closure covers a 3.2-mile section of Arkansas 23 between the Mulberry Mountain Lodge to the south and Fly Gap Road on the north end.
The landslide compromised the highway's foundation.
Fred Mullen, the emergency management director for Franklin County, described the initial damage as 10 "big cracks" in the highway, about 8 inches wide and appearing to be several feet deep.
The Pig Trail attracts leisure drivers and people heading off to hike, camp or canoe in the Ozark National Forest. In addition to accommodating those people, the repair is necessary to shorten the drive time in cases of emergencies, Vines said. Also, highway detours in the mountains can take drivers far out of their way, so the sooner the road can be fixed the better.
"This is an emergency job," he said. "It's something that has to be done."
The repair work will require 45,000 tons of rock fill, the Highway Department estimated.
"This is going to be a big job," Vines said.
He said landslide repair is one of his company's areas of expertise.
Kesser International did a $4.4 million landslide repair on Interstate 49 near Chester last year and a $3.4 million landslide repair on Arkansas 43 in Boone County in 2013, said Vines. Both of those projects were bid through the state Highway Department.
Vines said Kesser International has also done several projects for the U.S. Army Corps of Engineers, including two large, stone bank-paving projects along the Mississippi River. The cost of those two projects totaled $5.8 million.
Danny Straessle, a spokesman for the Arkansas Highway and Transportation Department, said highway officials will have to verify and confirm the bid, and that should be done by the end of the week.
"We have to go into their bid and check their math basically ... and make sure they didn't leave anything out accidentally," he said. "Once we confirm that everything is as it should be, then they will be awarded the contract."
Straessle said it will be about a month before work begins on the Pig Trail landslide.
In the meantime, Straessle said Kesser International must submit a thorough work plan before construction begins.
Atop the 45,000 tons of rock on the project will be about 12 inches of gravel and then 8 inches of asphalt, said Straessle.
Straessle said the rush to fix the road isn't so that it can reopen before the Arkansas Razorbacks football season begins. Three home games will be played in Fayetteville before Oct. 30 this season.
Straessle said money for the project will come through the Federal Highway Administration's Emergency Relief Fund. Battles taking place in Washington over the Highway Trust Fund should have no effect on this project, he said.
Straessle said Kesser International was the apparent low bidder on the project. That company's exact bid was $1,817,209. Other bids submitted were $1,891,383 from Kolb Grading LLC of St. Charles, Mo.; $1,999,588 from Kiewit Infrastructure South Co. of Fort Worth; and $2,579,740 from Steve Beam Construction Inc. of Fort Smith.
Metro on 07/22/2015
Print Headline: Pig Trail repair set on fast track
Sponsor Content