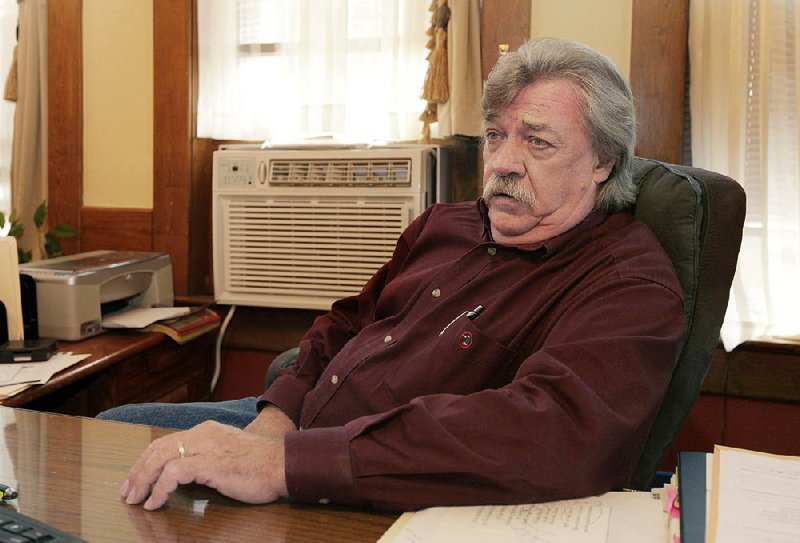 Eureka Springs Mayor Robert "Butch" Berry is shown in this file photo. (AP / DANNY JOHNSTON )
Eureka Springs will continue to enforce the anti-discrimination ordinance it has had on the books since Feb. 10, even though a state law went into effect Wednesday making the local law's legality questionable.
"If we get a valid complaint, we would certainly look at our ordinance and follow through with it," Eureka Springs Mayor Robert "Butch" Berry said.
Judd Deere, a spokesman for Arkansas Attorney General Leslie Rutledge, said he couldn't comment Wednesday because there had been a request for an attorney general's opinion on the matter.
State Rep. Bob Ballinger, R-Hindsville, sent a letter to Rutledge asking about a potential conflict between Act 137, which went into effect Wednesday, and Eureka Springs' Ordinance 2228, which was Ordinance 2223 until it was amended Friday. Ballinger also requested the attorney general's opinion about a conflict between Act 137 and anti-bias laws in Little Rock, Hot Springs and Pulaski County, as well as a proposed law in Fayetteville.
The letter was dated July 16 and received by the attorney general's office Monday. Ballinger asked that the opinion be expedited and issued within a month. Ballinger was a co-sponsor of the bill that became Act 137.
"I and most honest attorneys agree that the ordinances in Fayetteville and Eureka Springs are unenforceable because of Act 137," Ballinger said Wednesday of the ordinances that provide the broadest protection. "I think all of this will get clarified with the attorney general's opinion."
Attorney general's opinions are not legally binding.
Until Wednesday, the Eureka Springs mayor had been saying the city's anti-bias ordinance would be unenforcable after Act 137 went into effect, Ballinger said.
Berry said he thinks the Eureka Springs ordinance is "valid" based on the opinions of city attorneys in Little Rock and Fayetteville.
Those opinions take issue with Act 137, which was passed by the Arkansas Legislature on Feb. 13. Act 137 states that "a county, municipality, or other political subdivision of the state shall not adopt or enforce an ordinance, resolution, rule, or policy that creates a protected classification or prohibits discrimination on a basis not contained in state law."
Act 137 was meant to improve intrastate commerce by providing uniform nondiscrimination laws across the state, according to the legislation.
The Eureka Springs City Council passed Ordinance 2223 on Feb. 9, primarily to protect people from discrimination because of "sexual orientation" and "gender identity" in areas of employment, housing and public accommodations. On May 12, Eureka Springs residents voted 579-231 to keep the ordinance on the books.
In April, the Little Rock Board of Directors approved an ordinance requiring Little Rock's employees and contractors to abide by an updated anti-bias clause that prohibits discrimination based on "race, color, creed, religion, sex, national origin, age, disability, marital status, sexual orientation, gender identity or genetic information."
In addition, city employees must agree not to discriminate for those reasons or because of someone's political affiliations when making hiring or firing decisions, selecting vendors or dealing with the public. (Eureka Springs has had a similar ordinance since 2006.)
Little Rock City Attorney Tom Carpenter wrote in an opinion April 19 that he doesn't believe that city's anti-bias ordinance would conflict with Act 137.
Arkansas law already provides protections for the classes of "sexual orientation" and "gender identity," wrote Carpenter. Those protections aren't in the state's Civil Rights Act, but they can be found in two statutes. Carpenter cited Arkansas Code Annotated 6-18-514, which regards bullying, and Arkansas Code Annotated 9-4-106, which involves domestic-abuse shelters.
The Pulaski County Quorum Court and Hot Springs Board of Directors subsequently passed ordinances similar to Little Rock's.
Fayetteville City Attorney Kit Williams said he agrees with Carpenter's opinion, saying the argument would apply to Eureka Springs' ordinance and the one proposed for Fayetteville.
On Sept. 8, Fayetteville voters will decide whether they want an ordinance akin to the one in Eureka Springs. A similar ordinance was approved by the Fayetteville City Council last year, then repealed in a citywide vote Dec. 9.
Rutledge issued an opinion July 1 saying a local ordinance created before Act 137 went into effect couldn't be enforced if it conflicted with that state law. But in the opinion, Rutledge noted that she wasn't asked about the meaning of "protected classification" or the phrase "on a basis not contained in state law." That opinion was in response to a request from state Rep. Mickey Gates, R-Hot Springs.
Berry said the issue likely will be decided in court.
Berry said he's had only one complaint from a same-sex couple under the city's discrimination ordinance, and it wasn't a valid complaint.
A same-sex female couple were planning to get married at Judge Roy Bean's Old Time Photos in Eureka Springs, where marriages are a service offered by the business. Manager Susan Tharp, who is a minister ordained through the Universal Life Church, told the couple June 29 that she could take photos for them but she couldn't perform their marriage. The couple filed a complaint with the city under its anti-bias law July 1.
Berry sent a letter to the couple July 7 saying the issue falls under First Amendment rights, not Ordinance 2223, the name of the ordinance at the time.
"It's not a legitimate complaint because they are ministers, and ministers have the right not to marry somebody," Berry said Wednesday.
The U.S. Supreme Court made same-sex marriage legal across the country in a June 26 ruling.
Tharp said she keeps a list of names and telephone numbers at her business so she can refer customers to ministers who will perform their marriages.
"I'm just as polite as I can be when people call me [about this issue]," Tharp said. "Everybody's going to have a burr in their saddle every once in a while. I can't stop that."
Mark Hayes, director of legal services for the Arkansas Municipal League, didn't respond to a reporter's questions about Eureka Springs on Wednesday. Hayes sent an email saying he was having a busy day and would call back when he got the chance.
Print Headline: Despite law, city to apply anti-bias rule
Sponsor Content