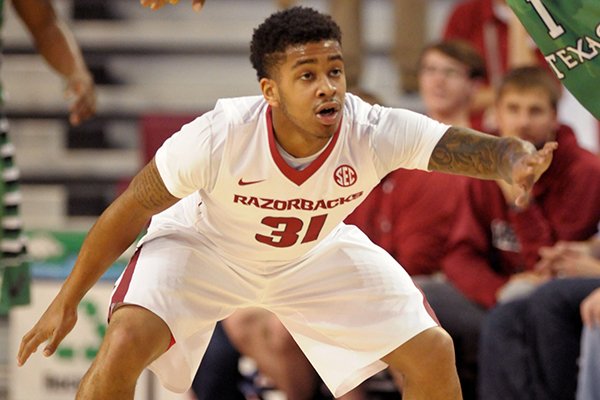 Arkansas guard Anton Beard guards Maurice Aniefiok of North Texas during a game Friday, Nov. 28, 2014 at Bud Walton Arena in Fayetteville. ( Ben Goff)
FAYETTEVILLE -- Mike Anderson went four years as Arkansas' basketball coach without having a player arrested.
That changed in a big way Wednesday when three players were arrested in a forgery investigation, according to a Fayetteville Police Department report.
Arkansas guard Anton Beard and forwards Jacorey Williams and Dustin Thomas were arrested after police said they were identified on surveillance video passing counterfeit money at Fayetteville businesses July 17-18.
The Arkansas athletic department released a statement saying the players have been suspended indefinitely from the basketball team. The statement said the athletic department became aware of a pending legal issue involving the players and has an expectation that Razorback student-athletes will conduct themselves in an appropriate manner at all times.
Anderson could not be reached for comment Wednesday.
Beard, Williams and Thomas went to the Fayetteville Police Department on Wednesday for an arranged meeting, according to a police report, and were cooperative. They provided statements detailing how they received the money and admitted to making the transactions shown on the surveillance video, but denied knowing the money was counterfeit, the report states.
All three were arrested, according to the police report. They are suspected of first-degree forgery, according to the report, but no charges were filed against them Wednesday by the Washington County prosecutor's office.
First-degree forgery is a Class B felony in Arkansas and can carry penalties of 5 to 20 years in prison and a maximum fine of $15,000 upon conviction.
Beard exchanged six $50 counterfeit bills for three $100 bills and passed four counterfeit $20 bills while buying tobacco products and other merchandise, according to the arrest report.
Thomas passed two counterfeit $20 bills buying tobacco products and merchandise and Williams passed one $20 counterfeit bill buying merchandise, the report states.
Police have been investigating counterfeit money being exchanged at Fayetteville businesses since late May, according to the arrest report.
Beard and Williams were booked into the Washington County jail about 2 p.m. Wednesday and Thomas was booked into the jail about 3:15 p.m. They were being held without bail.
Beard and Williams are the second- and third-leading returning scorers for the Razorbacks from last season's team while Thomas transferred from Colorado to Arkansas after last season and must redshirt in accordance with NCAA rules.
Beard, 19, is a sophomore point guard from North Little Rock. He became a starter midway through last season for Arkansas' 27-9 team that reached the NCAA Tournament's round of 32. He was voted by coaches to the SEC's All-Freshman Team, started 16 of 35 games and averaged 5.7 points, 1.9 rebounds and 1.5 assists.
Williams, 21, is a senior from Birmingham, Ala. He averaged 4.8 points and 2.8 rebounds in 36 games last season, including 7 starts.
Thomas, 19, from Texarkana, Texas, averaged 4.0 points and 2.5 rebounds in 67 games during his two seasons at Colorado.
The player suspensions, along with a report from Spire Institute that Arkansas signee Ted Kapita will enroll at the prep school rather than play at Arkansas this season, leaves the Razorbacks with nine available players.
Kapita has not been on the Arkansas campus this summer as he waited to see if he was cleared academically by the NCAA to enroll at the UA.
Arkansas lost four starters from last season's team.
Forward Bobby Portis, the SEC player of the year, declared for the NBA Draft after his sophomore season and was a first-round pick by the Chicago Bulls.
Guard Michael Qualls left after his junior, but wasn't drafted after suffering a knee injury. He signed as a free agent with the Oklahoma City Thunder.
Guard Ky Madden and forward Alandise Harris were both seniors last season. Arkansas also lost guard Nick Babb, who transferred to Iowa State after his freshman season.
Sports on 07/23/2015
Print Headline: Police: Three Hogs suspected of passing fake bills
Sponsor Content