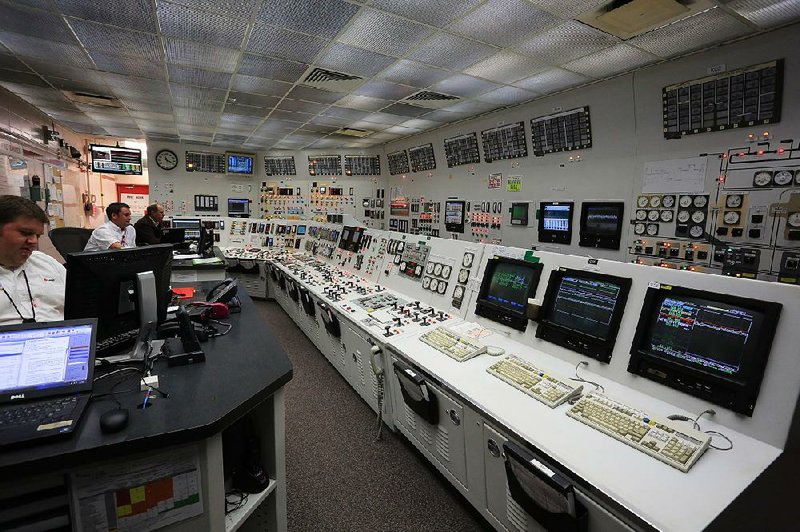 Entergy employees work in the control room at Arkansas Nuclear One near Russellville earlier this month. ( Rick McFarland)
RUSSELLVILLE -- It's been almost 2 1/2 years since the worst industrial accident in the history of Arkansas' only nuclear power plant and Nuclear Regulatory Commission inspectors are preparing for an intensive inspection of the facility.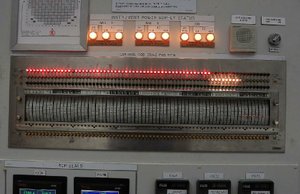 Photo by Rick McFarland
Lights on a panel in the the control room indicate the position of equipment in the plant's reactors.
Photo by Rick McFarland
Brian Tindell, a resident inspector for the Nuclear Regulatory Commission at the Russellville-area plant, inspects a backup diesel generator. Tindell said a planned 3,000 hours of additional inspections at the plant will provide a "pivotal" indicator on where Entergy Arkansas, which owns the facility, is in its efforts to ensure safety at the site.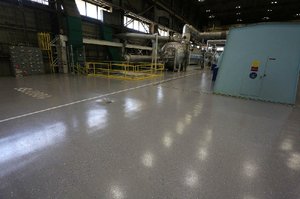 Photo by Rick McFarland
The site where a 1 million-pound generator stator fell 30 feet at Arkansas Nuclear One in 2013 has since been restored. One man was killed and eight others were injured in the accident.
Commission inspectors will spend about 3,000 hours examining Arkansas Nuclear One near Russellville beginning in February, in addition to the 6,600 hours of normal annual inspections. The additional inspections are required to ensure public health and safety, the federal commission said.
The commission rates Arkansas Nuclear One, owned by Entergy Arkansas Inc., in "column four" of its overall performance ratings. It's the worst rating of all 100 nuclear plants in the country.
Any plant that falls to column five is required to be shut down.
Nuclear One fell from column one to column four as the result of an industrial accident in March 2013. An investigation by the commission found "substantial safety significance."
The accident involved a 1 million-pound generator stator that fell 30 feet when a crane moving it collapsed. A worker employed by a contractor was killed and eight others were injured. The accident caused significant damage near the control room in a non-nuclear part of the plant. Arkansas Nuclear One has two nuclear reactors.
The 3,000-hour inspection will examine everything Entergy does to ensure safety at the plant. The commission charges Entergy $225 per hour for its inspections, which will total about $2.3 million for 10,000 total hours next year.
The inspection will verify that Entergy holds its employees accountable and that maintenance is properly done, said Brian Tindell, a resident inspector for the Nuclear Regulatory Commission at the plant.
"This is going to be one of the first pivotal indicators of where [Entergy] is in its improvement," Tindell said.
The inspection will cover everything, starting with construction of the plant in the early 1970s.
"We will not only make sure they were licensed correctly but that they maintained it correctly throughout the years," said Tindell, who has a degree in mechanical engineering.
Inspections since the accident found that Entergy failed to properly design, construct and maintain the seals that protect from flooding the safety-related equipment in the emergency diesel fuel storage building. The accident damaged a water main and thousands of gallons flooded into the turbine building. The exact cause for the flooding was not determined until early this year, and it tipped Arkansas Nuclear One into column four.
The commission's inspections next year will determine whether Entergy has put together a successful corrective action plan to identify and address its problems, Jeremy Browning, site vice president and the highest-ranking Entergy executive at Arkansas Nuclear One, said in a telephone interview.
Entergy has been addressing the problems since June last year, Browning said. Company employees spent 25,000 hours assessing all aspects of its business in the past year, he said, and that was before Arkansas Nuclear One was placed into column four. Most of the assessments have been completed, he said.
"We have not discovered anything in and of itself that would pose significant increase to the risk of the operation of the [plant]," Browning said.
Because of Entergy's self-inspecting, an independent index of nuclear plants in the country has raised Arkansas Nuclear One's rating after the accident, Browning said.
"We have made significant improvements but we still have opportunities to continue to improve," he said.
According to a federal filing, the accident cost Entergy $95 million, plus another $65.9 million in costs for deferred fuel and purchased energy costs. It already has received $50 million from its insurer but is pursuing more money that could be due under the policy. Entergy also has sued contractors involved in the accident.
It will take Entergy two to three years to get back to column one, said Victor Dricks, a spokesman at the commission's regional headquarters in Arlington, Texas.
Entergy's first evaluation of the accident didn't identify that its own performance was a large contributor to the accident, Tindell said.
"We're the ones who pointed out that they had a responsibility in the accident and that's what put them in column three and the other issues put them in column four," Tindell said.
Entergy hired the contractor who assembled the crane that collapsed, causing the stator to fall, Dricks said.
"But we hold [Entergy] ultimately responsible for what happens on its own site," Tindell said.
Entergy realized it was responsible for oversight on the day of the accident, Browning said.
"The violation we received as a result of that stator drop is a result of not implementing our procedures appropriately," Browning said. "Our procedures were not adequate and as a result were not implemented correctly."
The reason the commission assigns inspectors at nuclear plants across the country is not to prove the safety of the plant.
The commission expects Entergy to identify and fix every safety problem discovered at the plant, Tindell said. The commission is not there to find the problems, Tindell said.
"Their own inspections should validate that," Tindell said. "Part of what got them into column four is not identifying and correcting problems before they resulted in issues."
Tindell, who has been with the commission for 12 years, has been at Arkansas Nuclear One for about two years, arriving several months after the accident.
There is a second full-time commission inspector, Maggie Torbin, at the plant, but inspectors from the commission's Arlington office and other locations regularly travel to Russellville for specialized inspections.
The commission inspectors pay close attention even to small details. They have access to the plant site, Dricks said.
Earlier this month, Tindell allowed a reporter and a photographer to follow him on an inspection.
In an area below the control room, miles of cables running to the control room were laid out in a tray. All the cables in the plant go through this one room, Tindell said.
"If something were to happen there, you could potentially lose control of the plant," Tindell said. "We want to make sure it is adequately protected from fire."
Tindell inspected all of the items that would detect a fire or that could ignite the cables -- sprinklers, a smoke detector, a fire extinguisher and thin protective cables that would set off an alarm if a fire broke out.
He noted small details -- such as a fire extinguisher that should be inspected annually marked as "2011" -- and relayed questions to the plant's shift manager.
Signs of security are everywhere. Huge concrete barriers are in place at checkpoints to slow any unwanted intruders. Visitors must pass through two security checks and weave through a maze of chain-link fence.
Throughout the plant site are places where armed guards could fire weapons through ports from behind steel enclosures. An armored vehicle is parked on the grounds. Parts of the plant can be sealed off in case of an attack.
In a few weeks, a scheduled simulated attack on the plant will be conducted by the regulatory commission. Former Navy SEALs are hired to conduct the attack, using weapons and sophisticated equipment.
"It's like laser tag on steroids," Tindell said.
Security has been upgraded at the plant since the Sept. 11, 2001, terrorist attacks.
"But it has always been tight," Dricks said. "It was always very difficult to get in here."
Much more work needs to be done to determine how well Entergy is rebounding from the problems in the 2013 accident, Tindell said.
"Generally when I go out on an inspection I do not expect to find equipment broken," Tindell said. "I expect to find the equipment ready to go and the operators have good procedures. As part of their corrective actions, the culture and management, things like that, I think it is really too soon to tell [Entergy's improvement]. It's pretty early in the process of performance improvement."
SundayMonday Business on 07/26/2015
Print Headline: Agency sets 'pivotal' audit of nuclear plant
Sponsor Content