One can usually count on the Arkansas Arts Center's annual Delta Exhibition to display works that will challenge perceptions and stimulate thought -- or inspire head-scratching -- and sometimes, all of these.
Photo by Courtesy of the Arkansas Arts Center
John Salvest's Cage A is a sculpture made from used crutches and hardware. Salvest, who teaches at Arkansas State University at Jonesboro, won an Honorable Mention at the Delta Exhibition at the Arkansas Arts Center.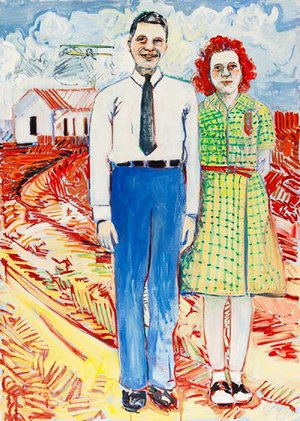 Photo by Courtesy of the Arkansas Arts Center
Katherine A. Strause of Little Rock evoked the spirit of Depression-era photography in Delta Couple: After Dorothea Lange. The oil on canvas can be viewed at the Delta Exhibition at the Arkansas Arts Center.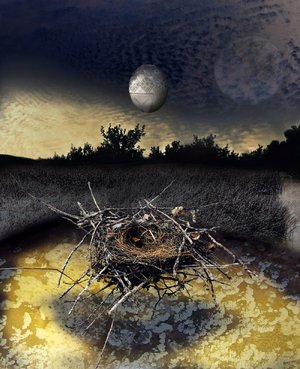 Photo by Courtesy of the Arkansas Arts Center
This ink print and digital image, Altar, was created by Leslie H. Elliott-Smith of Alexandria, La.
Now in its 57th year, the Delta -- which draws its entries from those born or living in Arkansas and its bordering states -- has a reputation as an all-over-the-map experience with a range of media, themes and execution. That's how juried multi-artist shows usually work.
'The 57th Annual Delta Exhibition'
Through Sept. 20, Arkansas Arts Center, Ninth and Commerce streets, Little Rock
Hours: 10 a.m.-5 p.m. Tuesday-Saturday, 11 a.m.-5 p.m. Sunday
Admission: free
arkansasartscenter.org, (501) 372-4000
This year's Delta seems tamer, almost low-key; not all that much shock or awe. Part of that feeling could stem from the fact that it follows the wonderful and provocative "30 Americans," which recently closed.
Works for the Delta were chosen by juror George Dombek, the acclaimed Arkansas watercolorist, who combed through more than 800 entries. With his background in architecture, one would expect to see some very linear work. And it is there, along with a fair amount of representational and abstract landscapes. Technique is in the foreground.
All of that manifests in Dombek's selection for the Delta's top prize, the Grand Award -- Mark Lewis' stunning graphite and collage work Under the Oak (Woodward Park). The Tulsa resident's drawing technique is undeniable. His skillful use of collage gives the work a wonderful third dimension; there is an almost gouachelike richness, and visual and emotional depth. Just don't look at it and walk away. Stand there a spell. Let it soak in. Under the Oak reveals its beauty, mystery and truths gradually.
Lewis also won the Contemporaries Delta Award, given by an Arts Center auxiliary membership group.
Neal Harrington of Russellville won his second Delta Award for his evocative and folkloric woodcut Feather Signal, a work imbued with a bayou-esque mystery and magic. A man in a boat releases a bird from a cage, and there's a pistol stuck against his back in his belt. There's a great story in this imaginative work, just waiting for creative viewers to discover and embellish. Harrington also won an honorable mention from the Contemporaries.
Lisa Krannichfeld's Shirt (in gold), Dressed Series also won a Delta Award. In the mixed-media portrait, a woman gazes intently at the viewer. She appears defiant -- confrontational or self-protective? Part of her face seems indistinct, fuzzy, as though the subject was not revealing her true self or intentions.
Aj Smith gives the Delta its emotional high point, its social/political shock treatment. His diptych Uncivil War provokes a startling, visceral response, one almost as powerful as seeing Gary Simmons' unsettling (to put it mildly) Duck, Duck, Noose in "30 Americans." That installation consisted of wooden stools in a circle topped with replicas of the white cloth hoods identified as those worn by the Ku Klux Klan, with a noose hanging from the ceiling in the middle of the circle.
Smith, who teaches art at the University of Arkansas at Little Rock, created lithograph-chine colle monoprints that depict a lynching and black Civil War soldiers. The images are powerful, the technique sublime, its message timely.
Mia P. Hall, who also teaches at UALR, presents illumination literally and metaphorically in Hand Lamps. Four pairs of cast concrete hands tightly grip electrical cords, each with a glowing light bulb at the end. In the middle is a fifth pair of hands, outstretched, holding a glowing round bulb. The gently spiritual work aptly illustrates greed and sharing, searching and finding, delusion and enlightenment.
John Salvest, who teaches art at Arkansas State University at Jonesboro, created a sculpture from used crutches in Cage A. It makes a pointed commentary on how we view disability -- and the cage this perception and its associated behaviors create for others. As this work reminds us, we all, in some way, have a disability, be it physical, cluelessness, mental or spiritual. The work was chosen for an honorable mention.
Other memorable works:
• A cyanotype landscape by Hot Springs artist Beverly S. Buys. The bleak, worn scene that is Lonesome Highway aches with high lonesome set to a Hank Williams soundtrack.
• An ink print and digital image by Leslie H. Elliott-Smith of Alexandria, La. In the surreal fantasy Altar, a nest in a dark landscape floats above yellowish water, and a silver, patterned, egg-shaped sphere hovers above. Altar is enigmatic, imbued with spiritual and environmental elements.
• Arkansas Democrat-Gazette wedding editor Cary Jenkins' inkjet print Riceland Hotel Tubs is a well-composed photograph taken inside a decaying hotel.
• It's hard to escape the sense of foreboding that surrealist Kendall Stallings creates in his acrylic on canvas work The Visitor. This is one of the Dallas resident's most powerful works from a favorite theme, men in suits. The suit is a talisman of power and identity, this time posed -- from neck to just below the waist -- in front of a body of water. Pinned to the lapel is a photo of a man in a suit. Is it a gesture of mourning or pride? Or to remind the wearer who he is or who he's supposed to be?
• Marc Barker of Oklahoma City's absorbing Cloudscape 9 is an oil in shades of gray that presents a stormy turbulence over the water that works as a psychological/emotional metaphor.
• Little Rock painter Katherine Strause's oil on canvas Delta Couple: After Dorothea Lange evokes the spirit of Lange's brilliant Depression-era photography using a fauvist-inspired color palette.
• Cynthia K. Kresse of Eureka Springs drew on her hometown surroundings in creating the mysterious, charged and alluring pastel Highway 62 Eureka Springs, Leatherwood at Dusk.
• Robyn Horn's carved maple burl sculpture Sideways is a fine example of her skill and vision. The Little Rock artist's work received an honorable mention.
• Aaron M. Calvert's lovely Giving Figure, a stoneware clay sculpture, also earned an honorable mention. The golden face radiates a warmth and serenity; the figure, covered with faces, plants and patterns, seems a representation of Mother Earth.
THE REFUSED
Rachel Trusty is the organizer of "Delta des Refuses," a show of works by artists who were not accepted in this year's Delta Exhibition. It is scheduled Sept. 18-Oct. 16 at the Argenta Branch, William F. Laman Library, North Little Rock.
Trusty says the idea was inspired by the original 1863 Salon des Refuses (Salon of the Refused) held in Paris, which included now-revered artists such as Paul Cezanne, Camille Pissarro and Edouard Manet.
For information, see the Delta des Refuses page on Facebook.
WOOD AND SYKES
Finally, I would be remiss not to mention my colleague, photographer John Sykes Jr., who is in a show with painter Emily Wood at Mugs Cafe in North Little Rock.
"Movement and Sound" explores how we respond to music.
Wood, who teaches at the Arkansas Arts Center, paints on wood. She skillfully integrates the patterns of the wood's grain into her paintings. Her often sensual pieces (especially Prague Street Dancers) show people moving to the music or how musicians respond to their own creations.
Sykes' superb black-and-white photographs are a more cerebral counterpart. Focusing on a ballet rehearsal, we can see the range of emotions, the stresses and concentration that the demands of disciplined movement bring forth.
"Movement and Sound," through Aug. 19, Mugs Cafe, 515 Main St., North Little Rock. (501) 379-9101, mugscafe.org
Email:
ewidner@arkansasonline.com
Style on 07/26/2015