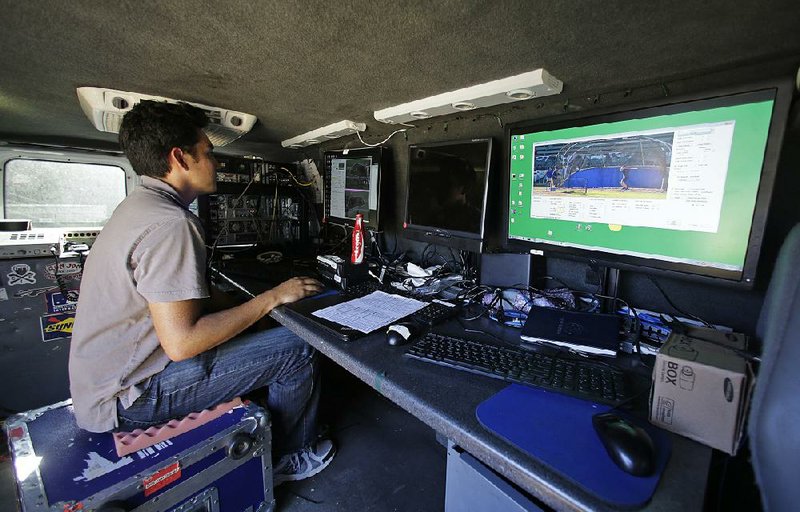 A technician tests a computerized video system that was being used to call balls and strikes in a minor-league baseball game Tuesday night and tonight at San Rafael, Calif. (AP / ERIC RISBERG )
The human element that many in baseball appreciate will be absent during an experiment this week in a northern California independent league.
A computer will call balls and strikes as the home plate umpire handles all of his other regular duties for two games in the Pacific Association of Professional Baseball.
"It's going to be strange yelling at that computer," San Francisco Giants Manager Bruce Bochy joked.
The computer system will stand in for pitch calls in what is considered to be the first professional games without the umpire making those decisions. A full umpiring crew will be there for everything else.
The San Rafael Pacifics will use the automated technology in two games against the Vallejo Admirals at Albert Park in San Rafael, Calif. The program, Pitchf/x, comes from the company Sportvision in nearby Fremont, offering technology to track and digitally record the full trajectory of live pitches within an inch of accuracy.
Not that this will necessarily reach the major leagues any time soon -- if ever.
"I think we are a ways away from the technology, using technology to call balls and strikes," Major League Baseball Commissioner Rob Manfred said. "It's because of speed. It's because of technology limitations. It's because, quite frankly, the strike zone is different for every single guy."
Making them better
Chalk one up for the ladies.
The Arizona Cardinals have hired Jen Welter to coach inside linebackers through their upcoming training camp and preseason.
The Cardinals said Welter is believed to be the first woman to hold a coaching position of any kind in the NFL. Welter played running back and special teams in 2014 for the Texas Revolution of the Indoor Football League, becoming the first woman to hold a nonkicking position for a men's professional sports league.
Welter coached linebackers and special teams for the Revolution last season, becoming the first woman to coach in a men's pro football league.
Welter played linebacker for more than 14 seasons in the Women's Football Alliance, mostly with the Dallas Diamonds, where she helped the team win four championships.
"Coaching is nothing more than teaching," Arizona Coach Bruce Arians said Monday. "One thing I have learned from players is, 'How are you going to make me better?' If you can make me better, I don't care if you're the Green Hornet, I'll listen."
All mobbed up
The Mob Museum in Las Vegas is setting up an exhibit dedicated to corruption in sports.
The permanent display entitled "The 'Beautiful Game' Turns Ugly" will open at the National Museum of Organized Crime and Law Enforcement in downtown Las Vegas on Sept. 1.
It will feature photos, media clippings and narratives about accusations of bribes and other criminal activity in the Federation Internationale de Football Association, commonly known as FIFA.
A U.S. indictment citing the Racketeer Influenced and Corrupt Organizations Act, a federal law known as RICO, was filed against senior FIFA officials in May.
The museum's executive director said in a statement Tuesday that the new feature on the world's most popular sport would be of interest to Vegas' many foreign visitors.
FIFA didn't immediately respond to messages seeking comment on the exhibit.
Sports quiz
Who was the first person ejected from a World Series game?
Answer
Chicago Cubs Manager France Chance was thrown out by umpire Thomas Connolly for protesting a home run call.
Sports on 07/29/2015
Print Headline: Technology takes a leap in baseball
Sponsor Content