Google Inc. unveiled payment services, security upgrades, and access to HBO movies and shows for its Android software, seeking to push back against competition from rivals such as Apple Inc.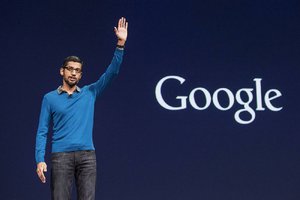 Photo by DAVID PAUL MORRIS / Bloomberg News
Sundar Pichai, senior vice president of products for Google Inc., speaks during the Google I/O Annual Developers Conference in San Francisco last week.
The new version of the mobile software, called Android M, will include Android Pay, which enables transactions at more than 700,000 stores in the U.S., Dave Burke, vice president of engineering for Android, said at the Internet company's annual developers conference in San Francisco last week.
Google is investing to extend Android's reach by keeping users engaged on its services and attracting them to new platforms using the software, such as televisions, autos and wearable devices. The Web-search company's mobile operating system grabbed 79 percent of the global smartphone market in the first quarter, down from 81 percent a year earlier, as Apple's iPhone gained ground, according to Gartner Inc.
"For M, we have gone back to the basics," said Sundar Pichai, Google's senior vice president of products. "We have really focused on polish and quality."
The conference, called I/O, comes less than two weeks before the start of Apple's developer event at the same location. The companies are vying to attract software-makers with more media platforms, better tools and new opportunities to make money from applications. Innovative mobile apps -- such as messaging features, puzzle games and news services -- can help keep users on the companies' platforms.
Android users will get faster battery charging, more fingerprint-related features and greater control over the information accessed by their devices. Users will be able to designate which Android apps can access personal data such as location, contacts and a device's camera, Google said.
HBO Now, the standalone Web-streaming service for movies and TV shows such as Game of Thrones, will be available across all of Google's devices, including televisions and mobile gadgets. The expansion gives HBO Now better access to consumers with Android devices, while bringing Google parity with Apple TV, which began offering HBO Now in April.
Google also showed off a feature of its mobile software that will bring the personalized notifications of its Now service to any application on Android. With the new Now on Tap service, users can search Google directly within an app, such as searching for more information on a musical artist while a song is playing.
After last year's introduction of a cardboard-based device to turn Android phones into virtual-reality headsets, the company showed how its Cardboard effort can be deployed in classrooms, giving teachers an affordable way to use virtual reality as a tool. Using Cardboard, students can be taken into a detailed virtual underwater environment, the Great Wall of China or 17th century Verona, Italy.
Google also is seeking to make it easier to record and watch virtual-reality videos through a project called Jump, and it said it's working with GoPro Inc. on a camera to create footage for the Jump platform that will be shown on YouTube. More than 1 million Cardboard viewers have been shipped.
One of the key advantages of Google's virtual-reality gadget is the cost. While Oculus' Rift is estimated to cost about $1,500 for the entire kit, a Cardboard headset can be put together with a smartphone, free software and a piece of cardboard.
The Mountain View, Calif.-based company also took the wraps off a new set of technologies for the Internet of Things, or the push to connect everyday household items such as washing machines and thermostats. Project Brillo aims to make it simpler for developers to build applications for such gadgets, Pichai said.
"We hope we can connect devices in a seamless and intuitive way," Pichai said. He also unveiled Weave, a new system for helping such linked items communicate. Last year, Google acquired connected-thermostat maker Nest Labs Inc., jump- starting its home-automation efforts.
The company's announcements also included a new Google Photos app, which offers unlimited free storage of photos and videos, accessible from any device. The app will let users edit and organize pictures and videos and share them on social media or with smaller groups, Google said.
Google has been making progress in helping developers wring more revenue from their apps. Android surpassed Apple's operating system for mobile ad revenue in the first quarter of 2015, a first for the Google software, according to Opera Mediaworks.
The search company's goal is to drive more users to its services -- everything from mapping to search to video-sharing service YouTube -- so Google can sell more advertising. The company, which makes most of its money on digital promotions, posted revenue, minus sales passed on to partners, of $13.9 billion in the first quarter, compared with estimates of $14 billion.
SundayMonday Business on 06/01/2015