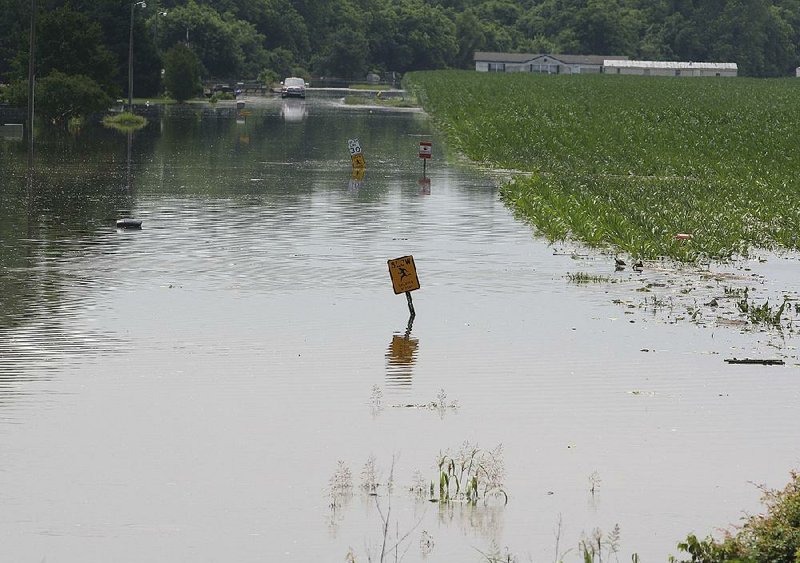 Water covers Riviera Drive in Pine Bluff on Tuesday. Several people have chosen to stay in their homes there, officials said. Wesley Hunt, a member of the Jefferson County Office of Emergency Management, warned residents to be on the lookout for snakes. "We're urging those who are staying in their homes to watch out for them." he said. "This is the time for them. The flooding has brought them out." ( Arkansas Democrat-Gazette / Staton Breidenthal)
The rain-swelled Arkansas River is forecast to crest in Little Rock and at Toad Suck Lock and Dam on Wednesday and in Pine Bluff on Thursday, bringing a start to relief for some areas hit by floodwaters.
The National Weather Service said Wednesday that Little Rock should crest at 23 feet Wednesday evening, just reaching minor flood stage.
Pine Bluff, meanwhile, which is already in major flood stage, is expected to crest at 46 feet late Thursday morning.
Major flooding was also reported at Toad Suck on Wednesday, where the river was measured at 280.35 feet early in the morning. It was set to reach 280.6 feet by 1 p.m. and then begin to fall by nighttime.
And in Morrilton, where the waters rose to major flood stage, the river had already crested Wednesday.
The river was also already falling upstream at Ozark Lock and Dam at about 2 feet per day, said Sean Clarke, a meteorologist with the weather service in North Little Rock. He said Little Rock and other areas should see the waters falling about a foot or two per day after they crest, a gradual decline.
"So we can still expect high water definitely through the weekend most locations on the Arkansas River," Clarke said, noting that the flow will also remain very high.
The high levels of rivers and streams across the state have spurred multiple flood warnings and have forced residents in some areas to evacuate their homes. More than 30 counties have been declared disaster areas because of weather-related issues.
In southwest Arkansas, the Red River was also at flood stage and was expected to stay that way for some time, the Arkansas Democrat-Gazette reported.
See Thursday's Arkansas Democrat-Gazette for full coverage.
Gallery: Arkansas flooding - June 2015
Sponsor Content