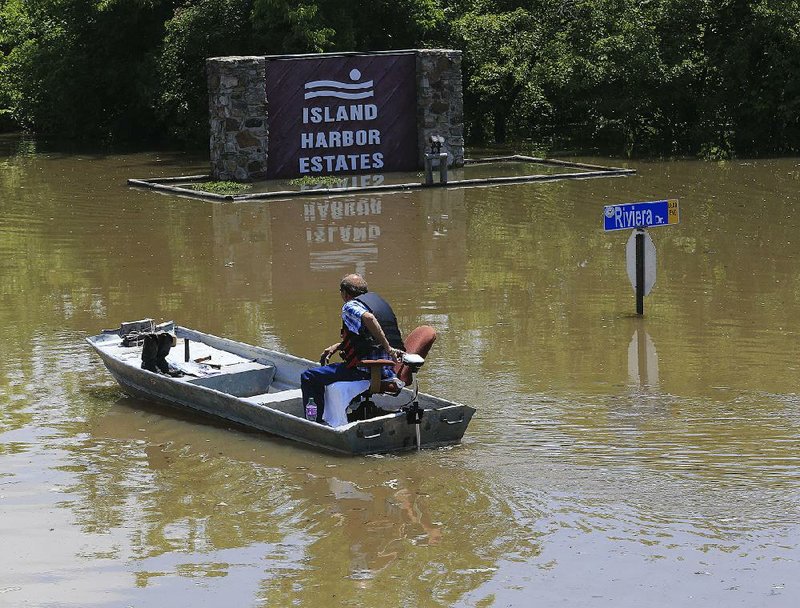 Jerry Trammell heads to his house on Riviera Drive in the Island Harbor Estates neighborhood of Pine Bluff on Tuesday. Trammell said the water had not reached the inside of his home. ( Arkansas Democrat-Gazette / Staton Breidenthal)
Correction: Jones Lane is a street near Mayflower where homes are flooded. This article gave an incorrect name for the street.
More than 30 sections of the flood-stressed levee system along the Red River began seeping Tuesday, forcing emergency officials in south Arkansas to stack sandbags around the leaks and monitor them.
Gallery: Arkansas flooding - June 2015
Such trouble spots are called "sand boils," in which leaking water comes from beneath the levees and bubbles onto the surface in a fountain of sand and water. Many have occurred just south of Garland, said Larry Pritchett, director of the Miller County Office of Emergency Management.
"These are popping up in problem areas from 1990," said Pritchett, referring to the Red River flood in May 1990. "We're dealing with them now."
Meanwhile on Tuesday, Gov. Asa Hutchinson added Conway, Jefferson, Perry and Sebastian counties to a growing list of counties declared state disaster areas because of heavy rains and flooding. Since May 8, Hutchinson has deemed 31 counties eligible to receive state disaster funding to repair roads, fix county- or city-owned facilities and provide rescue services.
Both the Red and Arkansas rivers began flooding in May after heavy rain fell in eastern Texas and Oklahoma and western Arkansas. Up to 20 inches of rainfall filled reservoirs along the rivers' basins in northeast Texas and southeast Oklahoma, and releases into the rivers have triggered repeated crestings and prolonged flooding.
The Arkansas River crested in Morrilton on Tuesday, reaching 38.9 feet; flood stage there is 30 feet. Homes along Jones Road near Mayflower remained cut off and could be accessed only by boat, officials there said.
In Little Rock, the river is set to crest at its flood stage of 23 feet this afternoon.
Flood stages are determined by how high the water is at a gauge when compared to a standardized level set at "zero" in southern Louisiana.
High water kept parts of the Arkansas River Trail near the Big Dam Bridge in North Little Rock closed Tuesday, and fields at Burns Park remained under water.
The flooding also forced the relocation of the CARTI Tour de Rock bicycling fundraiser Saturday, said Ron Standridge, a spokesman for the event. It now will be held near the River Trail Station between the Junction Bridge and Interstate 30 in North Little Rock instead of the original announced site at Burns Park.
In Pine Bluff, more than 4 feet of water was in homes in the Island Harbor Estates area, said Wesley Hunt, a member of the Jefferson County Office of Emergency Management. The Arkansas River is forecast to crest there Thursday morning at 46 feet. Flood stage is 42 feet.
Hunt said several people have chosen to remain in their homes despite the flooding to protect them from potential looting. Jefferson County sheriff's deputies also have patrolled the area in boats.
"One of the concerns now is with snakes," Hunt said. "We're urging those who are staying in their homes to watch out for them. This is the time for them. The flooding has brought them out."
Hunt said he saw seven snakes Tuesday when he went checked on flooding at Jefferson County Regional Park.
Warren Booker watched the levee at his Warren's Auto Body and Radiator shop on Port Road near the Arkansas River in Pine Bluff on Tuesday afternoon.
"The water is up to the bottom of the levee," he said "If that levee wasn't there, it'd be up in my home now. But I've been here 55 years, and I've seen the river go up before. I ain't worried about that levee."
The Arkansas River is expected to recede dramatically upstream as the latest crest of water sent from Oklahoma reservoirs works its way downstream. Morrilton's river level is expected to drop more than 7 feet by Saturday, and Little Rock's level will recede by 5 feet by the weekend, National Weather Service hydrologists predict.
Clear skies for the next several days will help with the receding water, said National Weather Service meteorologist Jeff Hood of North Little Rock.
The Red River, though, may see above-flood stage river levels for some time.
The Index gauge in Little River County crested at 31.2 feet Tuesday evening and will recede slowly to 28.3 feet by Saturday evening. Flood stage there is 27 feet.
Garland Mayor Tyesheeka Antwine said Tuesday that half of her town of 240 had evacuated homes, and others were preparing to do the same.
"They have their cars packed, and they are waiting to leave," she said. "The river is still rising, but it's slowing some. We're just waiting to see what we have to deal with."
In Fulton, a Miller County gauge site near Garland, the river reached 30.7 feet Tuesday evening. It is expected to crest at 32 feet Thursday afternoon and remain near the crest level through Sunday. Flood stage there is 27 feet.
One reason for the slow decline of water at Fulton is because Millwood Lake releases water into the Little River, which joins the Red River at Fulton. The lake was forced to hold back water earlier this week because reservoirs in Oklahoma and Texas were at capacity, and water at those reservoirs was released to protect dams there this week, said Mike Biggs, a U.S. Army Corps of Engineers hydraulic engineer in Little Rock.
Millwood Lake's flood pool was at 65 percent capacity, meaning water held for flood runoff. The lake should begin to release water into the Little River soon, he said.
"Tulsa is cutting back today," Biggs said Tuesday, referring to the release of water from reservoirs that spill into the Red River basin. "Typically, Millwood can make big releases, but Fulton also shares the channel capacity with Lake Texoma, and they were releasing."
Downstream, Pritchett said, he doesn't expect any levee breaches, despite the seepage. Teams placed sandbags around the leaks and watched for "clear water," meaning that sand from the levee was no longer eroding into the leak.
There is about 4 feet of water pressing against the levees in the troubled areas, he said.
"I'm not too concerned about it, but we are watching it very closely," Pritchett said.
Most of the areas where the sand boils are occurring are in rural farmland where no homes are, he said.
About 3 feet of water flooded the West Shore Restaurant, which sits inside the levee system in Garland near the Arkansas 82 crossing of the Red River. Homes in Garland on the other side of the levee were "high and dry," Antwine said.
Traffic drove slowly across Arkansas 82, and sightseers stopped to take video and photographs of the rapidly flowing water.
"People are actually stopping on the bridge, getting out and taking pictures," Pritchett said. "It's crazy. It's becoming a problem."
A Section on 06/03/2015
Print Headline: As levees seep, Arkansans pile more sandbags
Sponsor Content