Colleen Nick said Friday there's one person -- Morgan Nick's abductor -- who has the power to reunite her daughter with her family, and she prays that after 20 years he finds the courage to call law enforcement officials.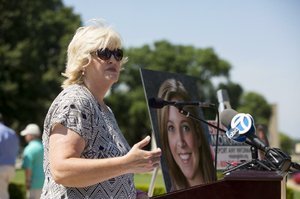 Photo by Melissa Gerrits
Colleen Nick, at a Capitol news conference to kick off a new campaign to find her daughter, Morgan, said she will never give up the search.
That's why Nick, the National Center for Missing and Exploited Children, the Alma Police Department and Gov. Asa Hutchinson have collaborated on a new month-long billboard campaign that began Friday and was announced during a news conference in front of the state Capitol.
The billboards will be displayed statewide and feature an updated, age-progressed photo of Morgan Nick.
A forensic team at the National Center for Missing and Exploited Children created the photo, which shows what the now 26-year-old Morgan Nick may look like.
The National Center for Missing and Exploited Children is a nonprofit organization that provides resources to law enforcement agencies, parents, and others on issues of missing and sexually exploited children.
Photos remain the most powerful tool for finding missing children, said Linda Krieg, acting chief executive officer with the Washington, D.C.-based organization.
"We will never give up hope," said Krieg, who remains optimistic because of the recoveries of long-term missing children such as Elizabeth Smart and Jaycee Dugard.
According to the National Center for Missing and Exploited Children website, 800,000 children younger than 18 are reported missing annually.
To help aid the search for an abducted child, the Arkansas State Police will add a text messaging service to its statewide missing and abducted children notification system, the Morgan Nick AMBER Alert System, in the next 30 days, Colleen Nick said.
Statistics have shown that the first three hours after an abduction are the most critical in recovery efforts.
"This phrase: 'I will fight fiercely until I find you.' That was not a conscious thought for me on June 9, 1995," an emotional Nick said Friday.
The night of June 9, 1995, in Alma, several witnesses told police that an unidentified man in a faded red Ford pickup left the baseball field around the same time that 6-year-old Morgan disappeared from a Little League game.
The night Morgan vanished, she and her family watched the baseball game and, toward the end, she hugged and kissed her mom and climbed down from the bleachers to catch fireflies with friends, Colleen Nick remembered.
Witnesses at the time said Morgan was playing in a sand pile near the baseball field. The last time Morgan was seen, she was kicking sand out of her shoes. She was wearing a green Girl Scout T-shirt, blue denim shorts and white tennis shoes.
People searched all night for Morgan but found no trace of her. The case quickly turned into a nationwide search as details of her disappearance and the description of her possible abductor were entered into database networks and fliers were posted that showed a photo of the smiling, blond first-grader.
Morgan's parents, Colleen and John Nick, who are now divorced, moved into the Alma Fire Department shortly after she disappeared, where they monitored the search for their daughter. The family was from Ozark.
Alma Police Chief Russell White, who had held that position for less than a year when Nick disappeared, said he's been asked why the department still works on this case.
White emphasized that this is not a cold case, but has been the department's most active one, with leads coming in from around the country every week.
The Alma baseball field where Morgan disappeared is one block away from the police station.
"In an instant, terror invaded our lives, and 20 years later we are still living with that terror," Colleen Nick said.
Hutchinson, who worked with Nick in the search for her daughter early on, said he remains inspired by her dedication and the commitment of local and national agencies to finding Morgan.
Nick established the Morgan Nick Foundation in 1996 to provide support to parents and families of missing and exploited children.
In March, Arkansas lawmakers recognized her and the Morgan Nick Foundation for their work on behalf of missing and exploited children in the state and nation.
"Some day I want to be able to look Morgan in the eye and say, 'I always knew that I would find you. I have always believed that you would come home,'" she said.
Anyone with information may call the Alma Police Department at (479) 632-3333 or The National Center for Missing and Exploited Children at (800) 843-5678.
Metro on 06/06/2015