All gauges on the Arkansas River were below flood stage, and the Red River continued receding Monday, a day after authorities found the body of a man missing in the waters for 10 days.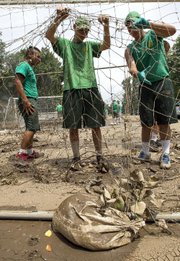 Several days of dry, sunny weather helped the rivers shrink faster than emergency officials expected. The Arkansas Highway and Transportation Department also reopened Arkansas 108 and Arkansas 41 in Little River County after waters went down.
"It's a blessing," said Michelle Richardson, an employee with the Miller County Office of Emergency Management. "The [Red] River has gone down 2 feet since Saturday. We're ready for the water to be gone."
Search teams found the body of Dugan Davis Ward, 28, of Texarkana on Sunday about 50 yards from where he was reported missing on May 28, said Rhonda Green, a spokesman for the Little River County sheriff's office.
Ward and his parents went to check on flooded property the night of May 28, when the boat they were in capsized. Ward's parents were rescued the next morning and said Ward had tried to rescue their dog when he was swept away in rapid water.
A cadaver dog found Ward in about 6 feet of water at 10 a.m. Sunday, Green said.
"The water was very swift," Green said. "It was about 10 feet deep when he disappeared."
On Monday, the Red River measured 30 feet at Fulton, down from the 32.1-foot crest early Saturday. It is forecast to drop below the 27-foot flood stage Wednesday morning, National Weather Service hydrologists in North Little Rock said.
Upstream at Index, the river was at 28.1 feet Monday afternoon and is expected to continue falling. It should drop below the flood stage of 25 feet by Wednesday evening.
Richardson said officials will disband their command center in Garland today because of the lowering river. They set the center up in the Miller County town June 1 and closely monitored the 40 miles of levee there for leaks.
Residents of the town of 242 evacuated Thursday evening when a section of the levee began leaking and eroding, Richardson said.
"It could have been drastic," she said.
Workers built a second levee from sand and rock and pumped water from the flooded Red River into a farm pond to help stabilize the new levee. The fix held, and no homes inside Garland were flooded.
Richardson said emergency management crews were ready to return home.
"We're going to let Garland have their town back," she said.
Lafayette County Office of Emergency Management coordinator Danny Ormand continued checking Red River levees Monday. Several spots continued leaking, but the river receded at least 8 inches Monday and pressure on the system continues to lessen.
"They are all holding up well," he said.
He warned people to watch for wildlife displaced by the floodwater.
When teams set up in Garland, they noticed a 5-foot-long alligator in a ditch across from the command center.
"We're still hearing reports of gators on the levees, along with snakes, raccoons and everything else coming up from the bottoms," he said. "The water pushed them all up here."
Several also spotted displaced alligators along the Arkansas River in Pine Bluff, authorities said.
"We've heard a few reports of that," said Karen Blevins, coordinator of the Jefferson County Office of Emergency Management. "People are just now able to get back into their homes, and they've seen a few alligators there."
The Arkansas River crested in Pine Bluff on Thursday at 46 feet, 4 feet above its flood stage. More than 200 homes had water in them in Island Harbor Estates, Raydell and other areas along the river.
On Monday, the river dropped to 40 feet.
"Today was our busiest day," Blevins said. "People were able to see their homes, and they are calling in with damage reports."
Several area church groups are helping elderly and disabled home owners with the cleanup.
Eric Maynard, a park interpreter with the Delta Rivers Nature center in Pine Bluff, said he was able to drive to the center for the first time Monday since flooding began in May. Before, he and others used boats to deliver food to the animals housed inside the center.
The center has no power and water remains under the center, which is on stilts.
"Mud has settled on everything," he said. "It smells like dead fish. It's going to be a while before the public can get back out here."
Upstream in Morrilton, several flooded roads that kept people from their home were passable Monday, said Faulkner County spokesman David Hogue.
He said no homes were flooded, but water had covered Jones Lane, Bayou Drive, Sand Gap and Easterwood Point near Mayflower, and many homes were accessible only by boat.
"Most of the homes were raised above the ground and didn't get water," Hogue said. "There were sheds that were flooded, and water is still in fields and on crops."
The Arkansas River dropped more than 10 feet since Thursday, when it crested at 35.8 feet in Morrilton. On Monday evening, it measured at 25.5 feet.
The rapid recession of waters prompted the National Weather Service in North Little Rock to cancel all of its flood warnings along the Arkansas River on Monday.
More rain was expected overnight Monday as a frontal system pushed into the state, said Weather Service meteorologist Dave Sheibe of North Little Rock. Some areas could see isolated thunderstorms, but the storms weren't predicted to produce much rain.
"The rivers will keep on falling," Sheibe said. "This won't have any impact on that."
Temperatures are expected to remain in the lower 90s in central and southern Arkansas through the week. The mercury climbed above the 90-degree mark in several towns across the state Saturday for the first time since October.
"We're finally in a summer pattern," Sheibe said. "We'll see temperatures like this more often."
State Desk on 06/09/2015