State marriage licenses issued to gay couples last year are just as valid as those issued to their heterosexual counterparts, a Pulaski County circuit judge ruled Tuesday as Arkansas waits for a higher court to decide the question of whether same-sex couples have a right to marry.
Document Set
Gay marriage in Arkansas
View All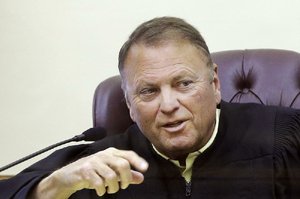 Photo by DANNY JOHNSTON / AP
Circuit Judge Chris Piazza presides at a hearing in the Pulaski County Court House in Little Rock, Ark., Thursday, April 17, 2014.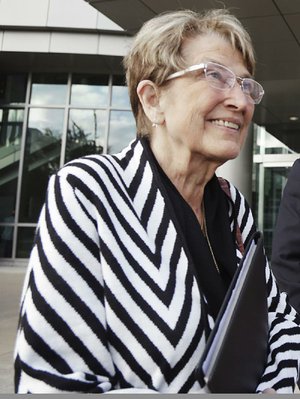 Photo by DANNY JOHNSTON / AP
Attorney Cheryl Maples leaves federal court in Little Rock, Ark., Thursday, Nov. 20, 2014.
Judge Wendell Griffen — ruling in a lawsuit seeking to force state officials to recognize same-sex unions that have been solemnized with state licenses — called arguments against honoring those licenses "logically absurd and fundamentally unjust." His ruling comes a day after hearing arguments in the 4-month-old suit.
The plaintiffs were two couples who married on May 12, 2014, their first opportunity to wed in Little Rock, after another judge's ruling that the Arkansas ban on samesex marriage is illegal.
The question of whether that same-sex marriage prohibition, built on state constitutional amendment and statutory law, is legal has been before the state Supreme Court since Nov. 20. A decision by the U.S. Supreme Court on the issue of whether marriage is a right could be issued by the end of the month.
Griffen ordered the state Department of Finance and Administration to immediately begin allowing the married plaintiffs — Angelia Frazier-Henson, 39, and Katherine Henson, 43, of Benton, and Markett Humphries, 34, and Dianna Christy, 44, of Jacksonville — all of the rights afforded to any other wedded couples.
He specifically singled out the relief sought by the plaintiffs, the opportunity to file joint income-tax returns and to add spouses to state medical insurance coverage.
Department Director Larry Walther's refusal to recognize the validity of their licenses violated their constitutional rights, Griffen's 15-page opinion stated. The judge chastised Walther, a recent gubernatorial appointee, for his stance.
"With shameless disrespect for fundamental fairness and equality, Director Walther insists on treating the marriages of same-sex couples who received marriage licenses … as 'void from inception as a matter of law,'" the judge wrote, quoting the state's argument.
Walther, represented by the Arkansas attorney general's office, disputed that last year's ruling by Pulaski County Circuit Judge Chris Piazza allowed for county clerks to issue marriage licenses to same-sex applicants because Piazza's initial ruling on May 9, 2014, did not explicitly strike down the part of the law regarding licenses.
Piazza legally opened the door for same-sex applicants only six days later on May 15, 2014, through a subsequent clarifying order, state lawyers argued.
The state's argument to Griffen was that Piazza did not have the authority to make his second order retroactive to the time of his initial ruling.
The appeal of Piazza's decision to the Arkansas Supreme Court suspended his ruling on May 16, 2014, and halted clerks from continuing to issue licenses to gay couples.
In response to Tuesday's decision, Attorney General Leslie Rutledge said she is considering her next move. Her office is already overseeing the appeal of Piazza's decision.
"These marriages do not fall within the state's definition of marriage as between one man and one woman," Rutledge said. "I am evaluating the ruling and will determine the best path forward to protect the state's interest."
Plaintiffs attorney Cheryl Maples, who is also one of the architects of the original lawsuit decided by Piazza, said now attention turns to the higher courts in Little Rock and Washington, D.C., where the future of marriage equality will ultimately be decided.
"I'm hoping that this phase is done, and the state does not appeal," she said. "Now we wait to see what the Arkansas Supreme Court and the U.S. Supreme Court will do."
Maples said she hopes Rutledge will decide not to "waste" tax dollars in pursuing an appeal, since Griffen's decision only affects a small group of people under limited circumstances.
Maples might get the chance to ask the attorney general directly. Maples was speaking Tuesday from the annual Arkansas Bar Association meeting in Hot Springs, where Rutledge is a scheduled speaker, and most or all of the state's seven highcourt justices plan to attend.
Tippi McCullough, president of the Stonewall Democratic Caucus of Arkansas, praised the judge for the speed of his "well-written" decision and the benefits it afforded to legally married couples.
"We are thrilled that the court recognizes that all of these couples should enjoy the privileges offered to any citizens who marry legally in Arkansas, such as filing joint state income taxes and the ability to be added to state insurance as a married couple," McCullough said.
The Human Rights Campaign called Griffen's decision another step forward for marriage equality.
"Virtually every day, we continue to see tremendous signs of progress toward realizing the dream of marriage equality for gay and lesbian Arkansans," said the campaign's Arkansas chapter director Kendra R. Johnson. "While we await a final decision by the United States Supreme Court to resolve the issue of marriage equality nationwide once and for all, Judge Griffen's ruling demonstrates yet again the unmistakable momentum of … equality in the Natural State."
In New York, the national group Freedom to Marry said Griffen joins a host of judges nationwide who have recognized the legality of same-sex marriage.
"Today Judge Griffen joins more than 65 federal and state courts across America that have found that denying same-sex couples the freedom to marry or equal respect for their marriages violates the U.S. Constitution," Evan Wolfson, the group's president, said. "It's time for the [federal] Supreme Court to do what courts and the super-majority of Americans have done: affirm the freedom to marry for all, bringing an end to marriage discrimination throughout the land, leaving no family and no state out."
Jerry Cox, founder and president of the Arkansas Family Council, which has spoken out against gay marriage, did not return a call left on his cellphone seeking comment.
The question for Griffen to decide boiled down to how much authority circuit judges have to amend previous orders. State lawyers contended that Piazza had overreached in extending his initial ruling in a clarifying order.
But Griffen decided that to reach the conclusion that Piazza's clarifying ruling could not be applied retroactively, state lawyers had to embrace a "manifestly inaccurate and tortured misinterpretation" of Rule 60 of the Arkansas Rules of Civil Procedure.
Their argument defies understanding of the rule as it is expressly written and has been interpreted by years of appellate court decisions, Griffen wrote. The rule governs when and how a judge can amend a previously issued ruling to correct clerical errors, other mistakes and omissions.
"The obvious flaw in Director Walther's position is that it is bottomed on an inaccurate reading of Rule
The position asserted by Director Walther contradicts the plain wording of Rule 60 … and flies in the face of Arkansas appellate decisions," Griffen wrote.
He called Piazza's initial ruling "courageous," writing that the decision was so clearly written that no one could question what Piazza intended.
"The notion that Judge Piazza would make that announcement and permit the unconstitutional prohibition against same-sex marriage to remain in effect after May 9 [2014], thereby subjecting these plaintiffs and other same-sex couples who obtained marriage licenses in the six-day period between his ruling and May 16, 2014, 'to suffer because they are … outnumbered, or non-conforming victims of prejudice and public excitement' is absurd," Griffen wrote, quoting from the Piazza decision.
"Put simply, Judge Piazza's intent in his May 9 order was to stop the State of Arkansas from prohibiting same-sex couples from being married."
Information for this article was contributed by Jordan Gass-Pooré of the Arkansas Democrat-Gazette.