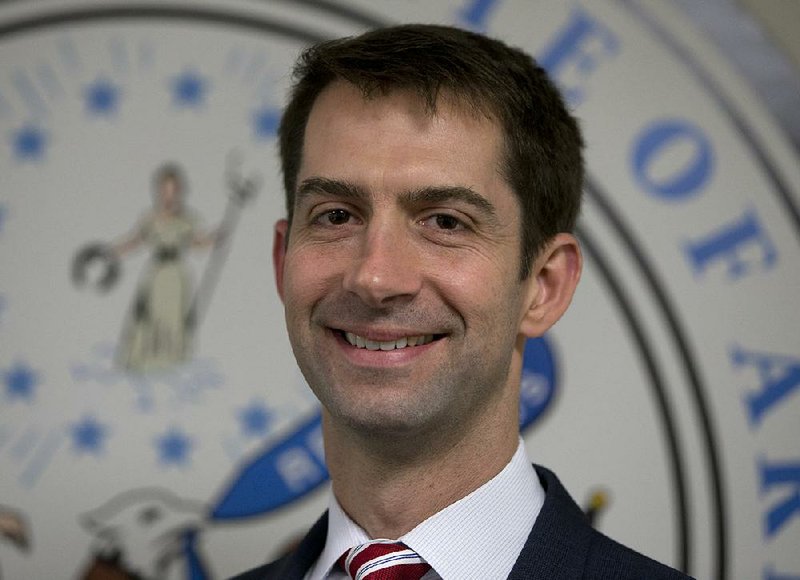 Sen. Tom Cotton, R-Ark. is shown in this March 11, 2015 file photo. (AP / CAROLYN KASTER )
WASHINGTON -- Under the threat of billions of dollars in trade retaliation from Canada and Mexico, Arkansas' senators and agricultural producers are pushing the U.S. Senate to remove a law requiring that meat be labeled with the country where the animal was born, raised and slaughtered.
The House approved a bill to repeal the U.S. Country of Origin Labeling law, commonly known as COOL, in a 300-131 vote Wednesday. As of Friday afternoon, the Senate had no public plans for a vote on the measure.
Arkansas' delegation supports repealing the law, saying food from Mexico and Canada is just as safe as products from the United States.
"Canadian food safety standards are virtually as good as American ones," U.S. Sen. Tom Cotton, R-Ark., said. "This is not a Third World or developing country, this is our closest trading partner, one of our closest allies in the world and these labels simply don't add much information that consumers would really benefit."
Some consumer advocates and farmers have pushed for Congress to tweak the law, saying American consumers should know what country their food comes from.
Canadian and Mexican governments have objected to the labeling, saying it drives up costs because their meat animals have to be tracked and segregated at slaughterhouses in order for the meat to be properly labeled. Beef and pork producers in those countries often send their animals to the United States to be fed out and processed.
Some businesses have stopped purchasing cattle, swine and poultry from Canada and Mexico to avoid the extra costs, giving an unfair advantage to American meat, they say.
In 2014, the World Trade Organization sided with Canada and Mexico, ruling that the country-of-origin provisions on beef and pork discriminate against Canadian and Mexican producers.
On May 18, the international trade body rejected the United States' fourth appeal of the decision, opening the door for Canada and Mexico to place retaliatory tariffs on U.S. goods going into those two countries.
Early this month, Canada announced that it will ask the WTO for permission to institute up to $3 billion in Canadian currency (about $2.4 billion U.S. dollars) a year in retaliatory tariffs on U.S. imports, and Mexico plans to seek $653 million in such tariffs.
On Wednesday, the WTO will consider whether the requested amounts are fair. Tariffs could go into effect as soon as 60 days after, if the Senate doesn't act on the labeling bill before then.
Canada and Mexico haven't specified what U.S. products would get the higher tariffs, but a preliminary Canadian list included fresh pork and beef, rice, apples, wine, maple syrup and furniture.
U.S. Sen. John Boozman, R-Ark., said it's time for the United States to repeal the labeling law rather than continue fighting the WTO decision.
"The Mexican government and Canadian government are getting very, very serious," he said. "We've lost four times, and we'll lose in the future. There is very little gain to be had, if any. It's pretty clear that it doesn't meet the trade agreements that we have in place, and yet there are some senators that would very much like to continue on."
To avoid the possibility of a filibuster, those who support repeal of the law need the votes of at least 60 of the 100 senators.
Cotton, who is from Dardanelle, said he has been trying to inform colleagues what the consequences are of doing nothing on the labeling bill.
"The main thing I've been doing so far is working with the freshmen to make sure they understand the threat the COOL requirements and the retaliatory barriers pose to their states' economy," Cotton said. "Many of them have been quite surprised to hear that this is a risk and certainly want to do something about it."
So far, the United States' attempts to tweak the country-of-origin law to make the labels more palatable to the WTO have not altered the organization's decision.
Still, groups like the National Farmers Union have urged the U.S. government to negotiate with Canada and Mexico to find a label that works for all three countries, rather than repeal the law.
In a statement, National Farmers Union President Roger Johnson called the House of Representatives vote a "disappointing, knee-jerk overreaction."
The Senate should "work with COOL supporters on a viable alternative that will finally bring this long process to closure," he said.
The highest-ranking Democrat on the Senate Agriculture Committee, U.S. Sen. Debbie Stabenow, D-Mich., raised the possibility of tweaking the labeling law when the WTO ruled against the United States' appeal in May. Any revised legislation would likely go through the Agriculture Committee.
"Consumers have a right to know where their food comes from, and that's why I support Country-of-Origin Labeling," she said in a statement at the time. "If adjustments are needed, we should find a bipartisan path forward that both protects the interests of consumers and encourages international trade."
U.S. Rep. Rick Crawford, R-Ark., serves on the House Agriculture Committee. He said industry groups are going to push hard for the Senate to act.
"I know from talking with the Canadians and the Mexicans, there is going to be an awful lot of pressure to get [the Senate bill] moved. No pun intended, but hopefully cooler heads will prevail," he said.
If the Senate doesn't act, Crawford said, he expects the tariffs to be aimed at the top exports from each state, particularly in the states represented by senators who oppose repealing the labeling law.
"They are going to be very targeted and very specific," he said. "I don't want to see that happen. As a nation, our economy is still limping along here. We don't need this kind of economic trouble on top of what we're already trying to struggle through."
Canada and Mexico are the largest recipients of the $7.2 billion worth of goods exported from Arkansas in 2014, according to the U.S. Trade Representative's website.
In 2014, the state sold $1.6 billion in goods to Canada and $870 million to Mexico.
In 2012, the Canadian government released a state-by-state breakdown of the retaliatory tariffs it would consider. The list includes 19 commodities from Arkansas. Rice, grains, chicken and beef topped the list.
State industry groups said they are doing what they can to push the Senate to act.
Arkansas Pork Producers Association Executive Vice President Jerry Master said he and several Arkansas farmers traveled to Washington a few weeks ago to talk with members of Congress.
"Those are pretty important export markets for us. So if we get these retaliatory tariffs, it's going to drive the price of pork down and be hard to export pork," Master said. "And that results in an economic disadvantage to our pork producers."
Arkansas rice producers are taking the threat seriously, Arkansas Rice Federation spokesman Ben Noble said.
Canada and Mexico "are a significant part of our business on an annual basis. The bottom line is it is a big deal for the industry," he said.
Canada has threatened to impose tariffs of 100 percent of the value of certain American products sold in Canada, including rice.
"It basically doubles the price of the product," Noble said. "So, if you go to Wal-Mart, and you are buying Coca-Cola and it's a dollar, well now it's two dollars."
Arkansas' congressional delegation pushed back on advocates' argument that consumers want to know where the animals that became their meat spent each stage of their lives.
U.S. Rep. Bruce Westerman, R-Ark., said producers could still choose to label their meat indicating that the animals always lived in the United States, if they think that gives them an advantage.
"That's still available to them. It's just not a requirement," he said.
U.S. Rep. French Hill, R-Ark., said the U.S. Department of Agriculture label, which would still be required, should be enough.
"American consumers still have access to USDA labeling that tells them the quality of the product they have on their grocery-store shelves," he said.
U.S. Rep. Steve Womack, R-Ark., said he understands the desire to know where animals used for meat are born, raised and slaughtered, "but again we are responding to a decision made by the [WTO] that was filed by Canada and Mexico, and they are two big trading partners."
SundayMonday on 06/14/2015
Print Headline: Meat-labels law seen in D.C. as a risky business
Sponsor Content