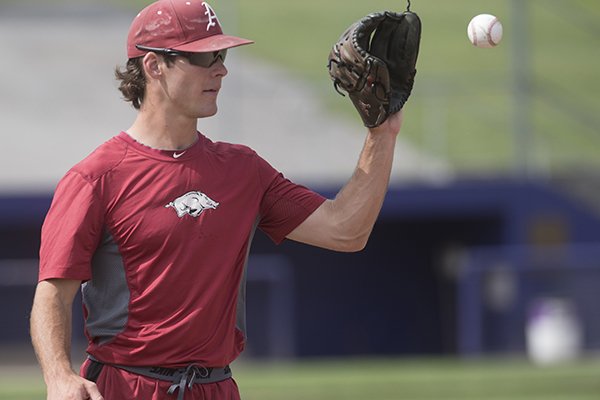 Arkansas pitcher Jackson Lowery warms up during practice Sunday, June 14, 2015, at Bellevue East High School in Bellevue, Neb. ( J.T. Wampler)
OMAHA, Neb. -- Jackson Lowery went to the University of Central Arkansas in the fall of 2010 planning to play shortstop for the Bears.
Today he might be pitching for the Arkansas Razorbacks in the College World Series with their season on the line.
TODAY'S ELIMINATION GAME
ARKANSAS VS. MIAMI
WHEN 2 p.m.
RADIO Razorback Sports Network. Check local
WHERE TD Ameritrade Park, Omaha, Neb. listings
RECORDS Arkansas 40-24, Miami 49-16
TELEVISION ESPN2
PROBABLE STARTING LINEUPS
ARKANSAS
POS. NAME KEY STATS
LF Joe Serrano .283, 46 runs, 35 RBI
3B Bobby Wernes .279, 5 HR, 26 RBI
CF Andrew Benintendi .381, 20 HR, 57 RBI
RF Tyler Spoon .329, 6 HR, 54 RBI
2B Rick Nomura .288, 4 HR, 39 runs
DH Brett McAfee .288, 26 runs, 22 RBI
SS Michael Bernal .273, 4 HR, 30 RBI
1B Clark Eagan .284, 44 runs, 13
2B C Tucker Pennell .204, 9 runs, 7 RBI
STARTING PITCHER
RH Keaton McKinney 6-2, 3.27, 43 K
LIKELY RELIEVERS
RH Jackson Lowery 7-1, 3.16, 35 K
RH Zach Jackson 5-0, 2.01, 88 K
MIAMI
POS. NAME KEY STATS
CF Ricky Eusebio .295, 19 SB, 70 runs
1B Chris Barr .308, 43 runs, 32 RBI
2B G. Iskenderian .365, 70 runs, 55 RBI
C Zack Collins .305, 15 HR, 70 RBI
3B David Thompson .335, 19 HR, 89 RBI
DH Garrett Kennedy .323, 7 HR, 51 RBI
SS Brandon Lopez .316, 29 run, 23 RBI
RF Willie Abreu .294, 6 HR, 47 RBI
LF Jacob Heyward .320, 3 HR, 15 RBI
STARTING PITCHER
LH Thomas Woodrey 7-2,3.06,55 K
LIKELY RELIEVERS
LH Danny Garcia 7-1, 3.46, 79 K
RH Enrique Sosa 7-4, 4.07, 71 K
GAME BREAKDOWN
Arkansas Coach Dave Van Horn had to make a difficult call on his starting pitcher, and it's imperative the Razorbacks get good innings from Keaton McKinney with little depth in the bullpen. Zach Jackson threw 23 pitches on Saturday and should be ready for another short stint, but Arkansas cannot afford to burn up pitchers in the losers' bracket. ...Miami has a distinct edge in pitching depth and its 3.02 ERA entering the World Series (3.07 after its 15-3 loss to Florida) ranked No. 20. ... The Razorbacks ranked No. 106 with a 4.09 ERA entering Omaha. ... It appears the Razorbacks are going to have to outscore opponents the rest of the way as their winners' bracket blueprint of fewer and more spaced-out games, has been blown. ... The Hurricanes lead the nation in runs scored by a wide margin and entered the weekend with sixth-best batting average (.311). ... Miami has 88 stolen bases in 108 attempts, including 13 of 13 by Chris Barr and 23 of 25 by George Iskenderian, so the Hurricanes are likely to have their running shoes on today after watching what Virginia did with five stolen bases on Saturday. ... Neither Arkansas nor Miami are accustomed to losing back-to-back games. The Hurricanes lost two in a row four times, the last coming on April 24-25 against No. 12 Florida State. The Razorbacks lost back-to-back games eight times, but once since March 24, with losses to No. 1 LSU and No. 6 Florida at the SEC Tournament on May 21-22.
— Tom Murphy
"It's pretty wild," Jackson said. "If you would have told me five years ago I'd be pitching for Arkansas at the College World Series, I probably wouldn't have believed you."
Arkansas Coach Dave Van Horn said freshman right-hander Keaton McKinney will start for the Razorbacks (40-24) against Miami (49-15) when the teams play at 2 p.m. today at TD Ameritrade Park in an elimination game.
MicKinney has been struggling in recent starts because of a hip injury, and if he struggles early today, look for Jackson as the probable replacement.
"He's one of the few guys we've got left," Van Horn said. "He's got the experience and he's done a good job."
Jackson, a fifth-year senior right-hander from Pulaski Academy in Little Rock, has become one of the Razorbacks' key pitchers this season. His role has become bigger with the loss of James Teague (elbow injury) and Dominic Taccolini (complications from arm tendinitis).
"Jackson's been unreal," Arkansas right fielder Tyler Spoon said. "He kind of came out of nowhere about two months ago and started pitching his butt off in big situations.
"When we've needed someone to pitch, he's stepped up and done it. We joke around with him, 'Hey, Jackson, you ready to throw 200 pitches today?'
"He says, 'I'm ready. 'He doesn't care. He's just tough on the mound and he's a great teammate."
Lowery is 7-1 with a 3.16 earned run average in 57 innings this season while making three starts and 18 relief appearances. He's been at this best in the NCAA Tournament with a 1-0 record and 1.98 ERA 13 2/3 innings over three games while holding hitters to a .114 batting average.
"We didn't know what he was going to do this year," Van Horn said. "We knew he had a good arm and it's been kind of a roller-coaster for him the first couple of years, but this year he really kicked it into gear and has helped us."
Lowery said UCA Coach Allen Gum converted him from shortstop to pitcher his freshman season.
"I realized I wasn't going to play much at shortstop and we needed some arms," Lowery said. "Coach Gum saw me throw a couple of innings in a summer game -- I never pitched in high school --so they decided to try me on the mound.
"It was kind of crazy how it worked out."
Lowery went 1-1 with a 4.66 ERA in 15 relief appearances for UCA in 2011, but he decided he wanted to try to play for Arkansas and transferred to Meridian (Miss.) Community College in the hopes of doing well enough there to get the Razorbacks' attention.
"Arkansas is my dream school," Lowery said. "I was going to do everything I could to get there."
Lowery, whose fastball tops out at about 92 mph, went 2-3 with a 4.03 ERA and 2 saves at Meridian -- where he played for current UALR Coach Chris Curry -- but had 30 strikeouts in 22 1/3 innings. He transferred to Arkansas and redshirted in 2013 when the Razorbacks had 11 pitchers who eventually were drafted by major-league teams.
"It was unbelievable being around those guys and learning from them," Lowery said. "I definitely wouldn't have been able to do the things I have without that redshirt year."
Lowery went 1-1 with a 4.04 ERA in 20 relief appearances last season, but pitched well in the NCAA Tournament when he recorded a save with four scoreless innings against Bucknell.
"I couldn't be happier for Jackson and how things have worked out for him," said Arkansas junior pitcher Trey Killian, a ninth-round pick by the Colorado Rockies. "All he's ever been about his whole life is playing for the Hogs.
"He's my roommate, and I know how much it means to Jackson to be playing for Arkansas and going to this College World Series."
Lowery wasn't drafted this year, but said he's hopeful of signing as a free agent and playing professionally.
"I'm now just actually learning how to pitch instead of just being a guy with a good arm," Lowery said. "I think I'll have a chance to be successful here in the College World Series, and I'm going to work my tail off to be successful at the next level, too."
Sports on 06/15/2015
Print Headline: 5 years, 3 schools, 1 mission: Lowery fulfills dream, in roundabout way
Sponsor Content