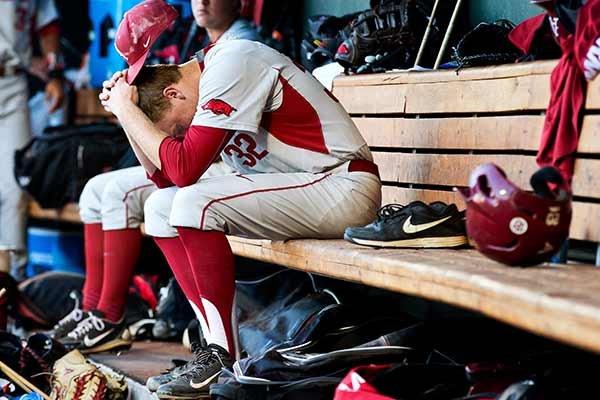 Arkansas' Zach Jackson sits in the dugout after Miami's 4-3 win in an NCAA college baseball game in the College World Series, Monday, June 15, 2015, in Omaha, Neb. (Chris Machian/The Omaha World-Herald via AP)
OMAHA, Neb. -- Jacob Heyward should be known as more than being St. Louis Cardinals outfielder Jason Heyward's younger brother after what the Miami sophomore did against Arkansas on Monday night at the College World Series.
Heyward -- the Hurricanes' ninth-place hitter and left fielder -- drove in three runs, including the game-winner in the bottom of the ninth inning, to lift Miami to a 4-3 victory before 18,734 fans at TD Ameritrade Park to end the Razorbacks' season.
"That would be Mr. Heyward," Miami Coach Jim Morris said after the game. "Mr. Heyward's day, goodness gracious."
Heyward went 3 for 3, including a two-run home run in the fifth inning and a single in the ninth inning to score Carl Chester, who pinch ran after Willie Abreu doubled off the the center field wall against Arkansas closer Zach Jackson (5-1) leading off the ninth.
"It looked like he was seeing a beach ball up there," Razorbacks left fielder Joe Serrano said of Heyward. "Everything we were throwing him -- low, away, up, in -- he was just handling really well."
Morris had Heyward try to use a sacrifice bunt to move Chester to third before he fell behind Jackson 1-2.
"I've got to be honest, when we were trying to bunt and didn't get him over, I was almost glad because I just had a feeling Jacob was going to get a hit," Morris said. "It was one of those days."
Arkansas Coach Dave Van Horn said he didn't feel Jackson threw the ball poorly in the ninth inning.
"He had some pretty good stuff," Van Horn said. "I thought the double was just elevated a little bit, and then the single that won, Zach was ahead in the count and he left that breaking ball up just a little bit too much.
"He wanted it to get down in the zone where it was more of a chase pitch. Just give credit to their hitter. He did a nice job with it."
Jackson also allowed the game-winning hit in the eighth inning against Virginia on Saturday when the Cavaliers beat the Razorbacks 5-3 to open the College World Series.
"That's baseball. Some days people just get the better of you," Jackson said. "The last guy [Heyward], I felt like it was a decent pitch.
"He just put a good piece on it. Sometimes you've just got to tip your cap to him."
Heyward said it was a relief to get the hit off Jackson, a first-team All-SEC reliever who will play for Team USA this summer.
"It would have been terrible if I'd struck out," he said. "To have a good at-bat and put the barrel on the ball, I'm glad it happened."
Arkansas tied it 3-3 in the eighth inning on three consecutive singles by Tyler Spoon, Rick Nomura and Brett McAfee against Miami reliever Daniel Garcia.
McAfee fouled off a bunt attempt to fall behind 1-2. He squared around again, then pulled the bat back and singled up the middle to score Spoon.
The Razorbacks had runners on first and third with no outs, but Cooper Hammond came in to pitch and got a double-play grounder from Michael Bernal to end the threat.
Arkansas loaded the bases with two outs in the ninth, but Normua -- who had been 3 for 3 with a walk -- grounded out against Miami closer Bryan Garcia.
"I was just trying to get the fat part of the bat on the ball, and I was going to let everything else take care of itself," Nomura said.
Heyward put Miami ahead 3-2 in the seventh inning when he scored nearly single-handedly. He hit a leadoff single and stole second. When Ricky Eusebio hit a grounder to Bernal at shortstop, Heyward took off for third. Bernal tried to throw him out, but threw wide and the ball got by third baseman Bobby Wernes and Heyward then ran home.
"Honestly, it was just reaction," Heyward said. "I knew I had the speed to get to third base on that play.
"Just knowing in the College World Series, every time somebody was aggressive in the game, they always made the other team make a mistake."
Heyward's home run was against Jackson Lowery came with two outs in the fifth inning after Arkansas starter Keaton McKinney held the Hurricanes to two hits over 4 1/3 innings.
Arkansas made it 2-1 in the sixth inning with an unearned run against Miami starter Thomas Woodrey. Spoon reached first base on a fielder's choice groundout, stole second and went to third on a throwing error by catcher Garrett Kennedy and scored on Nomura's two-out infield single.
Wernes hit a two-out RBI single -- after fouling off three 2-2 pitches from Michael Mediaville -- to score Clark Eagan and tie it at 2-2 in the seventh inning.
"Arkansas did a great job coming back," Morris said. "That's a credit to a good team. They kept battling."
Heyward made his 21st start Monday night after being a backup much of the season.
"I'm sure Jacob will remember the day I called him in to talk because I wasn't sure he understood I still believed in him," Morris said. "I wanted him to keep his head up even though he wasn't playing.
"His was response was, 'Don't worry about me, Coach. I'll be there to play when you call my name.' "
Sports on 06/16/2015
Print Headline: Out in Omaha
Sponsor Content