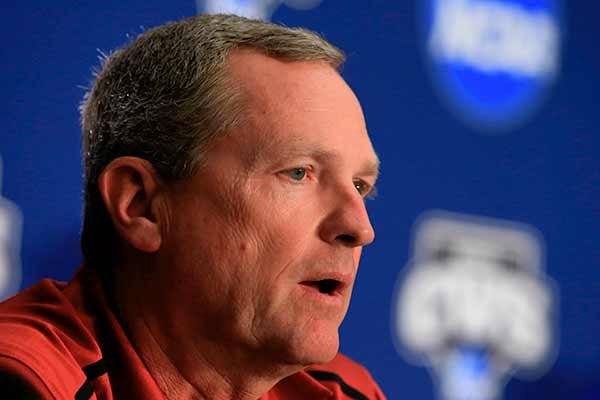 Arkansas coach Dave Van Horn speaks during a coaches news conference, Friday, June 12, 2015, in Omaha, Neb. Arkansas plays Virginia on Saturday in an NCAA College World Series baseball game at TD Ameritrade Park in Omaha. (AP Photo/Nati Harnik)
OMAHA, Neb. -- The Arkansas baseball team had one final team meeting in the outfield Monday night at TD Ameritrade Park.
Miami had just ended Arkansas' season, beating the Razorbacks 4-3 in an elimination game at the College World Series.
Coach Dave Van Horn's message to the Razorbacks was to be proud about being among the eight teams that advanced to play in Omaha.
"He wasn't crying," Arkansas sophomore closer Zach Jackson said. "He said that was silly because nobody expected us to be here."
The Razorbacks (40-25) started the season 11-12 overall and 1-5 in the SEC. They rallied to finish fifth in the SEC at 17-12 and made the program's eighth College World Series appearance.
"We ended up where we wanted to be," said Arkansas center fielder Andrew Beintendi, who has won three national player of the year awards. "It just ended too soon."
Arkansas twice fell behind Miami, 2-0 and 3-2, but the Razorbacks came back to tie it 2-2 and 3-3 before Jacob Heyward drove in the game-winning run in the bottom of the ninth inning with a single off Jackson.
"This game was like a microcosm of our whole season," Razorbacks senior pitcher Jackson Lowery said. "We got punched in the mouth, and we punched back and kept fighting until the end.
"I'm just proud to say I was on a team with guys like this. It's just hard for it to end."
Van Horn said the game essentially was what the Razorbacks have been doing for the past 45 days.
"Just grinding and trying to stay in games, trying to find a way to win," Van Horn said.
The Razorbacks won the Stillwater Regional with a 4-3 victory over St. John's and won their super regional at Baum Stadium in Fayetteville with a 3-2 victory over Missouri State in the winner-take-all third game.
"We played a lot of close games, and those guys are pretty tough mentally," Van Horn said. "We never shut it down."
Benintendi, the No. 7 overall pick by Boston in the major-league amateur draft, recalled the 6 a.m. workouts with teammates in the fall.
"We've been together now since last September almost every single day," Benintendi said. "We probably know each other more than we should know your teammates. It's been fun, this whole year. Looking back in a few years, it's going to be special."
Jackson, who will pitch for Team USA this summer, said the Razorbacks grew closer as they continued to overcome adversity.
"That's why it hurts so bad right now, because this is the closest team I've ever been a part of," Jackson said. "This is a team that I don't want to leave. The guys who are leaving, I hate thinking about that right now. We have fun playing the game.
"I think that's the reason we're here when nobody else had faith in us but us."
Benintendi is expected to sign with Boston for a bonus in the $3.6 million range. Junior pitcher Trey Killian, a ninth-round pick by Colorado, likely will sign to play professionally.
Senior outfielder Joe Serrano ended his Arkansas career. The Razorbacks could lose junior third baseman Bobby Wernes, a 30th-round pick by Houston, and redshirt junior right fielder Tyler Spoon, a 35th-round pick by Boston.
Among position players who started this season and have eligibility remaining are first baseman Clark Eagan, second baseman Rick Nomura, shortstop Michael Bernal and catchers Tucker Pennell, Alex Gosser and Chris Shaddy.
Key pitchers returning include Jackson, freshman Keaton McKinney and sophomores Dominic Taccolini and James Teague.
Taccolini missed all of the NCAA Tournament because of complications from arm tendinitis, and Teague missed the College World Series because of an elbow injury. McKinney pitched through hip soreness his final few stars but went 4 1/3 innings against Miami.
The pitching depth issues the Razorbacks faced in the NCAA Tournament made their run to Omaha seem even more improbable.
"I just appreciate the effort that this team put out this year," Van Horn said. "We've come a long way."
This season marked the sixth time Van Horn has coached a team to the College World Series, including his final two seasons at Nebraska in 2001 and 2002. Prior to this season, he led the Razorbacks to the College World Series in 2004, 2009 and 2012.
"You'll never see me, hopefully, shed a tear when you finish your season in Omaha," Van Horn said. "I'm so proud of these guys."
Van Horn said it was tough to put this season in perspective.
"A few weeks down the road when I'm doing some recruiting, I'll probably get a chance to sit back and reflect on the season," Van Horn said. "I'm probably just going to say, 'Wow. What a year it ended up being after such a miserable start.'
"This team just kept fighting all year for us and for each other. We told them to keep playing and working, and they did everything that we asked them to do."
Andrew Hutchinson of the Democrat-Gazette staff contributed information for this article
Sports on 06/17/2015
Print Headline: Van Horn enjoyed grit shown by Hogs
Sponsor Content