It's not Chambers Bay, site of this week's U.S. Open, but the Country Club of Little Rock and fickle weather conditions inflicted their share of damage on many of the state's top amateur golfers Thursday in the Arkansas State Golf Association championship.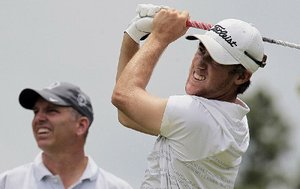 Photo by Benjamin Krain
Seth Garner of Hot Springs tees off from No. 14 at the Country Club of Little Rock as White Hall's Wes McNulty watches during Thursday's opening round of the ASGA amateur state championship. Garner, who won the tournament last year, opened with a fi rst-round 74.
Only two of the 61 golfers in the championship division finished in the red thanks to tricky pin placements along with a steady wind and light rain that fell during parts of the opening round. While none of the seven past champions in the field broke par, Austin Eoff of Benton and Brice Howard of Hot Springs put together solid 1-under 70 rounds to share the lead going into today's second round.
ASGA Stroke Play championship
Country Club of Little Rock (Par 71) Thursday's first-round scores
Austin Eoff, Benton .........................70
Brice Howard, Hot Springs ............70
Cameron McRae, Little Rock .........72
Joey Nichols, Little Rock ................73
Wesley Harris, Hot Springs ............73
Seth Garner, Hot Springs ...............74
Stan Payne, Little Rock ..................74
Wes McNulty, White Hall ................74
"I'll take it with my tail tucked behind my legs and get out of here," Howard said. "My main goal was to keep it in the fairway, keep it between the tree lines. I think I accomplished that for the most part."
Howard, a son of 2014 ASGA Hall of Fame inductee Barry Howard, said he wanted to put together a solid front nine and then try to take advantage of a shorter back side. He accomplished both objectives, going out with a 1-0ver 36 before coming in with three birdies in a four-hole stretch for a 2-under 34.
Eoff, who recently completed his sophomore season at Purdue, hit only 10 greens in his round that included four birdies and three bogeys. He said despite the pin placements, he knew a delicate touch around the greens was needed.
"I didn't hit it great today, but my chipping saved me," said Eoff, who finished 10th this spring for the Boilermakers at the NCAA Regional in Lubbock, Texas. "I got up and down all but once, so it's going to be important to keep doing that these next two days."
While Eoff, 20, and Howard, 21, maneuvered the par-71, 6,764-yard layout well enough, CCLR humbled past champions Wes McNulty, Chris Jenkins and Seth Garner, who as the first threesome to complete its round combined to go 14 over.
"The setup was incredibly hard," said McNulty, a six-time champion who three-putted four times and finished with a 3-over 74 and sits in a three-way tie for sixth. "There was not one easy pin. It was definitely one of the hardest 18 holes of golf I have played in sometime."
Jenkins, who won the 1999 championship at Paradise Valley Golf and Athletic Club in Fayetteville, said he shot himself out of title contention Thursday after his 8-over 79 that included bogeys on the final three holes.
"I seized my opportunity each time to make bogey every possible way," Jenkins said. "I did not have one one-putt because I kept getting in my own way.
"I can't shoot two low-enough rounds to win. I know if the course and the conditions are like this all three days that the winning score won't be under par."
Garner, the tournament's defending champion, recovered from bogeys on four of his first five holes and a 39 on the front nine with birdies on the par-3 11th and par-4 14th to finish at 3 over along with McNulty and Stan Payne of Little Rock.
"Some of the pins were fair but pretty tucked where the pin sheet didn't really help," Garner said. "The wind really had an effect. It was blowing in my practice round but not as much as it did today."
Hot Springs' Drew Greenwood, the 2014 ASGA Match Play champion was 10 over through seven holes on his way to a 10-over 81 thanks to a 9 at the par-4 second.
"I've made quads on a par 4, but I don't ever remember making a nine,"said Greenwood who is in a five-way tie for 40th. "Thankfully there's 36 holes of golf left."
Cameron McRae of Little Rock is in third place after a 2-over 73, while 2011 champion Joey Nichols of Little Rock and alternate Wesley Harris of Hot Springs are tied for fourth a stroke back.
Sports on 06/19/2015