The 65th anniversary season of Opera in the Ozarks has an ambitious musical lineup, a new captain and a flock of humble young talent hoping to impress audiences this summer.
Photo by Courtesy Photo
James Resch and Alyssa Weathersby, playing Papageno and Papagena, perform in "Opera Games," the 2014 outreach opera at Opera in the Ozarks. The 65th season of opera begins today at Inspiration Point near Eureka Springs.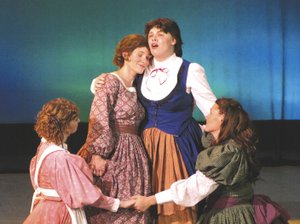 Photo by Courtesy Photo
Emily Murdock, Sarah Bauer, Nicole Woodward and Meaghan Heath appear in a previous production.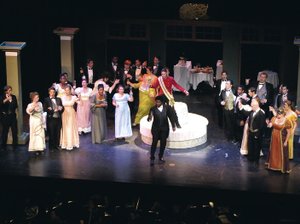 Photo by Courtesy Photo
Tyrone Chambers II plays Eisenstein in a previous Opera in the Ozarks production of "Die Fledermaus."
The 2015 company will perform 22 shows, the operas "La Traviata," "La Cenerentola" and the "Tales of Hoffman," three of the most well known operas there are, from tonight until July 17. The carefully selected 47 members of the company arrived last month from 20 states and four countries for long days of rigorous practice, a summer dedicated to music.
FAQ
Opera in the Ozarks
65th Anniversary Season
WHEN — Today through July 17
WHERE — Inspiration Point Fine Arts Center and Arend Arts Center
COST — $20-$27
INFO — opera.org
They're all under the direction of Nancy Preis, newly named executive director for Opera in the Ozarks, who has been a "professional audience member" of opera for more than 50 years.
She caught some of the earliest performances at the Toledo Opera, back when it was still green and not very good. But she was too young to know any better and fell in love with it anyway.
While Preis was earning her MBA, a faculty adviser learned of her love for the music and -- having a color TV when she did not -- invited her over each time the Metropolitan Opera was broadcast.
Securing good seats at the opera was priority No. 1 when she moved to New York to start her career as an accounting professor and investment banker. Sitting in the dead center in the second row of the highest level of the balcony for eight years, Preis saw enough opera to discern what was good, what was bad and what was merely OK.
"Some were riveting, some were snores, but I only left one opera at intermission," Preis says. "I took a lot of really good naps at the Met."
Preis was promoted from her gig as audience member about 10 years ago when she met Mark Sforzini, principal bassoonist at the Florida Orchestra.
She commissioned a piece of music for her mother's upcoming 100th birthday, but Sforzini was in high demand for that sort of work and during the 18-month backlog, Preis' mother died. Hearing the piece of music he composed, she was touched by how accurately the music reflected her mother's personality. It moved her so thoroughly she declared to Sforzini that there was "nothing I wouldn't do for you," she says. "He gave me the ultimate gift, [mother's] immortality."
Their friendship grew as Preis regularly volunteered at the orchestra, doing the not-so-compelling work of marking violin parts,d finding music and later housing visiting musicians.
Once Sforzini left the orchestra to start the St. Petersburg Opera Company, he required her expertise there too, and she went from friend and volunteer to managing costumes, spurring development work and eventually taking on the role of chief financial officer.
Together, the pair created a successful opera company during a recession. In nearly 10 years of the operation, not a bit has been in the red.
The opening of "Turandot" at St. Petersburg Opera two weeks ago is the first show Preis hasn't been present for in her decade of service there. Instead she was busy readying the Opera in the Ozarks campus, a program she believes is special and has enormous potential.
"I'm needed here," she says. "There are things here I don't want to miss."
More than that, all the eclectic things required of an executive director of a company this size made it seem cut out for her.
"Someone passed the description [of this job] to me, and it was describing me," Preis says. "They're asking of the candidate what I have ... someone with business and fundraising experience, marketing and management and ability to handle finances."
Opera in the Ozarks has a long history of being an opera company run by former singers and other musicians who had come through the program. It began with the purchase of Inspiration Point, a beautiful overlook smack dab in the middle of the Ozarks, in 1928 and the forming of a run-of-the mill music camp in 1950.
Music teachers of the region took care to turn it into something else, a place where serious musicians generally between the ages of 18 and 25 can come to get structured training to kickstart a professional singing career.
This year, the ages of performers span from 8 to the mid-30s. The high standards for everyone involved -- members, pianists, stage directors on down -- excites Preis.
"These are people I want to work with," she says. "I knew about Opera in the Ozarks before I got here ... I'd hired 10 people for St. Petersburg from them. Those were good singers ... this is not a shambola of a program."
During the summer, singers rise for an hour of yoga at the beginning of the day, then begin rehearsal at 9:30 a.m. With the exception of the occasional meal -- for which they provide cleanup themselves, household style -- the training lasts until 10 o'clock most nights.
Tackling three of the most popular and frequently performed operas makes for a tall order. But Opera in the Ozarks is doing it to celebrate 65 years of operation.
"It's a very powerful lineup," Preis says. "Very aggressive. I was stunned when Tom (Cockrell, artistic director) told me what it would be. There are some big vocal demands."
Opening night begins with Giuseppe Verdi's "La Traviata," a tragic romance about a nice boy, Alfredo, who falls for Violetta, a courtesan. Their love is quashed by family politics when Alfredo's father discreetly discourages Violetta from associating with him, for fear of his daughter's reputation and marital prospects. The passionate love story, which debuted in the mid-1800s, is what "Moulin Rouge" and "Pretty Woman" are to be loosely based on.
Next to debut is Gioachino Rossini's "La Cenerentola," a Cinderella story without the glass slipper. In it, Angelina/Cenerentola has a misplaced bracelet, a wicked stepfather and comical stepsisters, and the prince's ex-tutor takes the place of fairy godmother.
The production is in Bel Canto style, which is a difficult style to sing. It requires a flexible voice that can handle long, florid lines and a wide range of tones.
"This is one of the operas that goes in and out of fashion because there's nobody around who could handle singing them," Preis says. Megan Berti is taking on the challenge -- just the singer for the job. "She will have a major career. I think she's going to really be something," Preis says. "Expect to see her on A company stages."
The third and final opera, "Tales of Hoffmann," is dominated by male voices. Essentially three operas in one, the short stories are accounts of failed love as experienced by E.T.A. Hoffmann, who wrote "The Nutcracker." In the first act, which features a very famous aria, he falls in love with a mechanical doll. In the second, he falls for a singer who suffers from a disease that will kill her if she continues to sing. And in the final act, he is deceived by a courtesan. It features a famous duet, the Barcarolle.
"It's one of the most beautiful duets from the mezzo soprano," Preis says. "You can't hear it and not fall in love with opera."
All in all, the selection is prime real estate for professional audience members, whether it's your first trip or next of many to the opera.
"It's a great lineup," Preis says. "In terms of music, [it's] taking you through different periods, and there's a hell of a lot of singing."
NAN What's Up on 06/19/2015