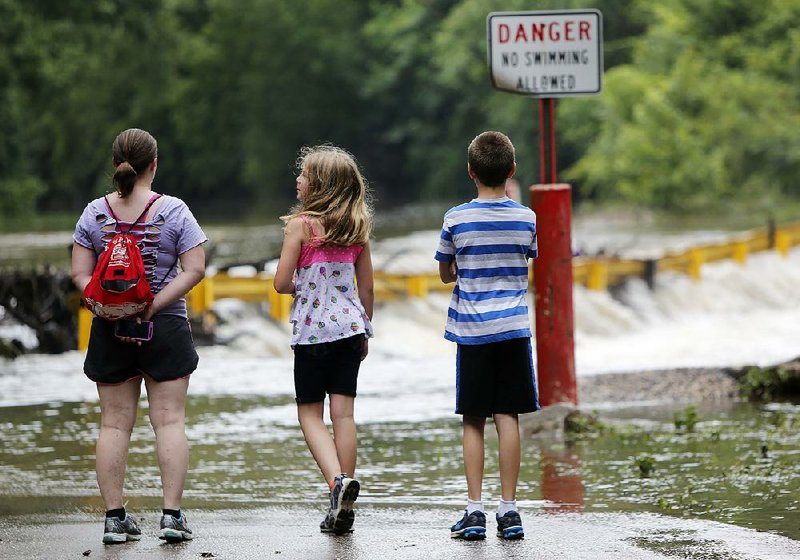 Ksenia Caillouet and her daughter Rayla, 10, and son Rylan, 12, watch the water pour over a low-water bridge Friday on Ball Street in Johnson, where they often walk the trail after rainstorms. ( NWA Democrat-Gazette / David Gottschalk)
Searchers scoured the Buffalo River on Friday for a man feared swept away by floodwaters, as the remnants of Tropical Storm Bill blustered their way across northern Arkansas and out of the state.
The storm, which made landfall along the Texas Gulf Coast on Tuesday and worked its way through central Texas and Oklahoma, changed its course slightly as it entered Arkansas early Friday and sped up, dropping less rain than the 4-6 inches originally forecast in Northwest Arkansas.
Still, Springdale received 3.3 inches of rain over 24 hours. Farmington reported 2.36 inches, and Fayetteville measured 1.94 inches.
Viney Grove, a small community in Washington County, received the most precipitation in the state with 4.25 inches from 7 a.m. Thursday to 7 a.m. Friday.
The rainfall was enough to cause flash flooding in the hilly Ozarks region, where the Buffalo River jumped from 7.6 feet Thursday afternoon to 27 feet Friday evening.
Crews searched for a 23-year-old Missouri man who friends said had been swimming in the Buffalo River at Grinders Ferry near Tyler Bend on Thursday evening. The man showed "signs of stress" and disappeared under the rapid current, said Buffalo National River spokesman Caven Clark.
Teams walked along the flooded river's banks and used two boats equipped with sonar in their search Friday.
"Our search is limited," Caven said. "We expect to see turbid water for days. It's not safe on the river."
Rescuers had not located the lost swimmer by Friday evening.
U.S. Army Corps of Engineers officials urged visitors to Bull Shoals and Norfork lakes to exercise "extreme caution" and watch out for underwater objects, debris moving in fast water and flooded roads. Some campgrounds have been closed.
Heavy rains forced the closure of about six Benton County roads briefly Friday morning, but they were soon reopened once the water receded, said Marshall Watson, the director of the Benton County Office of Emergency Management.
"We certainly spent a lot of time preparing for Bill's arrival, but we were fortunate it wasn't that bad," he said.
Madison County Office of Emergency Management coordinator Lori McConnell said the county received 2-3 inches of rain, but there were no reports of flash flooding.
Tropical Storm Bill made landfall near Matagorda Island north of Corpus Christi on the Texas Gulf Coast on Tuesday and weakened as it headed inland. It strengthened again later, feeding off rain-soaked soil as it moved north into Oklahoma.
A large ridge of high pressure in the southeastern United States pushed the storm farther west Wednesday, and then high pressure and a storm system over Nebraska slowed its progress Thursday.
The storm turned toward Arkansas late Thursday, but yet another ridge of high pressure to the north kept the storm's remnants from moving deep into Missouri. Instead, it crawled along the Missouri and Arkansas border Friday.
It was expected to pass over the Missouri bootheel on Friday evening before heading through the Ohio Valley and into Maryland later today.
"It didn't have the impact we expected," said National Weather Service meteorologist Joe Sellers of Tulsa. "We were afraid it would produce 5 to 7 inches of rain, and up to 11 inches locally. But it picked up speed and moved out quickly.
"It really was pretty docile."
National Weather Service hydrologists altered river forecasts for the Arkansas River as a result. The river has flooded twice in the past two months because of heavy rain from previous storms.
The Arkansas River is expected to crest at 24.7 feet at Ozark early this morning. Hydrologists first thought the river there would reach 28.9 feet today.
Farther downstream, the river level predictions were lowered by 3-5 feet than originally forecast. At Pine Bluff, which on June 4 recorded its fifth-highest river level at 45.9 feet, the river is expected to crest at 39.1 feet Monday afternoon.
"It just didn't produce as much rain as we thought it would," said Chuck Rikkard with the National Weather Service in North Little Rock. "The tropical showers we expected diminished quickly. It wasn't as widespread of an event as it looked like it would be."
The Red River in southwest Arkansas is expected to rise again as runoff from the rains in Texas and southern Oklahoma makes its way into the flooded Lake Texoma.
The lake, which serves as a reservoir for the Red River system, has had water cascade over the Denison Dam only five times in its history. It happened two weeks ago, and Corps officials said water poured over the dam again Friday.
A Corps news release said at least 137,000 cubic feet per second of water is pouring into Lake Texoma, while only 40,500 cubic feet per second of water is released through the dam's floodgates and hydropower generators.
Downstream, the Red River at Pecan Point near DeKalb, Texas, is expected to climb to 33.4 feet by Wednesday. Flood stage there is 24 feet. The river reached 35 feet on June 2, the last time water poured over Lake Texoma's dam.
The Red River at Index in Miller County is forecast to climb to 27.1 feet by Wednesday afternoon -- 4 feet lower than on June 4, when it reached its third-highest crest ever recorded.
"We saw the river levels go down a lot last week," said County Judge Mike Rowe of Lafayette County. "We don't expect to see the flood levels go to what we had recently, but we do expect it to rise again."
Rowe advised farmers to move any cattle and machinery out of areas inside the Red River levees.
"Many of our farmers haven't moved back inside the levees yet," he said.
He and Lafayette County Office of Emergency Management coordinator Danny Ormand spent most of the month inspecting the 40 miles of levees in the county to ensure their structural integrity. Although several "weeped" -- or oozed water -- they held, he said.
"We're relatively happy with the levee system," he said. "We don't want anyone to panic, but the river is going back up."
The water receded enough to allow workers back inside the West Shore Restaurant in Garland to begin cleaning up. More than 4 feet of water entered the restaurant last month when the river flooded.
"It's good the river went down for them, but I'd advise them not to move back in just yet," Rowe said.
State Desk on 06/20/2015
Print Headline: Bill exits quickly, spares state deluge
Sponsor Content