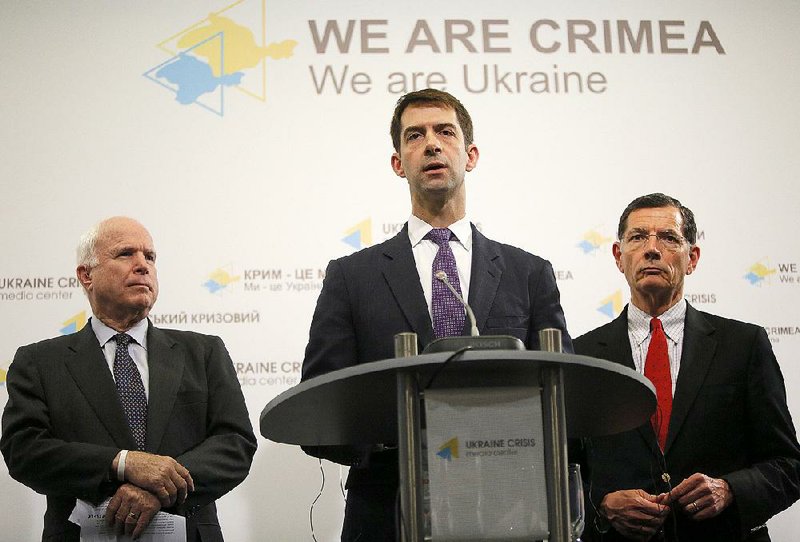 Sen. Tom Cotton (center) of Arkansas, with fellow Republican Sens. John McCain (left) of Arizona and John Barrasso of Wyoming, speaks Saturday in Kiev, Ukraine, after meeting with forces fighting pro-Russia separatists in eastern Ukraine. (AP / SERGEI CHUZAVKOV )
WASHINGTON -- Two University of Arkansas at Fayetteville employees joined representatives from more than 70 colleges and universities around the world Wednesday in Washington to talk about ending hunger on college campuses.
The meeting was the first for PUSH, Presidents United to Solve Hunger, a group of university presidents and international organizations working to address hunger issues.
Angela Oxford, director of the Center for Community Engagement, and Claire Allison, program coordinator for the Campus Hunger Initiative, created the Full Circle Food Pantry and the Razorback Food Recovery program on the campus in Fayetteville.
Oxford said her staff is working with campuses in Arkansas and around the country to set up their own food-recovery and food-pantry programs.
"It's an opportunity for us to meet with other campuses and let them know about the work that we are doing," she said. "So this opportunity has allowed us to network a bit and talk with other campuses and share the model with them."
Allison agreed, calling it a chance to meet other people who deal with hunger on campuses before the University of Arkansas hosts a food-waste and hunger meeting with the Campus Kitchens Project in April.
SECURITY TRIP
U.S. Sen. Tom Cotton, R-Ark., was in Slovakia and Ukraine this weekend with U.S. Sens. John McCain, R-Ariz., and John Barrasso, R-Wyo. He was to attend the GLOBSEC Security Forum in Bratislava, Slovakia, and meet with government leaders and U.S. officials in Ukraine regarding regional security concerns and U.S. interests.
DELEGATION
Several members of the Arkansas congressional delegation attended a picnic with President Barack Obama on the South Lawn of the White House on Wednesday.
U.S. Rep. Rick Crawford attended with his wife, Stacy, and children Will and Delaney. U.S. Rep. Bruce Westerman attended alone. U.S. Sen. John Boozman attended with his wife, Cathy, and daughter Shannon.
Boozman, a Republican from Rogers, participated in the Smithsonian board of regents meeting Monday, his first since becoming a board member. On Tuesday, he visited with students from Prairie Grove Middle School. On Wednesday he visited with Jason Turner of ABF Logistics in Fort Smith with the Transportation Intermediaries Association, and students from Van Buren High School. Boozman met Thursday with Pham Liam of Little Rock to discuss Vietnamese human rights abuses.
Cotton visited Tuesday with the Gaithers family from Little Rock. On Wednesday, he spoke with Mark White and Max Greenwood of Arkansas Blue Cross and Blue Shield, and Montine NcNulty from Little Rock with the Arkansas Hospitality Association. On Thursday, he met with Shaun Harns from Sherwood and Todd Martin from Jonesboro.
Westerman, a Republican from Hot Springs, met Monday with the Arkansas Electric Co-op Youth Tour, and gave a tour to Sabrina Usdrowski-Bagley, Gregory Bagley, Serenity McCaslin, Jaida McCaslin, Charlie McCaslin and Alexis Bigham, who visited from Hot Springs.
On Tuesday, Westerman escorted the Allison family on a White House tour. On Wednesday, he gave a tour to the Skorcz family of Sheridan, and met briefly with Van Buren advanced placement government and politics teacher Teddy McMurray who was in Washington with National History Day students.
Crawford, a Republican from Jonesboro, met Tuesday with the Baxter Bomb Squad, a robotics competition team from Mountain Home High School Career Academies in Mountain Home, and Jim Richards and the Professional Rodeo Cowboys Association.
On Wednesday, U.S. Rep. French Hill, a Republican from Little Rock, visited with students from Arkansas Baptist High School who placed seventh in the SIFMA Foundation's Capitol Hill Stock Market Challenge.
He sat down Thursday with Brooklyn Smith and Clay Evans, both from Bee Branch, who were in Washington with Future Farmers of America.
SUNSET PARADE
U.S. Rep. Steve Womack, a Republican from Rogers, was recognized Tuesday at the U.S. Marine Corps' Sunset Parade.
The free performance known as Sunset Parade has been held at the U.S. Marine Corps War Memorial in Arlington, Va., weekly between May and August since 1956.
It features the music of The Commandant's Own, the U.S. Marine drum and bugle corps, and precision drilling by the Marine Corps Silent Drill Platoon. The memorial is a bronze monument modeled after the famous photo of the second flag raising on Mount Suribachi, Iwo Jima.
PRESIDENTIAL SCHOLARS
Erin K. McShane of Conway High School West, Alan B. May of Episcopal Collegiate School and 119 other graduating high school seniors will be recognized today in Washington as 2015 presidential scholars.
The 30 males and 30 females with the highest SAT scores in each state are invited to apply. Candidates then must submit essays, self-assessments, school reports and transcripts, and are evaluated on their academic achievement, personal characteristics, leadership and service activities.
2016 CONTENDERS
Former Secretary of State Hillary Rodham Clinton was in Nevada on Thursday and spoke with the National Association of Latino Elected and Appointed Officials in Las Vegas before holding a round-table discussion with veterans in Reno. On Friday, Clinton attended fundraisers in Los Angeles. On Saturday she was scheduled to speak at the U.S. Conference of Mayors in San Francisco.
On Wednesday, Mike Huckabee, former Arkansas governor and GOP presidential candidate, held three events in Iowa, including coffee in Creston, a meet and greet at a Pizza Ranch in Red Oak, and lunch at a cafe in Clarinda.
Planning to visit the nation's capital? Know something happening in Washington, D.C.? Contact us at (202) 662-7690 or swire@arkansasonline.com.
SundayMonday on 06/21/2015
Print Headline: 2 from UA join in hunger talks
Sponsor Content