WASHINGTON -- Hundreds of conservative religious voters finish a four-day conference in the nation's capital today after hearing from nearly a dozen Republican presidential candidates, but not Mike Huckabee.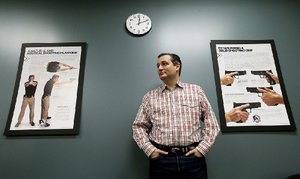 Photo by CHARLIE NEIBERGALL / AP
Sen. Ted Cruz, R-Texas, attends a "Celebrate the 2nd Amendment" event Saturday at a gun range in Johnston, Iowa. Cruz was cheered Thursday after an address at a Christian conservative gathering in Washington. Mike Huckabee skipped that event because of a scheduling conflict, aides said.
Billed as the "premier event for people of faith and conservative activists," the four-day Road to Majority event was held by the Faith and Freedom Coalition and Concerned Women for America, two conservative groups popular with evangelical voters.
Religious, socially conservative voters strongly supported Huckabee during his 2008 bid for the presidency, and two religion-in-politics scholars said last week that they were surprised he didn't attend the conference. Conference attendees were divided on whether him showing up mattered.
The former Arkansas governor had a scheduling conflict, spokesman Alice Stewart said. She wouldn't elaborate, saying "they are not public events."
The public schedule on his campaign website shows Huckabee attended three events in Iowa on Wednesday before the conference began, but it doesn't list events for the rest of the month. He is to return to Iowa for two days this week, Stewart said.
"He's got a full schedule. It's just, there was a scheduling conflict for this weekend," she said.
In April, before he officially announced his 2016 presidential bid, Huckabee spoke to thousands of evangelicals at a coalition-held event in Iowa that was similar to this conference.
Several announced candidates, including Florida Gov. Jeb Bush and Sens. Rand Paul of Kentucky, Ted Cruz of Texas, Marco Rubio of Florida; as well as several people considering bids, like Wisconsin Gov. Scott Walker and Louisiana Gov. Bobby Jindal, each got about 10 minutes to speak to attendees during this weekend's conference.
University of Maine political science professor Mark Brewer said predicting which candidate evangelical voters will support in 2016 is not as clear-cut as it was in 2008.
"Mike Huckabee is the one that jumps out initially obviously given his background as an evangelical minister and his unapologetic socially conservative stance on a variety of issues, but he is certainly not the only social conservative that white, evangelical Protestants might have to choose from," Brewer said.
Brewer -- who studies, teaches and writes about religion in presidential politics -- said some voters may support Cruz, former Sen. Rick Santorum of Pennsylvania or Ohio Gov. John Kasich, if Kasich announces he's running.
"It's going to be interesting to see where they ultimately go and who do they ultimately throw their weight behind," he said. "Once the general [election] comes, even if they are grumpy, they generally tend to fall in line behind the Republican choice because there is no meaningful alternative. They're not going to vote for a Democrat."
Brewer said he was surprised that Huckabee didn't appear at the Faith and Freedom conference in Washington, especially considering the number of evangelical voters in states with early primary contests, like Iowa and South Carolina.
"That doesn't make a whole lot of sense to me," he said. "You would think that would be someplace he would most certainly want to be. He would be warmly received. If I was running his campaign or advising him, I would advise him to be there."
In his 2008 campaign, Huckabee won the Iowa Caucus and finished second in South Carolina behind U.S. Sen. John McCain, R-Ariz.
Brewer said Huckabee shouldn't assume that he'll carry the evangelical vote in 2016.
"Certainly Ted Cruz could swoop in there and take that bloc right away from him. I think Huckabee's appeal is more limited than Cruz's, and because of that, I think Huckabee really has to make sure that he gets his base," Brewer said.
University of Florida political science professor Ken Wald also was surprised that Huckabee didn't attend the conference this weekend, but he said Huckabee doesn't have to prove he supports religious conservatives. Wald wrote the book Religion and Politics in the United States in 2010 and studies the role of religion in politics.
"Huckabee doesn't really have to [go to the conference], to be candid. Huckabee's problem is just the reverse, he's so closely identified with the Christian right that I think he probably wants to branch out to others," Wald said. "In some sense, he's trying to get people to think of him as something other than a Southern Baptist minister."
He said candidates like Bush or Paul have to appear at such events to prove that their bona fide socially conservative.
He said Bush has the challenge that he grew up Episcopalian, converted to Catholicism as an adult and doesn't easily use language familiar to evangelical voters.
Paul's libertarian strain "terrifies them," Wald said. "The reality is there's a huge tension between the economic and social wings of Republicanism," he said.
At the Faith and Freedom Coalition meeting, crowd favorites were apparent. On Thursday, Paul got pleasant applause and a handful of people rose in a standing ovation after he talked about making the Republican Party more accessible to women and members of minority groups.
But the room broke into cheers and the majority of attendees rose to their feet after Cruz spoke about 2016 being "the religious liberty election" and the heartbreak he felt when legislators in Arkansas and Indiana backed away from laws protecting owners of private companies that refuse to serve gay couples.
Afterward attendees were split on whether it mattered if presidential candidates were present for the event.
Linda Schauer, 69, of Leola, S.D., said the absent politicians should have made the trip.
"It matters that they are here, yes, that they take the time to express their viewpoints to the base," Schauer said.
Schauer, South Dakota's state director of Concerned Women for America, said Cruz's speech Thursday solidified her plan to vote for him.
"He's a strong, principled man. He stands on righteousness and biblical principles, and that's what we need, somebody that's not squishy, that's not afraid to stand up for what's right," she said.
For Iowa Caucus attendees, the conference wasn't the first or last time Ann Garton, 75, of West Bend, Iowa, and her husband, Howard Garton, will see presidential candidates. She said she has already spoken in person with each of the declared candidates, except Bush, and has narrowed her list to three candidates, though she wouldn't say who.
She said Cruz's and Rubio's speeches were "fantastic." She said she likes Huckabee as a person, but not as a presidential candidate.
She said a candidate's choice not to attend the conference wouldn't sway her opinion.
"You could see them someplace else," she said.
After listening to several candidates speak during a lunch meeting, Sharon Johnson, 21, of Russellville said the politicians' choice of talking points was fascinating. She called Paul "clever" and said Rubio's speech about his family made her reflect on her parents.
"It's interesting to hear the way they present themselves and what they choose to present, and what they choose not [to]," she said.
Johnson is studying psychology at Oral Roberts University in Tulsa and attended the conference with Young Women for America.
Johnson said she had hoped to learn more about the views held by Huckabee and recently announced candidate Donald Trump at the conference.
She is still undecided about whom to support in 2016.
"It's a little too early, but I feel like this helped," Johnson said.
SundayMonday on 06/21/2015