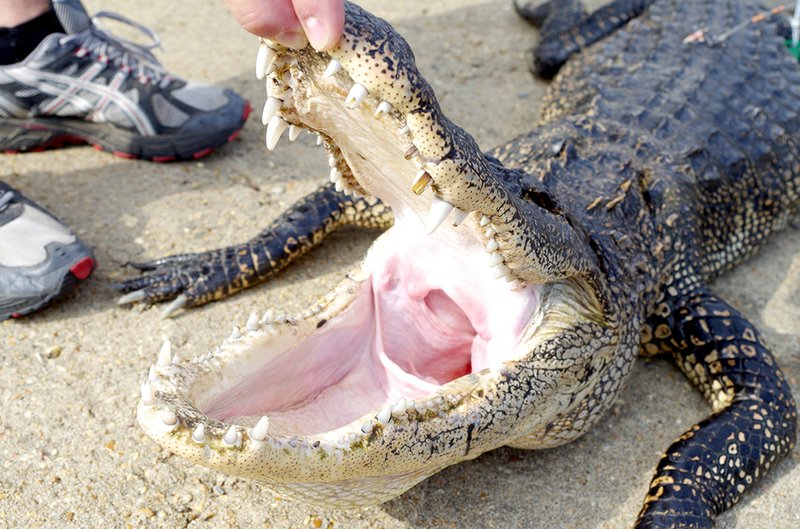 What big teeth you have! Here's a look at the impressive dentures of Keith Sutton's 7 1/2-foot alligator.
Through June 30, the Arkansas Game and Fish Commission will accept online applications for alligator hunting during this fall's season, which will run Sept. 18-21 and Sept. 25-28. You can find the permit application by visiting www.agfc.com/licenses/Pages/PermitsSpecialAlligator.aspx.
Approximately 72 permits will be available, but thousands will apply. I was one of the lucky ones drawn for a 2013 permit after applying unsuccessfully six times. I'd finally have an opportunity to hunt one of the massive reptiles restored to the state's ecosystems during a successful recovery effort that lasted from 1972 to 1984.
I thought I was well-prepared for the hunt. I studied methods for hunting gators and attended a mandatory training session. When the six-day (two weekends) hunt began in September, however, I found out it wasn't going to be as easy to kill an alligator as I thought. What I learned could help you if you draw a gator tag this season.
First, you'll want to decide which areas you'll apply for when you submit your online application. Areas in Alligator Management Zone 1 include the Dr. Lester Sitzes III Bois d'Arc Wildlife Management Area, or WMA; Little River (from Millwood dam to Allen's Ferry); Millwood Lake (from the U.S. 71 Bridge to the dam); and "Private Land At-Large." Management Zone 3 includes the Lower Arkansas River Wetland Complex and "Private Land At-Large."
The best areas to select are those with which you're familiar or, in the case of private lands, where you know there are alligators and you can gain permission to hunt. If you're not familiar with any of these areas, be prepared to do lots of scouting so you will be. Hunting at night can be dangerous if you're not.
I chose the Lower Arkansas River Wetland Complex, a zone in southeast Arkansas that includes Merrisach Lake and portions of the lower Arkansas River and its tributaries. During a lifetime spent hunting and fishing in that area, I had only seen only one small alligator, but being familiar with that zone, and knowing it was home to hundreds of gators, gave me confidence that I could find my quarry.
The rules
Arkansas' strict harvest rules make a Natural State hunt quite different, and more difficult, than gator hunts often depicted in television shows like the History Channel's Swamp People. For starters, when hunting in Arkansas, no bait is allowed. You can't hang a big hunk of meat on a hook and catch your gator that way. You can't go out and just shoot your gator, either.
The Arkansas hunter is required by law to put a snare around the head of the beast he wants to kill, or to drive a harpoon point into the animal's hide, before picking up a firearm. On top of that, the gator must be subdued using the hand-held restraining line attached to the snare or harpoon before the coup de grâce can be administered, and the killing shot must be made with a shotgun using nothing larger than No. 4 shot. Rifles and handguns aren't allowed.
Add to this the facts that all hunting must be done at night (from 30 minutes after sunset until 30 minutes before sunrise), and only the permit holder is allowed to snare, harpoon and dispatch the alligator, with no help from his hunting companions, and you start to get a picture of the difficulties one faces.
The hunt begins
I spent one weekend scouting my hunting grounds prior to opening day, but like a fool, I scouted only during daylight hours and didn't see a single gator. I didn't know it then, but gators are much easier to see at night when a spotlight illuminates their ruby-red eyes. Scouting at night is a must. Here are other lessons I learned as well.
Alligators are extremely wary and cannot be approached closely using an outboard motor. We had one snare and one harpoon with us, each rigged at the end of a sturdy 15-foot pole. But the alligators we saw submerged before we got near enough to use those tools. We had no trouble spotting those red eyes but could get no closer than 100 yards until we learned to cut the outboard and use the much quieter trolling motor to approach. Even then, the gators disappeared before we could close the distance to the 15 feet the poles required. When the boat was within 50 feet or so, we had to use a paddle to cover the final distance.
Gators don't like bright lights. An AGFC biologist noted this during the training workshop and suggested using a spotlight of 500,000 candlepower or less. This we did, but even when paddling, we couldn't close the distance to 15 feet. It wasn't until we turned off the spotlight and started using a much dimmer flashlight to cover those last few feet that we were finally able to get close enough to snare or harpoon a legal (over 4 feet long) gator.
Fellow hunters can hinder your best efforts. The weather was excellent on our second night out, and gators were active. But we found ourselves in competition for hunting spots with other hunters. Dozens of other boats were on the water, and we listened forlornly to gunshots when other hunters killed gators we had found the night before and hoped to kill ourselves.
Changing water conditions can make gators seemingly disappear. When we started our hunt on weekend 2, the gators had all but disappeared. Hunting competition was almost nil, but in three hours, we saw only three small alligators. Gates on the dams above and below us had been opened to release high waters from heavy rains the week before. The alligators responded by leaving their riverside haunts. Where gators had been common earlier, there were none.
Success at last
To compensate, we motored up a bayou and into a shallow lake. At first, we saw nothing. But soon our spotlight illuminated the eyes of an alligator in the distance. We didn't think we could reach the gator, which was in very shallow water near shore. But we did, and when we determined it was a 7- or 8-footer, I harpooned it.
During the battle that ensued, the thrashing gator actually pulled me off the boat's front deck. While my companions laughed, I quickly reboarded and pulled the gator close to the boat. All I had to do then was dispatch the animal with a shot from my 20 gauge. But the gator was facing the wrong way. To compensate, I held the shotgun in one hand, reached out past the gator's head and pulled the trigger. The blast caused the gun to jump from my hand and fall into the river. But my first gator was finally dead.
I never found the gun, but it hardly mattered. The 7 1/2-foot alligator was a healthy specimen with huge teeth and claws. I had invested weeks of study, on-the-water scouting and hunting time trying to achieve my goal of killing an Arkansas alligator. My friends had given up two weekends to assist me. And now that it was done, we could think of only one thing: drawing another permit and doing it again.
Good luck to you. I hope the lessons we learned will serve you well if you're one of the lucky few this year.
Sponsor Content