FAYETTEVILLE — Arkansas outfielder Andrew Benintendi won the Golden Spikes Award on Tuesday, completing a sweep of college baseball's most prestigious awards as national player of the year.
Benitendi was presented the award during a ceremony in Los Angeles. The Golden Spikes is one of two major national player of the year awards alongside the Dick Howser Trophy, with which Benintendi was presented on June 13 at the College World Series in Omaha, Nebraska.
"I am very proud to be the recipient of the 2015 Golden Spikes Award," Benintendi said in a statement to WholeHogSports.com. "If it were not for my coaches, trainers, teammates and parents this would not be possible. I am grateful and humbled to join the long list of outstanding players who have received this award and would like to thank USA Baseball for this honor."
Benintendi is the first Arkansas player to win either of the awards and is the 17th player to win both in the same season. A player from the Southeastern Conference has swept the awards in three of the last four years.
The Golden Spikes Award is presented by USA Baseball and winner determined by a committee of more than 200 voters. The Dick Howser Trophy is voted on by members of the National Collegiate Baseball Writers Association.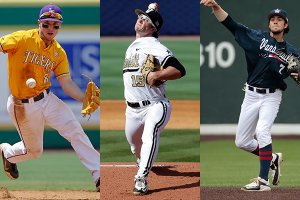 (From left) LSU's Alex Bregman, Vanderbilt's Carson Fulmer and Vanderbilt's Dansby Swanson were other finalists for the Golden Spikes Award. (AP Photos)
Other finalists for the Golden Spikes were LSU's Alex Bregman and Vanderbilt's Dansby Swanson and Carson Fulmer. All four players were selected within the first eight picks of the MLB Draft earlier this month.
Benintendi, the seventh overall selection of the Boston Red Sox in the draft, finished the season with a .376 batting average and national lead with 20 home runs.
He also had 57 RBIs and 24 stolen bases. He was the first college baseball player in six years to record at least 20 home runs and 20 stolen bases in the same season.
In addition to the Golden Spikes Award and Dick Howser Trophy, Benintendi was named national player of the year by Baseball America and Collegiate Baseball newspaper. He was the first Arkansas position player to win Southeastern Conference player of the year as voted on by league coaches.
Benintendi joins a prestigious group of players who have won the Golden Spikes Award, which was first presented in 1978. Notable past winners of the award include Terry Francona, Will Clark, Robin Ventura, Jason Varitek, Tim Lincecum, David Price, Buster Posey and Bryce Harper.
He is the first NCAA sophomore to win the award since Oddibe McDowell in 1984. The award has twice been presented to junior college players.
Benintendi was draft-eligible this season because his 21st birthday fell within 45 days of the draft date. He is expected to sign with the Red Sox before the July 17 deadline.