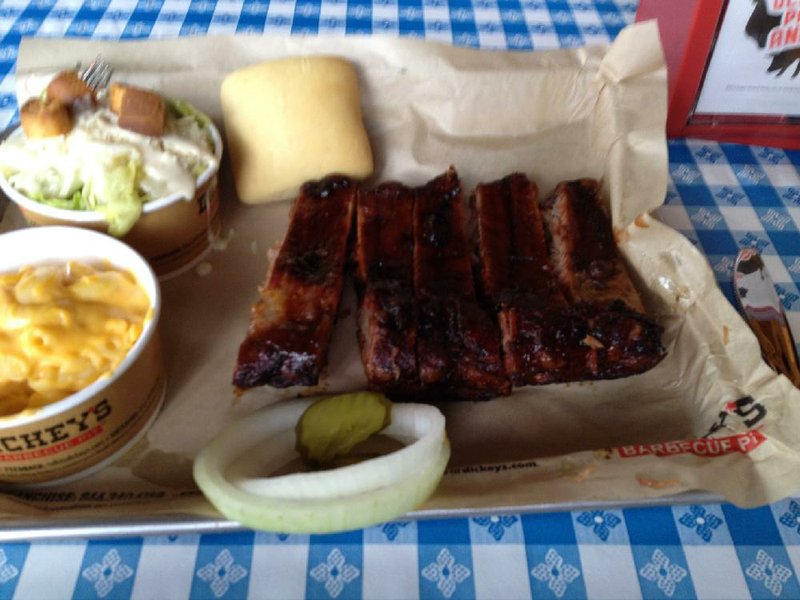 The Rib Plate at Dickey's Barbecue Pit features five bones and two sides (here, Caesar salad and mac & cheese). ( Arkansas Democrat-Gazette / Eric E. Harrison)
For chain barbecue, it's not bad.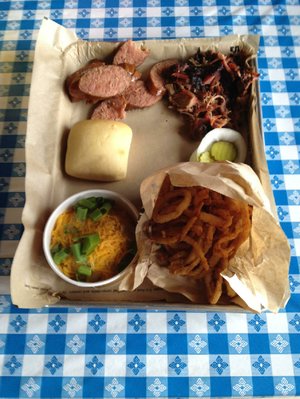 Photo by Eric E. Harrison
Pulled pork and Polish sausage are among the choices for the 2 Meat Plate (with baked potato casserole and fried onion tanglers on the side) at Dickey's Barbecue Pit, off Maumelle Boulevard in North Little Rock.
Dallas-based Dickey's Barbecue Pit has three central Arkansas outlets -- on Main Street in Bryant and Searcy, and the latest, on the upper spur of Crystal Hill Road, just off Maumelle Boulevard (in a three-storefront retail building on a pad in front of the Wal-Mart) in North Little Rock.
Dickey's Barbecue Pit
Address: 13501 Crystal Hill Road, North Little Rock
Hours: 11 a.m.-9 p.m. daily
Cuisine: Barbecue
Credit cards: V, MC, AE, D
Alcoholic beverages: No
Reservations: No
Wheelchair accessible: Yes
Carryout: Yes
(501) 851-8000
dickeys.com
The "barbecue pit" part is apparently for real -- a sign hanging over the counter reads, "Meats are slow smoked on-site daily in our hickory wood pit." There's wood stacked in hoppers by the front window and we actually watched an employee at one point grab a log and take it to the back. (The sign also notes that "due to this, we may sell out of certain items." So you've been warned.)
The restaurant itself looks sort of prefabricated, with a lot of slightly raw-looking wood at or above eye level, corrugated metal along the bottoms of the walls and faux brick around the counter area and assembly kitchen. The dining area has long communal, bus-your-own tables with plasticized blue-and-white-checked tablecloths. The lighting, mostly indirect and pretty dim even in broad daylight, comes from wagon-wheel chandeliers and pin spots that focus everywhere but on the tables.
On one brick-red wall are four blown-up photos, three with musical themes (close-ups of guitar parts and -- is that Jim Croce?) and one of spitted meat in front of the late former President Ronald Reagan and who we guess (the photo's a bit fuzzy) is T.D. Dickey Jr., one of two sons of founder Travis Dickey. (T.D.'s nephew, Roland Dickey Jr., runs the company today.) The soundtrack varies from country to classic rock, from "Wild World" (which Cat Stevens sang when he was still Cat Stevens) to Flatt & Scruggs' Beverly Hillbillies theme song.
Dickey's is certainly a friendly place -- everybody within sight of the door calls out "Welcome to Dickey's" as you walk in -- and it's also kid friendly. Kids eat free on Sundays, but do find the small print: "1 free Kid's Meal per adult meal of equal or greater value. Dine in only, 12 and under. Must order from Kid's Meals"-- that would be chicken nuggets, sandwich or meat plate -- "Not valid with other offers, specials or online ordering."
Order at a station near the door and the assembly line starts, the first person parceling out your meat, the next person preparing your sides and the last person at the register providing your big yellow drink cup ($2.25), toting everything up and taking your cash or credit card. Soft drinks (no beer) are at the back, along with the fancy-looking silvered plastic utensils, wet-napkins, the three kinds of heated barbecue sauce -- original, spicy and sweet, ladle 'em yourself from the soup warmer -- and complimentary soft-serve ice cream cones.
The menu board and to-go menu provide very little information, and if you're a first-time diner, unless you've done your homework at the website (dickeys.com), you're going to have questions. Ours included just what comes on a 2 Meat Plate and how big is a Big Barbecue sandwich. (We didn't realize until we checked the website that the "Bakers" in the "Bakers & Salads" section are baked potatoes.)
The one thing we'd be sure to order again: Dickey's ribs, which we tried via the five-bone Rib Plate ($14.75, including two sides; Dickey's plates also include a couple of pickles, a couple of raw onion rings and a square artisan roll). They're very meaty, and while, despite the website claim, the meat doesn't quite fall off the bone, it does come easily away with very little gnawing. They come well-sauced, and we didn't feel the need to slather on any extra.
That cannot, however, be said for Dickey's bland brisket, which we tried on a Big Barbecue sandwich ($6.50), about on par with the large sandwiches at locally owned and chain/franchise joints. There was sauce on the brisket, but not enough to give it any kind of kick. (We experimented with each of the three sauces and finally came up with a satisfactory three-sauce blend. We doubt, however, that we could reproduce the recipe exactly.)
We paired Dickey's pulled pork with Polish sausage on a 2 Meat Plate ($12.50, including two sides). Our sauce blend worked very well on the sausage slices; we vacillated between sauce and no sauce on the the nicely smokey pulled pork. (Other meat options: barbecue honey ham, spicy cheddar sausage -- "bursting with jalapeno," saith the website -- and smoked turkey and chicken breast.)
Best of the homestyle sides (a la carte, $2.25 individual, $5.95 feeds three to four, $10.95 feeds five to six, $32 feeds 20 to 25), in our humble opinion, is the mac & cheese, which is exceptionally cheesy. (We couldn't watch the kitchen assemble it, but the evidence suggests they add a second dose of cheese sauce before they serve it.)
We also enjoyed, in varying degrees, the barbecue beans, the baked potato casserole (aka BPC, sort of like baked mashed potatoes with a topping of cheese and lots of green onions) and the fried onion tanglers (think thin onion rings). We would not, however, order again the Caesar salad: unchopped chunks of thinly dressed iceberg (not romaine) lettuce that was difficult to extract, crammed as it was into a small cup. (Other choices: jalapeno beans, green beans with bacon, chips, fried okra, creamy coleslaw, potato salad and waffle iron fries.)
Weekend on 06/25/2015
Print Headline: Dickey's BBQ ribs please
Sponsor Content