A recent study reveals that while marijuana isn't as dangerous as our grandparents thought it was, it's hardly a panacea. It can relieve the chronic pain associated with cancer but not the malignancy itself.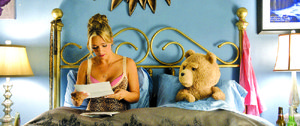 In Ted 2, newlyweds Ted (voice of Seth MacFarlane) and Tami-Lynn (Jessica Barth) want to adopt a baby, but in order to qualify to be a parent, Ted must prove he's a person in the eyes of the law.
This may explain why a pot-smoking teddy bear ceases to be funny after the first movie.
Ted 2
71 Cast: Mark Wahlberg, voice of Seth MacFarlane, Amanda Seyfried, Jessica Barth, Giovanni Ribisi, Morgan Freeman, Sam J. Jones, Patrick Warburton, Michael Dorn
Director: Seth MacFarlane
Rating: R, for crude and sexual content, pervasive language and some drug use
Running time: 115 minutes
It's tempting to wonder if Ted 2 was green-lighted based on the first 10 minutes of material. It's as if director Seth MacFarlane and his co-writers had spent all of their effort and inspiration on a title song and dance sequence that's worthy of 1930s master Busby Berkeley.
Once the astonishingly lifelike Ted (MacFarlane) ceases cutting the rug, the film quickly loses its comic potency. As anyone who has even seen any of MacFarlane's TV shows like Family Guy or American Dad or his movies like Ted and One Million Ways to Die in the West can agree, consistency isn't his strong suit.
MacFarlane's gift is also his undoing: His good-taste-be-damned attitude leads to epiphanies of vulgarity (like the thunder buddies song or the Norah Jones cameo in Ted) that other comics are simply too inhibited to try. But all too often, his gross-out gags are simply gross.
The division between shame-inducing delight and a collection of repellent groaners is more pronounced in the sequel. The first movie was actually poignant because it was about Ted's human best friend, or thunder buddy, John (Mark Wahlberg), and his struggle to grow up.
The teddy bear brought to life by John's childhood wish represented every bit of innocence and immaturity in the man's life, so it was funny watching the foul-mouthed ursine companion getting him in trouble.
In the new story, John is simply along for the ride as Ted tries to prove to the Commonwealth of Massachusetts that he is a person and not a plaything. In the first film, John's relationship with his fiancee (played by Mila Kunis, who's nowhere to be seen here) lent the tale some tension the sequel lacks. John had to make an important choice in that film. Here he just gets past the loneliness of his divorce by sampling all the porn the Internet has to offer.
No wonder neither he nor the bear is that much fun now.
To be recognized as a full citizen, Ted and John consult with a novice lawyer named Samantha Leslie Jackson (Amanda Seyfried). Because Ted was created on an assembly line, her arguments will have to be persuasive. That's even harder because Ted has managed to compile a formidable rap sheet despite the fact that he's not recognized by the law.
Although there are a series of courtroom sequences, Ted 2 feels more like a collection of interludes than an actual movie. By the time Seyfried starts singing, it's hard to tell if the film would be more enjoyable if MacFarlane would just get on with the story or if these breaks are the only thing keeping the film from sinking into complete tedium.
As with the first film, there are plenty of celebrity cameos, but most are simply tired in-jokes. Will quips about Justin Bieber remain amusing a few years from now? Maybe they will if the former pop star manages to embarrass himself again on a forthcoming reality show. For now, it's something best left to late-night comics.
Having not attended the writing sessions, it's hard to tell if MacFarlane and his cohorts missed the comedic potential of a Comic-Con-like gathering because they were having too much or too little reefer.
Regardless, the film itself isn't much fun without chemical help.
MovieStyle on 06/26/2015