President Barack Obama declared 29 Arkansas counties eligible for federal disaster aid Friday for areas affected by storms, tornadoes and flooding from May 7 to June 15.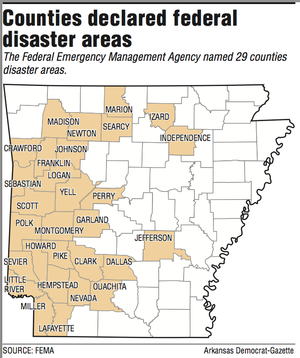 Photo by Source: FEMA / Arkansas Democrat-Gazette
A map showing the location of Arkansas counties declared federal disaster areas.
The declaration allows residents to seek grants and loans to pay for temporary housing, home repairs and losses to uninsured property, and for local governments to obtain reimbursement for debris removal and infrastructure repairs.
The counties listed in the declaration are Clark, Crawford, Dallas, Franklin, Garland, Hempstead, Howard, Independence, Izard, Jefferson, Johnson, Lafayette, Little River, Logan, Madison, Marion, Miller, Montgomery, Nevada, Newton, Ouachita, Perry, Pike, Polk, Scott, Searcy, Sebastian, Sevier and Yell.
Rick Fahr, a spokesman for the Arkansas Department of Emergency Management, said teams from his office and with the Federal Emergency Management Agency completed preliminary assessments last week that estimated storms and flooding caused $6 million in damage.
He expects that estimate to increase as the Red River recedes and farmers in southwest Arkansas access their land for the first time in more than a month. Other counties could be added to an amended declaration later, he said.
"The wheels have been turning on this for a couple of weeks," Fahr said. "We still have more work to do."
Fahr said FEMA representatives will open a field office in Arkansas and several satellite offices around damaged areas where residents can file damage reimbursement claims.
"This will ease the pain," said Kevin Smith, county judge of Howard County. "Repairs come out of our budget. We have to pay that up front, so this will help a lot."
Howard County estimated it cost $817,176 to remove debris left from a May 10 tornado that struck Nashville. Michael Mooneyhan, 29, and his wife, Melissa Mooneyhan, 28, were killed by the twister that struck their mobile home on West Sypert Street in Nashville.
The county also had to repair at least 20 culverts damaged by flooding and six roads that were washed away during heavy rains, Smith said.
The storm also deluged Fort Smith and the Arkansas River Valley with up to 9 inches of rain, flooding the Arkansas River. In May, more than 15 inches of rain fell in eastern Oklahoma and Texas, causing the Red River and its reservoirs to flood.
On Friday, the Red River at Index reached 26.3 feet and is expected to gradually recede to 21.2 feet by Wednesday. The river crested at the Index gauge at 31.4 feet June 4. Flood stage there is 25 feet.
The water was high enough Friday to cause state highway officials to close U.S. 71 north of the Red River in Little River County for the second time in two months because of high water. A 2.47-mile section in both directions between the Arkansas-Texas state line north to Arkansas 380 was closed to traffic.
Highway officials placed barricades, signs and portable electronic message boards along U.S. 71 to warn motorists of the closure.
High water on the Red River also forced the same section to be closed from May 29 to June 14.
Information for this article was contributed by Noel Oman of the Arkansas Democrat-Gazette.
State Desk on 06/27/2015
Print Headline: 29 counties given federal OK for help
Sponsor Content