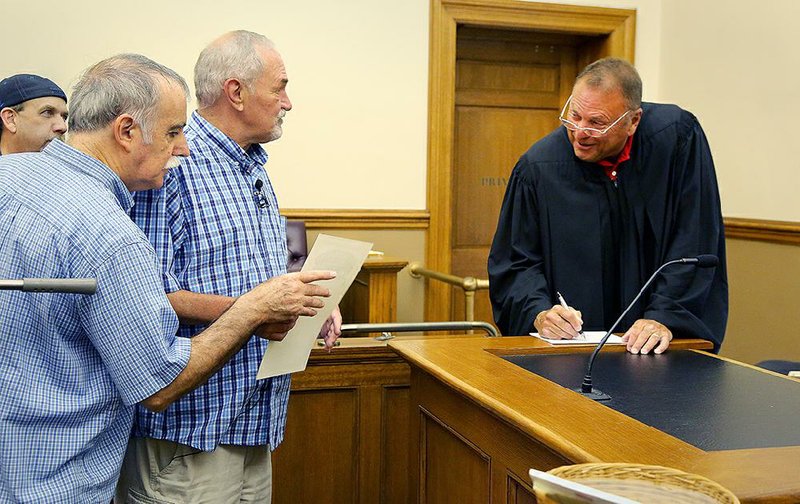 Tony Chiaro (left) and Earnie Matheson became the first gay couple to request a marriage license Friday at the Pulaski County Courthouse in Little Rock after same-sex marriage was ruled legal nationwide. Judge Chris Piazza (right) officiated. ( Arkansas Democrat-Gazette / Stephen B. Thornton)
County clerks across Arkansas began issuing marriage licenses to gay couples Friday after the U.S. Supreme Court ruled 5-4 that states can't prohibit same-sex marriage.
"That's the law of the land, and everybody's got to abide by it," said Tony Rogers, the Carroll County attorney.
Gov. Asa Hutchinson and Attorney General Leslie Rutledge, both Republicans, said Friday that Arkansas will obey the U.S. Supreme Court's ruling in Obergefell v. Hodges.
"This decision goes against the expressed view of Arkansans and my personal beliefs and convictions," Hutchinson said. "While my personal convictions will not change, as governor I recognize the responsibility of the state to follow the direction of the U.S. Supreme Court. As a result of this ruling, I will direct all state agencies to comply with the decision."
Rutledge instructed county clerks to "issue marriage licenses to same-sex couples upon request, requiring exactly the same procedures, fees and other requirements as required for opposite-sex couples."
Earlier on Friday, she issued a statement saying, "Although this decision does not reflect the will of Arkansas voters, we are a nation of laws, and the judicial system has an important role to play. I am disappointed that the justices have chosen to ignore the role of the states to define marriage."
Arkansas voters overwhelmingly backed a constitutional amendment in 2004 banning same-sex marriage.
Nonetheless, "the justices have issued a decision," she said, "and that decision must be followed."
Scott Perkins, spokesman for the Association of Arkansas Counties, said that organization has advised counties to issue licenses regardless of sexual orientation when requested.
He said counties should be "consistent" and make all marriage licenses gender-neutral.
But not every county was ready Friday to issue licenses to same-sex couples.
Some county clerks said it would be next week before computers and license forms could be updated to process gender-neutral marriage licenses.
Scott County Clerk Barbara Whiteley said the software programmer used by Scott and Franklin counties is on vacation and won't return until the "middle of next week."
"At this time, my system is not set up to process" marriage licenses for same sex, Whiteley said. "As soon as the software is changed, we will be issuing them."
In many locations, county clerks said no gay couples had requested marriage licenses.
The number of same-sex marriage licenses issued statewide wasn't known Friday but the busiest counties appeared to be Pulaski County, which issued 12, and Washington County, which issued eight.
Also three marriage licenses were issued to same-sex couples in both Faulkner and Carroll counties, two in Craighead County, and one each in Baxter, Chicot, Jackson and Pope counties.
Friday's numbers were low compared with a hectic week in May 2014 after a Pulaski County judge opened the door, briefly, for same-sex marriages in Arkansas.
Marriage licenses were issued to about 600 same-sex couples that week, primarily in Pulaski and Washington counties, before the state Supreme Court ordered county clerks to stop. Last year, as soon as they got licenses, many of the couples had wedding ceremonies on courthouse steps or in crowded courthouse hallways.
Then, however, there was a sense of urgency, a fear that the window could slam shut at any time -- and it did.
"We haven't had the rush we had before," Pulaski County Clerk Larry Crane said Friday. "There's just not the perceived need to get it done quickly anymore."
Crane said he was "overcome and delighted" with Friday's U.S. Supreme Court ruling.
"We are happy to serve the couples," he said. "We had anticipated this. I believed it would turn out this way, so we had gone ahead and prepared. I've been glowing all day."
Cheryl Maples, an attorney who filed a lawsuit that led to the first same-sex marriages in Arkansas, said Friday was a "fantastic day."
"Equality and love have been recognized by the highest court in the land," Maples said. "The decision is beautiful. I am thrilled for the LGBT [lesbian, gay, bisexual, transgender] community."
Pulaski County Circuit Judge Chris Piazza ruled May 9, 2014, that Arkansas' ban on same-sex marriages violated the state and federal constitutions. Over the next few days, clerks in Pulaski, Washington, Carroll, Saline and Marion counties issued marriage licenses to same-sex couples.
After the state filed an appeal, the Arkansas Supreme Court suspended Piazza's ruling on May 16, 2014, and halted clerks from continuing to issue licenses to gay couples. The Arkansas Supreme Court dismissed that appeal Friday, saying the U.S. Supreme Court decision that morning made the appeal moot.
"There are no remaining justiciable issues in this appeal," according to the unanimous state Supreme Court ruling.
The parties had been waiting for the Arkansas court's decision since November, when oral arguments were made.
On June 9, Pulaski County Circuit Judge Wendell Griffen ruled that state marriage licenses issued to gay couples last year are just as valid as those issued to their heterosexual counterparts.
Jennifer Rambo and Kristin Seaton, both of Fort Smith, were the first same-sex couple married in Arkansas during that brief period in May 2014. They slept in the car so they could be first in line at the Carroll County Courthouse in Eureka Springs.
"Our prayers have been answered," Rambo said Friday. "Words cannot begin to reveal how much happiness is within us. Our family will have protection, and I can securely say that today. The ruling will aid in eliminating the cycle of hate, and will promote the process of accepting one another."
Little Rock attorney Meghan Schroeder, 28, learned about the ruling shortly after it was released Friday.
The decision means she and Little Rock Central High School teacher Leandra Tipton, 32, are abandoning their plans for an out-of-state wedding.
"We're going to get married in October," Schroeder said. "Now it's going to be here."
There'll be roughly 250 guests and "a minister of some sort," she said.
The couple opted not to rush to the courthouse when Judge Piazza opened the doorway, temporarily, for gay marriage in Arkansas.
"To me marriage is very special. ... I wanted it to be something thought out, something planned," Schroeder said.
"I'm really no different than every other little girl who grows up dreaming of a wedding," she said. "The only difference is, in my dream, I'm wearing a tux and I'm getting married to a woman."
On Friday afternoon, Julie Kennedy clutched a bouquet of flowers and her domestic partner, Reneilia Hampton, held their marriage license during their brief wedding ceremony in the Craighead County Courthouse in Jonesboro.
The two women, along with Scott Singleton and Jason Stephens, drove about 20 miles from their Paragould homes to Jonesboro after hearing that the Greene County clerk was not issuing marriage licenses.
(By Friday afternoon, Greene County deputy clerks said they were issuing marriage licenses after hearing the directive from the Arkansas Association of Counties and the governor.)
Craighead County Clerk Kade Holiday held back issuing licenses Friday morning as well, waiting for orders. Once he heard the governor's instructions, Holiday complied, and by 4 p.m., he had issued licenses to two gay couples.
"This is for us," Hampton said after the brief ceremony in the courthouse hallway. Others walked past the small gathering, almost oblivious to the event.
Singleton and Stephens said they planed to get married within 60 days. The two have been together for seven years.
Will Keedy, an admissions representative at a Jonesboro hospital, became ordained Thursday so he could conduct same-sex marriages. He said he had the paperwork prepared before, but registered with the state Thursday in anticipation of Friday's court ruling.
"This makes me happy," said Keedy, who is gay. "I'm more happy for the couples who are now able to be recognized. This is an historical day. I know that one day I will be able to marry the person I choose to."
Amanda Green, 29 and Amanda Ward, 31, of East End, got married Friday afternoon at the Pulaski County Courthouse.
They had a wedding ceremony and recited vows in 2010 on Mount Nebo in Yell County, but the state never recognized that union.
"Today's all about the legality of it," Ward said. "It is a big deal."
Information for this article was contributed by Debra Hale-Shelton, Mara Klecker, Lisa Hammersly, Dave Hughes and John Worthen of the Arkansas Democrat-Gazette.
Metro on 06/27/2015
Print Headline: Again, gays get state licenses
Sponsor Content