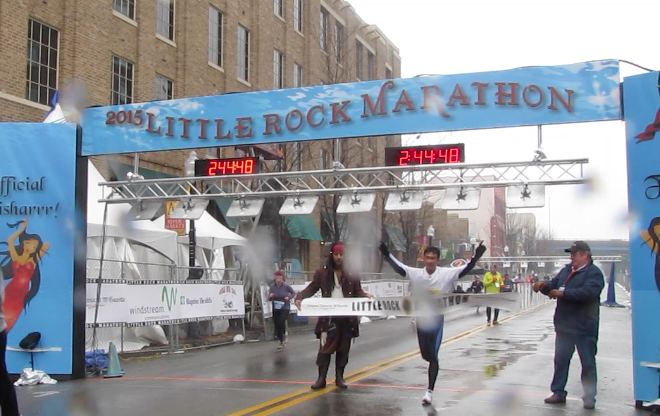 Yao Long, 25, of Changchun, China, crosses the Little Rock Marathon finish line with a winning time of 2:44:49. ( Sara Janak )
Despite dreary weather conditions and a challenging course, Yao Long and Angie Zinkus conquered their first Little Rock Marathon on Sunday.
Long, 25, of Changchun, China, won the event's men's division with a time of 2:44:49. Zinkus, 38, of Eads, Tenn., took home the winning title in the women's division with a time of 2:59:59.7.
This was the first time for both Long and Zinkus to compete in the Little Rock Marathon.
About 10,000 athletes packed the starting line at East Capitol Avenue & Scott Street to take part in the 10K, half-marathon and marathon events, and crossed the finish line at President Clinton Avenue & Sherman Street in the River Market District.
Last year's marathon winners didn't make an appearance this year. Mark Chepses of Iowa crossed the finish line with a time of 2:25:45 and and Leah Thorvilson of of Little Rock finished in 2:42:39 last year.
Zinkus, an experienced runner who has competed in the Boston Marathon, said Sunday's run was extra challenging due to chilly temperatures and a lot of hills along the course.
"I ran two Bostons, and for me this course was much harder."
Read Monday's Arkansas Democrat-Gazette for full details.
Gallery: 13th Annual Little Rock Marathon
Gallery: 2015 Little Rock Marathon - Matt McClenahan
Sponsor Content