Update:
Little Rock police SWAT team officers arrested a man after a more than two-hour standoff at a Little Rock residence Friday afternoon.
Neighbors told police that Charles Pegues, 49, of 3012 W. 12th St. was causing a disturbance about 10:52 a.m., according to a Little Rock Police Department report.
Officers observed Pegues acting "erratically" before running into his apartment, the report states.
Police tried to make contact with Pegues when he started yelling "obscenities" and breaking out windows in his apartment, according to the report.
Officers said Pegues yelled he was "locked and loaded" and "ready to shoot officers," the report states. He also told police he is an ex-Navy Seal.
Police entered the residence after several attempts to get Pegues to come out when they heard the sound of a gun racking, and backed out of the residence and called the SWAT team in, the report states.
SWAT officers announced via loudspeaker about 2:20 p.m. that Pegues had five minutes to exit the home before they deployed non-burning gas.
When Pegues did not comply, the SWAT team shot the gas into the home about 2:25 p.m.
About 2:30 p.m., SWAT team officers escorted Pegues from the home into an ambulance where he was transported to the UAMS Medical Center for treatment, the report states.
The report lists Pegues as "mentally afflicted."
The Little Rock Fire Department responded to the scene to clear the home of the gas once officers determined that no one else was in the residence.
Earlier:
A Little Rock Police Department SWAT team is responding a residence in Little Rock on Friday afternoon.
At 11:52 a.m., residents told police that they were being chased in the area of 12th and Woodrow streets by a black man who was about 49 years old, Little Rock Police Department spokesman Sgt. Cassandra Davis said.
Before police could make contact with the man, he went into his home at 3012 W. 12th St., where officers heard what they thought was a gun making a "racking" sound, Davis said.
Police requested the SWAT team respond to the residence.
Davis said the man, who has not been identified, was making "random threats" to police and there is no indication that anyone is inside the residence with the man.
Follow ArkansasOnline for more details on this developing story.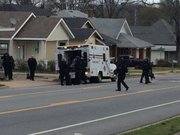 Map
3012 W. 12th St.
3012 W. 12th St.