Sweating in a stuffy Little Rock studio on Monday, dancers with New Creation Dance Company leapt and twirled, their bare feet lightly thudding on the floor. Again and again they moved through the scenes for their latest show, "Love Never Fails," which features a series of vignettes on the abiding love of Christ.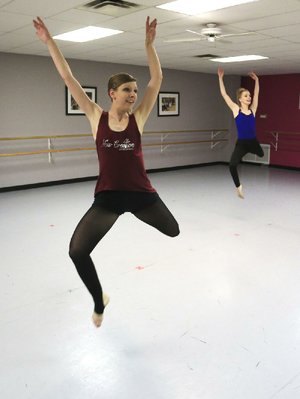 Photo by Rick McFarland
Greta Smith (left) and Kathleen Marleneanu rehearse dance moves for New Creation Dance Company's latest production, "Love Never Fails." The professional dance ministry is based in central Arkansas. Their mission is to share the Gospel of Christ through dance.
The ultimate message -- that the only way to find healing and wholeness is through Jesus -- is one they hope audiences will see and feel through dance.
"We want them to relate, to see that there's hope, that God cares," said Greta Smith, who founded the dance company in 2011 with Curtis Arnold, with assistance from the Arnold Family Foundation.
Smith, who has been dancing 22 years, had wanted to start a dance company for years. She had been performing with the Christian dance company Ballet Magnificat! II and hoped to start something similar in Arkansas.
"Ballet Magnificat was such a neat experience. When I was growing up I idolized them and wanted to stay, but God wanted me to start something here," Smith said.
The collaboration with the foundation helped her achieve that dream.
"I started praying about it, and the wheels just started turning, and we put it out there that we were looking for dancers," Smith said. "We held auditions and people showed up. It was exciting."
When the group first started, they had to seek out audiences, Smith said.
"When we started we had to go looking for places to perform, and now people ask for us," she said.
The Christian dance company now includes Smith, Erin Sanders, Kathleen Marleneanu, Kayla Derrick and Laurel Simon.
The women meet to rehearse and choreograph performances each weekday. They also teach classes for children at two locations in North Little Rock and offer a summer dance camp and special workshops, in addition to performing throughout the year at various churches and gatherings. Early morning risers at the Community Easter Sunrise Service in the River Market District saw them perform last month.
Their new show debuted Friday at Park Hill Baptist
Church in North Little Rock. Future performances of "Love Never Fails" will be at 6:30 p.m. May 9 at First Baptist Church, 204 N. Third St., in Cabot and 6:30 p.m. May 17 at The Summit Church, 6600 Crystal Hill Road, in North Little Rock. The performances are free.
The dance company's name comes from 2 Corinthians 5:17 -- "Therefore, if anyone is in Christ, he is a new creation. The old has passed away; behold, the new has come."
The mission of the nonprofit ministry is to use dance as a way of sharing the Gospel with others, while also restoring dance as a form of worship in the church. The dancers do so through modern dance and classical ballet. Workshops and lessons also include many other forms of dance, such as jazz, tap, contemporary and hip-hop.
Teaching children on a regular basis wasn't planned, Smith said, but after their successful summer dance camps, many parents wanted lessons for their children. The lessons focus mainly on technique but include worship.
"It ended up being a huge blessing," she said. "They are learning how to do dance as worship and they are excited about what we are doing."
Their New Creation Kids class participants perform before each of the main troupe's shows, as they will do for the "Love Never Fails" production. It's their recital time, offering loved ones a chance to see the children perform.
The dancers choreograph shows together. They flit from one studio to another to rehearse because they don't have a home base.
Sanders has been involved since the dance company's start. She had a background in dance but was working as a speech therapist. Friends told her about the new Christian dance company, but she didn't think much about it until the night before auditions.
"I hadn't really danced in nine years," she said. But she auditioned and made the cut. Now dancing is a part of every day for the speech therapist.
Simon, who previously danced with Ballet Arkansas, said working with a dance company focused on ministry is far different from her days at a large dance studio in Seattle.
"You didn't talk about your faith," she said. "I wasn't free to be myself and talk about God. But it's easy in a community that takes dance seriously and worships God."
Derrick was a student at the University of Arkansas at Little Rock when she heard about the dance company. After graduation, she felt like God was leading her in that direction.
"The dance world is pretty competitive and what's awesome in this environment is you feel you are in a safe place and God can use us," she said. "I finally felt confidence in myself and my dancing."
Marleneanu never thought she would dance as a career, but the desire to dance never left. She was teaching dance to middle school students at Benton County School of the Arts (now the Arkansas Arts Academy) in Rogers when she found out about New Creation. Although she enjoyed teaching, she missed performing, so when her contract was up at the school, she joined the group.
"I still get to teach and choreograph," she said. "It's beautiful."
The dancers try to start each rehearsal with prayer and often with Bible study. "It's so we can get our focus on why we are doing this," Smith said.
Despite the near constant rehearsals, the women are committed to their mission to share their love of Christ through dance and to inspire churches to engage in the arts.
"We want to help churches embrace dance as a form of worship," Smith said.
In addition to the show, the dancers are preparing for this year's Summer Dance Workshop, which will be held June 17-20. The workshop is for ages 3 to adults. Registration and information about classes and performances is available online at newcreationdance.org.
Religion on 05/02/2015