Hot Pursuit features violent deaths, immolation, dismemberment, drug use and graphic descriptions of how lady parts work. Thankfully, director Anne Fletcher (The Proposal, The Guilt Trip) and an able cast manage to make the potentially queasy material funny.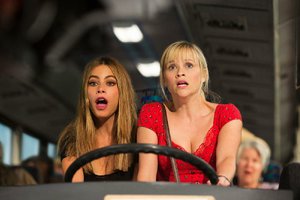 Danielle (Sofia Vergara) and Cooper (Reese Witherspoon) find themselves thrown together on a road trip across Texas in Hot Pursuit.
The storyline is fairly routine, but changing the protagonists to women gives the story, credited to David Feeney and John Quaintance, a freshness it might not have otherwise. Cooper (Reese Witherspoon) is a martinet of a cop who doesn't let her diminutive size or her sex stop her from being the most unyielding officer of the San Antonio police force. Her manner is so brusque that she terrifies a first date (Mike Birbiglia, Sleepwalk With Me).
Hot Pursuit
82 Cast: Reese Witherspoon, Sofia Vergara, Richard T. Jones, Joaquin Cosio, Jim Gaffigan, Mike Birbiglia, Vincent Laresca
Director: Anne Fletcher
Rating: PG-13, for sexual content, violence, language and some drug material
Running time: 87 minutes
Despite her pedantic nature, Cooper is stuck running the evidence room because she's committed a blunder so laughable that police all over the nation joke about "pulling a Cooper."
Her lonely time in the evidence room comes to an abrupt end when she is assigned to help a federal agent (Richard T. Jones) escort cartel accountant Felipe (Vincent Laresca) and his disgruntled wife, Daniella (Sofia Vergara), to a Dallas courtroom to testify against a ruthless drug kingpin, Vicente Cortez (Joaquin Cosio).
Despite formidable preparations she and the experienced agent have taken, the trip to Dallas quickly becomes a bizarre odyssey that starts when two different sets of gunmen show up at the accountant's door and start shooting.
Cooper and Daniella escape the melee on their own and discover that they have little in common except their contempt for each other. Cooper resents all the cash Daniella and her husband wallowed in while she has worked hard to stop their illegal trade, and the tall, elegant mob wife despises the short, hard-nosed officer who may not be able to protect her.
Feeney and Quaintance's script is a little short on sophistication. A few of the plot twists come faster to viewers than they do to Cooper and Daniella.
There's also a sense the filmmakers have settled for gags that could have used some refining to reach their full potential. The women get around a roadblock in a disguise that wouldn't fool the blind.
That said, women on the run have to think of different ways to get out of challenging situations than men do. When Cooper asks if the prisoner in her care is post-menopausal, her male colleagues chortle, but the question is reasonable, because a monthly cycle can make a long road trip difficult.
Vergara and Witherspoon approach their roles as if subtlety were a vice. In this case, they might be right because a less cartoonish approach would have made some of the mayhem less amusing. Witherspoon, for example, speaks in a broad, machine-gun delivery that's topped off by a thick Texas drawl. It gets even more rapid-fire when she inadvertently ingests some of the cartel's merchandise.
Fletcher keeps things moving, which prevents viewers from getting much of a chance to spot more storyline problems. Her past work as a choreographer also comes in handy for the action scenes. Hot Pursuit isn't mentally taxing, but there is something refreshing in a film that at least bothers to meet its own modest goals.
MovieStyle on 05/08/2015