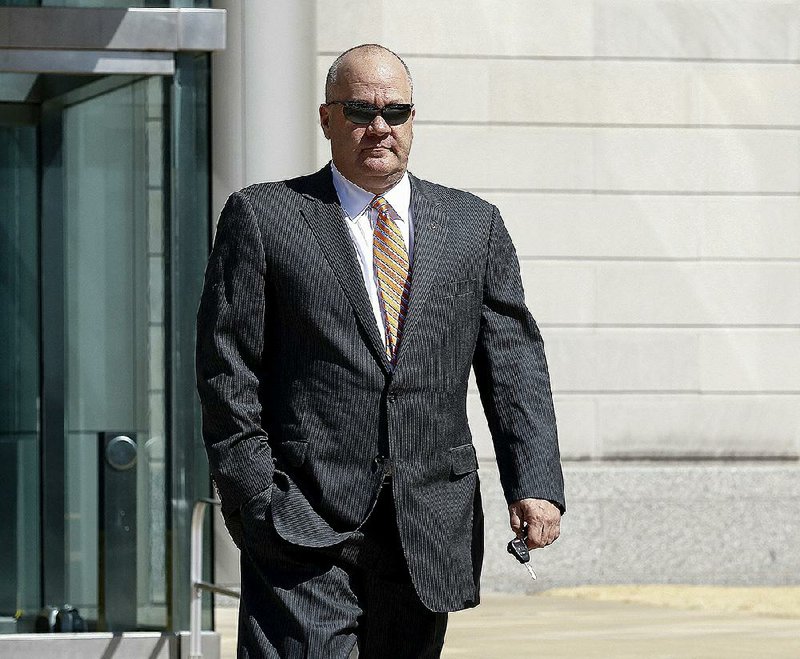 Arkansas Democrat-Gazette/STATON BREIDENTHAL --3/10/14-- Former bond broker Steele Stephens leaves the federal courthouse in Little Rock Monday after testifying in former Arkansas Treasurer Martha Shoffner's trial. ( staton breidenthal / Staton Breidenthal)
Steele Stephens, the bond trader who gave former state Treasurer Martha Shoffner $36,000 in exchange for bond business from the treasurer's office, has been fined $20,000 and his securities license has been revoked, according to an order released Friday.
The Arkansas Securities Department filed a complaint against Stephens last year claiming he sold unsuitable securities to the treasurer's office.
The department has the authority to fine an agent only up to $10,000 for each violation of the state's securities law.
Jack Pruniski, the Little Rock lawyer who acted as hearing officer in the case, found Stephens guilty of two violations of the securities law.
Pruniski found that Stephens violated securities law when he failed to disclose the amount of commission on a proposed sale before a bond matured. Pruniski also found that Stephens violated securities law when he made cash payments to Shoffner.
Pruniski determined that Stephens did not violate two other securities laws.
"This conclusion is based upon the limited number of sales before maturity/call, the determination by the St. Bernard compliance department that the transactions were suitable and the sophistication level of the Arkansas treasurer's office," Pruniski said. "Based upon this information, Stephens had reasonable grounds for believing that the recommended transactions were suitable for the Arkansas treasurer's office."
A federal jury convicted Shoffner on all 14 counts of extortion and bribery last year. She has not been sentenced.
David Smith, chief counsel with the Securities Department, declined to comment about Pruniski's decision. Scott Freydl, the attorney who prosecuted the department's case against Stephens, was out of the office Friday and unavailable for comment.
Stephens already had been suspended from the bond business by a state board. Stephens, who worked for St. Bernard Financial Services of Russellville, was given immunity from prosecution in exchange for his testimony in the federal case against Shoffner last year.
St. Bernard and Robert Keenan, the firm's chief executive, agreed this year to accept a fine of $25,000 in connection with the securities department's complaints.
In 2012, Stephens' inventory of the state's bond business soared to more than $600 million, while the other 10 to 15 brokers who had a share of the state's business were limited to $100 million to $200 million of the portfolio, according to testimony in Shoffner's trial.
At Shoffner's trial, Stephens said he willingly gave Shoffner the money because he "felt sorry for her."
The reason, he said, was because she recently had experienced financial difficulties, the death of her mother and publicity about her use of a state-owned vehicle.
During six hours of testimony, Stephens said the idea to give Shoffner $1,000 a month in six-month increments came about after she suggested that he buy a building in Little Rock so she could continue to live there rent-free and avoid a daily commute between Newport and her state Capitol office.
He said he considered the building a "dump" that wasn't safe for Shoffner, a single woman, and instead offered to give her money so she could afford a nicer apartment in Little Rock.
Eventually, he acknowledged, Shoffner gave him access to the state's bond-trading portfolio, which other brokers who traded with the state weren't allowed to see.
Between 2009 and 2012, Stephens bought or sold bonds in 85 trades on behalf of the treasurer's office, Pruniski noted in his order. Stephens made more than $141,000 in commissions for those trades and for the purchase of replacement bonds bought with proceeds in the 85 trades, Pruniski said in his order, based on testimony in the Securities Department case.
In Shoffner's trial, Stephens acknowledged that between 2008 and 2012, he earned about $2.5 million in commissions as a result of the roughly $2 billion in bond-trading business he did with the state.
Metro on 05/09/2015
Print Headline: Shoffner bond trader fined, license pulled
Sponsor Content