Jaguar Land Rover Limited and Panther Premium Logistics, a subsidiary of Fort Smith-based ArcBest Corp., are entangled in a trademark infringement lawsuit over their leaping feline logos.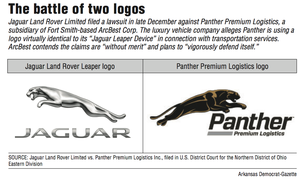 Photo by Source: Jaguar Land Rover Limited vs. Panther Premium Logistics Inc., filed in U.S. District Court / Arkansas Democrat-Gazette
Illustrations and information about the battle between Jaguar Land Rover Limited and Panther Premium Logistics over logos.
Jaguar Land Rover filed the complaint alleging "trademark infringement, false designation or origin, dilution and unfair competition" in the U.S. District Court for the Northern District of Ohio, Eastern Division, last December. The luxury car company, whose English roots trace back to 1922, claims Panther is using a logo virtually identical to its own "famous Jaguar Leaper Device" in connection with transportation services.
"Defendants' use of the infringing logo is deliberate, willful and in bad faith for the purpose of misleading and confusing the public about its association with Jaguar Land Rover, and to trade on the goodwill, reputation and fame of Jaguar Land Rover and its brand," the complaint stated.
Panther, an Ohio-based company ArcBest purchased for $180 million in June 2012, denied the allegations in a March response. The company, which was founded in 1992 and specializes in premium logistics and expedited shipping, also plans to "vigorously defend itself," according to ArcBest's quarterly report filed with the U.S. Securities and Exchange Commission earlier this month.
ArcBest declined to comment on the lawsuit, which is in the early stages of litigation. Stuart Schorr, Jaguar Land Rover's vice president of communications and public affairs, said in an email it was "obviously very important to our brand to protect our trademarks" and declined to comment further.
Mark Henry, a registered patent attorney based with Fayetteville-based Henry Law Firm, said it's evident Jaguar Land Rover is taking a two-pronged approach to the lawsuit.
The first is attempting to prove a trademark infringement by showing there is a likelihood of customer confusion because of the logo. The second is proving that the company is entitled to claim trademark dilution, which he described as a growing trend used by recognizable companies to "broaden their trademark state by establishing the mark to be famous."
"There's special protections for trademark owners who can establish that their mark is famous and has reached such wide, broad, publicly accepted status," Henry said "They now can stop someone from using a mark that is not confusingly similar, but in a way that would tend to tarnish or take away from their famous mark. It's a different standard altogether.
"Normal, nonfamous marks are not allowed to flex their muscles this strong."
Jaguar Land Rover Limited -- which reported about $30.5 billion in revenue for the 2014 fiscal year -- objected to the use of two logos in its complaint: a stand-alone Panther leaping into the air and another used in conjunction with the name "Panther Premium Logistics."
Jaguar Land Rover claims it learned about the first logo in September 2014 when ArcBest filed an intent-to-use application for the stand-alone Panther with the United States Patent and Trademark Office. According to the court filing, Jaguar sent a cease-and-desist letter requesting the company's withdrawal of the application and and its abandonment of the use, or any intended use, of the logo.
The companies tried to resolve the matter amicably, according to court documents. During those discussions, Jaguar claims it objected to Panther's use of the single leaping feline alone or in conjunction with the Panther Premium Logistics word mark.
In its response filed March 23 to the lawsuit, Panther noted that it had voluntarily abandoned an intent-to-use application for the stand-alone logo on Nov. 6 and said the decision was made "without admission of wrongdoing, and was solely based on the desire to avoid a controversy." But the company added that Jaguar was aware of its intentions to shift to the leaping feline in conjunction with the Panther Premium Logistics word mark as early as October 2014 and never objected to its use until the lawsuit.
An attempt-to-use application for the logo was filed on Nov. 13, according to U.S. Patent and Trademark Office records. Panther claimed that it moved forward with what it described as an "extremely expensive" transition to the logo, which was being used on trucks and other vehicles.
The logo also appears on the company's website.
"Defendants invested in their business while reasonably believing Plaintiff would not pursue a claim for trademark infringement against them," Panther said in its response to the lawsuit.
Martin Thoma, a principal at Little Rock-based brand leadership firm Thoma Thoma and author of Branding Like the Big Boys, said it's common for companies like Jaguar to pursue legal action for trademark infringement. Thoma added it's vital for well-known companies to protect their brands, so they constantly look for potential violations and are ready to act with any assumption of infringement.
It can make branding for new companies -- or the re-branding of existing ones -- a challenge. The previous Panther logo, which was not opposed by Jaguar in the case documents, consisted of the partial bodies of two felines extending from either end of the Panther word mark.
"It's not uncommon in the creation and design phase to come up with something that's similar or possible infringement," Thoma said. "We've encountered that plenty of times in our practice. That's just something that, as you're working through this, you're trying to thread the needle and come up with something that's unique, that's appealing, aesthetically correct, but is yours and yours alone."
Panther -- which accounted for $316.7 million of ArcBest's $2.6 billion in revenue in 2014 -- maintains that it has accomplished that threading of the needle in its response to the Jaguar Land Rover lawsuit. The company denies the trademark infringement and dilution claims have merit, that the feline logos are virtually similar or that the "Jaguar Leaper Device" is famous. The court documents also emphasized that the company is using its logo in connection to the transportation of freight, not simply transportation services.
But Henry and Thoma agree the lawsuit could to be costly for Panther depending on the outcome. Among its claims for relief, Jaguar Land Rover is seeking damages and the destruction of all products bearing the logo.
"It can be expensive, time consuming, and it could damage a company," Thoma said. "So you really seek to mitigate that risk on the front end and not end up in a situation where all your reputation and brand equity is at risk because somebody else thinks they own it."
SundayMonday Business on 05/17/2015
Print Headline: Jaguar, Panther show legal claws over logo
Sponsor Content