It's a great thing that no one has told Danish director Thomas Vinterberg he's adapting a classic.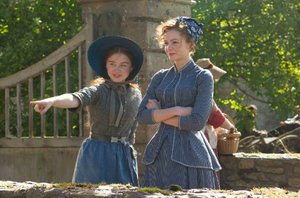 Jessica Barden as Liddy and Carey Mulligan as Bathsheba star in Thomas Vinterberg's adaptation of Thomas Hardy's Far From the Madding Crowd.
His new version of Thomas Hardy's 1874 novel Far From the Madding Crowd may be set in rural 19th-century England, but there's nothing moldy or quaint about the film. Vinterberg and screenwriter David Nicholls (One Day) care about the source material, but they have brought it to the screen in a lean, intimate matter.
Far From the Madding Crowd
89 Cast: Carey Mulligan, Matthias Schoenaerts, Michael Sheen, Tom Sturridge, Juno Temple
Director: Thomas Vinterberg
Rating: PG-13, for some sexuality and violence
Running time: 119 minutes
Nicholls' dialogue is strikingly sparse. Those longing to hear actors bellowing ornate speeches that are baldy desperate pleas for Oscars will be disappointed. Vinterberg and Nicholls instead rely on a talented cast and Charlotte Bruus Christensen's (who shot Vinterberg's The Hunt) gorgeous but occasionally rugged cinematography to do most of the storytelling. The landscape and lifestyle that Hardy described so vibrantly in print receive an equally vivid glance through Christensen's lens. This helps make any discarded subplots or lines of dialogue from the novel go away without being missed.
That said, Hardy's melodramatic but effective storyline remains intact. Carey Mulligan (An Education) stars as Bathsheba Everdene, a young woman who works on a relative's farm and doesn't bother to ride sidesaddle or dream of quickly locating a husband. Unlike other women in Victorian England, she's up for an inheritance and doesn't need a husband to get by financially. Like her aging uncle, she's likely to run a large farm and seems to have the skills to do it.
As a result, she can take her time and carefully select her suitors if she wants them at all. There's a local shepherd named Gabriel Oak (Matthias Schoenaerts, The Drop), who is as loyal as his own sheepdogs. He's awkward but affectionate toward her and doesn't seem terribly romantic even though he's constantly defending her honor from unwarranted rumors.
Another suitor, William Boldwood (Michael Sheen), is just as smitten as Gabriel, but he's older and seems to think that his cash can make up for his lack of charisma. With money of her own, Bathsheba can say no despite the fact that Boldwood is polite and realistic about his chances.
Another prospect, Sgt. Francis Troy (Tom Sturridge), looks great in his army uniform and can do amazing things with a sword. His brash confidence seems to belie his dim future outside of the military. Naturally, he's the one who wins over Bathsheba.
Mulligan enables the audience to follow along with Bathsheba even through her most regrettable decisions. Mulligan projects just enough intelligence to make her character seem misguided instead of stupid.
As with The Celebration and The Hunt, Vinterberg approaches the oft-told tale with a sense of urgency and with little that isn't essential. The running time is just shy of two hours and feels shorter. He and Christensen might go overboard with the handheld camerawork, but Far From the Madding Crowd never plays as if it were being recited by a bored teacher who has forgotten why anyone ever cared for the story in the first place.
MovieStyle on 05/22/2015