A new 13-mile bicycle and pedestrian trail spur linking the Arkansas River Trail in downtown Little Rock with David D. Terry Lock and Dam is scheduled to be completed next month, providing an alternative to the loop dominated by the Big Dam Bridge that proponents say will be attractive to new and experienced riders alike.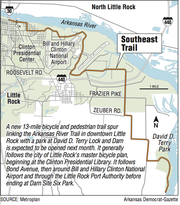 Dubbed the Southeast Trail, it begins at the Clinton Presidential Center, going east and south as it follows Bond Avenue, then out East Sixth and Ninth streets around the north end of Bill and Hillary Clinton National Airport/Adams Field before heading onto East Roosevelt Road, Fourche Dam Pike and through part of the Little Rock Port. It ends at the Dam Site 6 West Park at the lock and dam.
When completed, the trail will have signs and some pavement markings designating it as a route used by bicyclists. No portion of the trail will separate riders from traffic. But proponents of the route say the lack of protection afforded separated trails is offset by the new trail's flat terrain, wide roadways with shoulders, varied landscape that includes industrial and swamp land, and best of all, especially for inexperienced riders, little vehicle traffic.
"On weekends, there is hardly any [traffic] at all," said Rob Stephens, chairman of the Arkansas River Trail Task Force, which is behind the new trail initiative. "It's unbelievable."
Savvy cyclists have ridden some version of the route for years, said John Barton, a cycling enthusiast who blogs about cycling at jbarcycling.blogspot.com.
"People would say, 'Let's go ride the Airport Loop,'" he said, referring to the portion that goes around Bill and Hillary Clinton National Airport/Adams Field. "This will formalize it."
The trail generally follows a route the Little Rock Board of Directors approved in 2011 as part of the city's Master Bike Plan.
The task force pursued development of the trail as a low-cost alternative to building a stand-alone bicycle and pedestrian trail. It's aimed at riders who wanted to venture safely beyond the popular 15.3-mile loop along both sides of the Arkansas River Trail in Little Rock and North Little Rock.
The ride from Two Rivers Park to Pinnacle Mountain State Park and other points west also is popular, but those roads have hills and traffic that can pose challenges to inexperienced riders.
The River Trail is scheduled to be subject to detours as the $98 million project to replace the Broadway Bridge on the Arkansas River between downtown Little Rock and North Little Rock progresses over the next 18 months. The bridge is scheduled to be removed and closed to traffic for six months beginning in May 2016.
Experienced riders say they welcome the new trail.
Darrell Dotson, a Little Rock real estate broker, and Ron Sheffield, a Little Rock attorney, both ride their bicycles about 150 to 200 miles weekly, much of it through their participation in the Major Taylor Cycling Club of Little Rock, which has about 40 members. The club is named after cyclist Marshall W. "Major" Taylor, who in 1899 was the first black American to become a world champion in any sport.
"It's not an exclusively black club," Dotson said. "It's for anybody who wants to ride."
He has ridden in the general area of the Southeast Trail in the past. "It gives us another option," he said.
Sheffield said he figures that by starting at the Two Rivers Bridge, cyclists could get in a 40-mile ride by using both the Arkansas River Trail and the Southeast Trail.
Given the relative flatness of the terrain over the route, "that's a nice, easy ride," he said.
The task force, meanwhile, is enlisting support for the trail. Dassault Falcon Jet already has donated money to help pay for signs, according to Stephens. The company, which has a jet aircraft completion center at the airport, also has committed to adding a fleet of loaner bicycles and upgrading its employee locker areas with showers to encourage its 1,700 employees to commute to work by bicycle or use them during breaks, he said.
Stephens made a pitch for aid from the Little Rock Municipal Airport Commission last week. No final decision has been made.
The Little Rock Port Authority also wants to support the development of the trail, said Bryan Day, the authority's executive director.
The port and its adjoining industrial park are home to 50 businesses and more than 3,000 employees.
"We know there are people out here who ride [bicycles] to work," he said. "We don't know how many, but we want a better marked, safer route for them. We're excited about it."
Metro on 05/25/2015