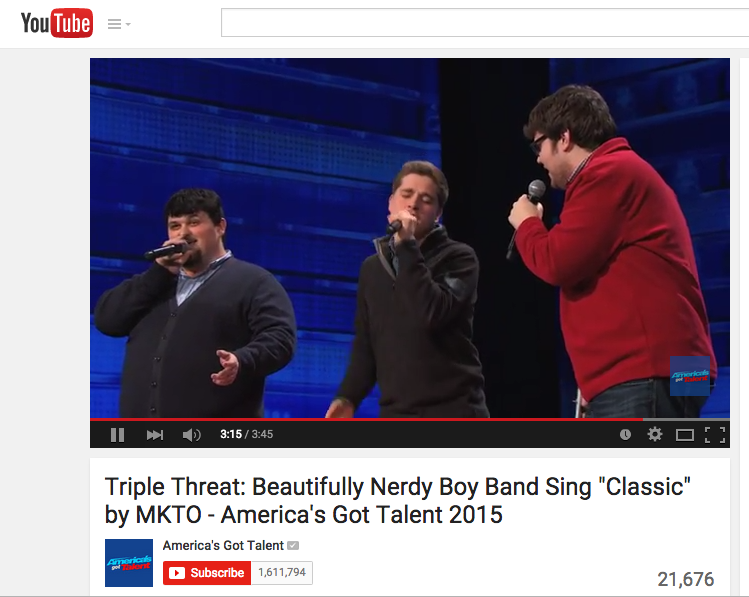 This screenshot from the Youtube video of Triple Threat's America's Got Talent performance shows the trio from Benton singing on the popular NBC program. The full video is viewable below or at the following link.
Triple Threat, a singing trio from Benton known in Arkansas for its catchy Razorback-themed music videos, wowed the judges on America's Got Talent on Tuesday night.
The group, which consists of 21-year-olds Caleb Conrad, Tyler Davis and Will Richey, sang MKTO's song "Classic" on the popular NBC program.
The performance, viewable at left, drew widespread support from the live audience, standing ovations from the show's four judges and a mid-song interjection from host Nick Cannon that "these guys are good." Watch video of the appearance in the player at left.
Each judge voted yes on the audition episode, the season's first, which means Triple Threat will return for another performance. Whoever ultimately wins the talent competition will earn a $1 million prize.
Triple Threat previously drew statewide attention with its Razorback music "Never Yield," a theme-song based on UA's athletic slogan, and "Hey Grude," a parody of "Hey Jude" that unsuccessfully attempted to lure former NFL coach Jon Gruden to Arkansas.
Each has more than 100,000 views on Youtube. The video of the America's Got Talent performance, described by the show as a song from a "beautifully nerdy boy band," racked up nearly 22,000 YouTube views in less than a day.
Sponsor Content