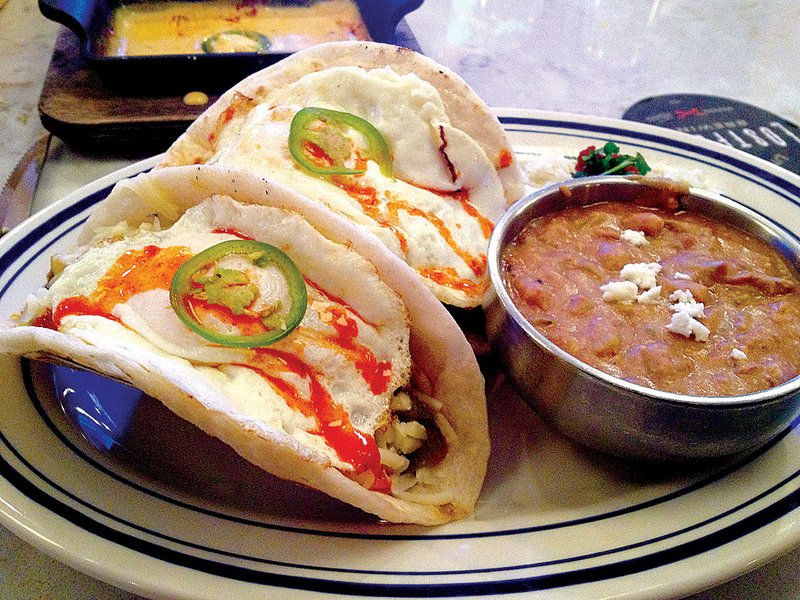 The All-Day Breakfast Tacos at Heights Taco & Tamale Co. feature fried egg, house-made chorizo sausage, Hatch green chile salsa, Jack cheese and Cholula mild sauce. (Arkansas Democrat-Gazette / ERIC E. HARRISON )
The opening of any new project from Yellow Rocket Concepts (Scott McGehee et al., proprietors) prompts considerable anticipation among central Arkansas foodies but none, perhaps, more eagerly anticipated than Heights Taco & Tamale Co. in the former Browning's Mexican Grill in Little Rock's Pulaski Heights.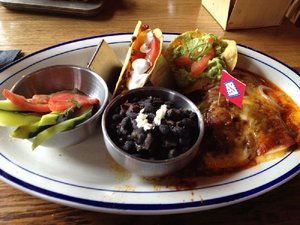 Photo by ERIC E. HARRISON / Arkansas Democrat-Gazette
Heights Taco & Tamale's Plato 1947 — (clockwise from left) tomato-cucumber-mint salad (side item); ground beef taco; guacamole tostada; cheese enchilada with red chile sauce; tamale with chili and cheese; and black beans (side item) — hearkens back to Browning's Saltillo Plate.
There are some definite winners on the menu that McGehee et al. can brag on, and we'll accentuate those positives as they come up. But the restaurant suffers from inflated expectations, in part engendered by Yellow Rocket's successes and McGehee's early promises that, unfortunately, Heights Taco & Tamale simply has not fulfilled.
Heights Taco & Tamale Co.
Address: 5805 Kavanaugh Blvd., Little Rock
Hours: 11 a.m.-10 p.m. Sunday-Thursday, 11 a.m.-11 p.m. Friday-Saturday
Cuisine: "Ark-Mex"
Credit cards: V, MC, AE, D
Alcoholic beverages: Full bar
Reservations: No
Wheelchair accessible: Yes
Carryout: Yes
(501) 313-4848
facebook.com/heightstaco
McGehee told us back when the restaurant was still in development that he was looking at Tex-Mex along the lines of what you'd find in San Antonio or Austin, Texas. (That's a niche in this market somebody desperately needs to fill.) Then he moved northeast a bit and said that, partly in tribute to Browning's long tenure, the emphasis would be "Ark-Mex," an adjective applied to the original Browning's menu -- Mexican-influenced but with an Arkansas accent, plus blue plate specials and other non-Mexican fare.
The menu is a Browning's throwback, or to be charitable, a "tribute," right down to the "Plato 1947," described as "a platter of everything your little Ark-Mex corazon desires," and which bears more than a passing resemblance to Browning's much-mourned Saltillo Plate.
McGehee and his colleagues have proved successively with ZaZa, Big Orange, Local Lime and Lost Forty that they've cracked the code for making food that practically sings to customers. But at least for us, this crew of Ark-Mexicans has swung the pendulum too far in the Browning's direction. And the food isn't quite in the same choir as its siblings.
Just about everything was good, though, and because it's Yellow Rocket, you know it's made with fresh ingredients -- "hardly any cans" in the kitchen, as McGehee has said, and using local produce wherever possible.
But with only a couple of exceptions, it's not extraordinary -- and certainly not worth long table waits, which you will have at even what would normally be considered off-peak periods.
On the positive side: Yellow Rocket designer Amber Brewer has done a fine job with the physical space, (interestingly) keeping the same basic footprint from those Texans who had created an interim, ill-fated and short-lived Browning's successor that kept the name but nothing else about the original.
There are two dining areas -- a spacious main room and a smaller front room -- plus a patio (diners sit on steel stools and feed and drink from a widened front railing). The bar, which fills the eastern wall and dominated the decor before, is friendlier -- notable, as are the ones at Big Orange and Local Lime, for the creative way it displays its bottles and the mounds of fresh citrus, which bartenders squeeze for juices on demand for margaritas, mojitos, etc. (Our $7.50 frozen margarita, very similar to the Local Lime gold standard, was pretty tasty; it came in a short plastic tumbler on which the spray of salt on the side didn't quite work. It's also available on the rocks.)
There are two TVs, a huge one front and center, the other smaller and hidden behind an overhang. There's no sense, as was the case with the interim Browning's, that anyone is trying to make this into a sports bar.
Seating is at center tables and wall-side booths and banquettes at a mix of wooden and metal chairs. Brewer's palette features a lot of royal blues and a minimum of "Mexicality," in stark contrast with the ecru quasi-adobe paint job and Mexican bullfight posters we saw the last time we were in the space. A proud mosaic "H" occupies one part of the kitchen entrance; the word "Hola" (Spanish for "hello," of course) flows through the tile in a sort of '60s script along the front dining room's western wall. A marquee in the main room allows the posting of messages from (and to) staff and diners.
Brewer has added some nice Edison-bulb lighting and done some baffling along the ceiling, which cuts down a bit on the noise, one of the things we really disliked about the chainlike atmosphere of the previous quasi-Browning's. When the place is full, however, and especially when the place is full of high-pitched shriekers, as it was on a recent visit, it's still pretty darn loud.
Menu winners definitely include the cheese dips. McGehee is, as he promised, "leaving out the MSG and canned cheese," creating "something new and great": the Melting Pot Cheese Dip ($6), "inspired by" what McGehee has boasted are "the five greatest cheese dips in Arkansas history," from Taco Kid; the original white-dip recipes from Juanita's and Blue Mesa (which, he says, his father, Frank McGehee, helped create with Mark Abernathy); Browning's; and Mexico Chiquito.
The paprika-dusted dip, garnished with a couple of fresh jalapeno slices, comes in a small iron skillet, a lot deeper than it looked at first glance. It's rich and thick enough to develop a bit of a skin. But it's also thick enough to cling almost adhesively to the fresh, crisp, salt-free half-tortilla chips that arrive overflowing from a wooden berry basket. We also enjoyed the Half and Half ($6.50), the same dip served the same way but with a suspension of braised ground beef (other choices: warm green chile salsa and braised ground beef chili).
We liked the texture of the House Guacamole ($6.25), and while we appreciate that it's prepared to order, though not at table-side (they'd have to charge more for it if they did), we tasted no citrus (in a restaurant full of limes, we expected a good shot) and garlic and particularly onion overwhelmed the flavor of avocado.
The Yellow Rocketeers have proved at Local Lime that they know how to make exciting tacos. We can definitely recommend the All-Day Breakfast Tacos ($11.75, including two side items), two puffy flour tortillas heavily filled with a layer of house-made chorizo breakfast sausage, Hatch green chile salsa and Jack cheese, topped with a fried over-easy egg and a drizzle of mild Cholula sauce. (The same stuff is on the tables in bottles.)
This was excellent in almost every respect, including the combination of flavors and the overall mouth feel. If we had a complaint, it was that having already had a snootful of cheese dip, and when factoring the two side dishes that come with all taco orders and most other entrees, it was just too galldarn much food.
We also enjoyed the hefty Pulled Pork Tacos ($11). The house-smoked pulled pork could have used just a little more zip than it got from the "Delta-Q" and white barbecue sauces, plus shaved cabbage.
Considering that "Tamales" is an integral part of the restaurant name and that McGehee combed southeast Arkansas for exemplars, we felt let down by the sheer ordinariness of Our Signature Pork "Delta" Style Tamales ($4.50 for three, $8.50 for six), shredded pork filling a nice thickness of soft cornmeal with a red chile broth lightly coating the cornshuck wrappings. And yes, it comes with plastic-packeted saltines. It might be worth blowing a buck or two to add cheese dip and/or chili ($1 each). And yes, since you ask, Doe's does do 'em better.
We were also underwhelmed by our chicken Verde Enchiladas ($12 for two; corn-spinach-zucchini is also an option).
Nor did we get much of a thrill out of the "Plato 1947" ($15.50). The best thing on the plate was the Ark-Mex cheese enchilada ($12 a la carte for two), which was about as richly cheesy an enchilada as we have ever encountered, and covered with a red chile sauce that gloppily blended into the chili and cheese topping the next-door tamale.
We liked the simple hard-shell beef taco ($11 for two on the taco side of the menu), a generous amount of seasoned beef, a Jack-cheddar blend and a little sour cream, no veggies, in a crunchy, just-fried shell. The guacamole on the tostada was just as over-oniony, however, as our appetizer.
The restaurant offers four sides; the two involving beans -- the Refried Smokey Bacon Pintos and the Drunken Veggie Blacks, a close cousin to Local Lime's -- are the best, though the black beans were disappointingly soupy the second time we tried them. The Tomato-Cucumber-Mint Salad is pretty simple and a bit blah, tomatoes and cucumber spears with a sprinkle of mint leaves; the Green Chile Tomato Rice had just a hint of green chile and tomato flavors.
You absolutely must save room for Zara Abbasi Wilkerson's Sour Cream Chocolate Fudge Cake ($6), a monster-size wedge that, despite being made from dark (almost black), silky-soft chocolate, was extraordinarily light, possibly containing, and definitely layered with, sour cream, with a just-thick-enough chocolate-fudge icing.
Service was top-notch on all our visits, including at the bar, where on one late-evening visit, we wisely chose immediate seating rather than twiddle our thumbs for 20 minutes to get a table. The staff is friendly and helpful, or even over-helpful (one waiter hovered a little and made recommendations we didn't ask for). A very slight kitchen delay in producing a taco order prompted an unsolicited and surprise delivery of an extra order of cheese dip and chips to keep us occupied.
Weekend on 05/28/2015
Print Headline: Heights Taco: Ark-Mex redux
Sponsor Content