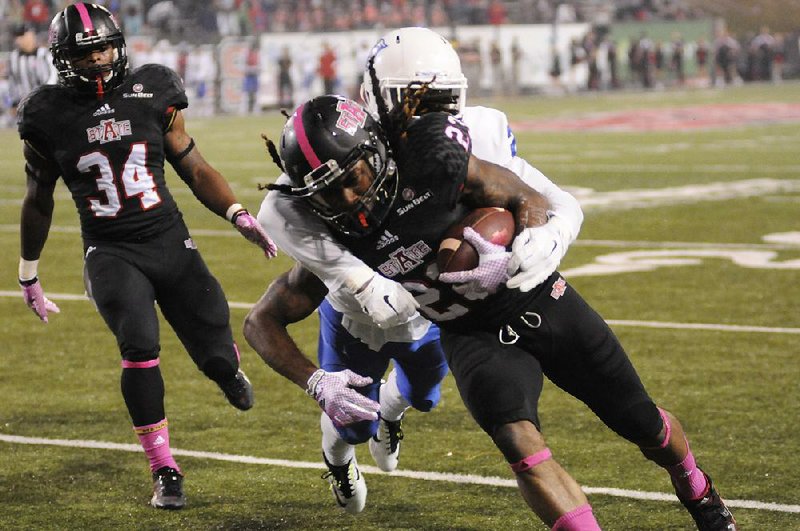 Arkansas State wide receiver J.D. McKissic (front) is pulled down from behind by Georgia State safety Bryan Williams during Saturday's game. ASU came back from a fourth-quarter deficit to win 48-34. (Special to the Democrat-Gazette / KAYLA MACOMBER )
JONESBORO — Arkansas State is set to play its biggest Sun Belt Conference game in almost three seasons Thursday night — and it'll do so on a short week and after making the longest trip for any conference game this season.
ASU Coach Blake Anderson said Monday that neither should be an issue while addressing Thursday's game against Appalachian State during his weekly news conference at Centennial Bank Stadium.
"We both got the same amount of time," Anderson said. "So, I think it comes
back to being healthy and fresh on Thursday night. The game doesn't change for either one of us."
ASU (5-3, 4-0) will make its first trip to Appalachian State (7-1, 4-0) for a battle between the two remaining unbeaten teams in the Sun Belt. The 6:30 p.m. game will be televised nationally on ESPNU, and according to the league office, will be the first time two teams with 4-0 conference records will play since North Texas beat New Mexico State 38-27 on Nov. 16, 2002.
ASU will fly Wednesday into Hickory, N.C., then take a bus an hour to Boone, N.C., where Appalachian State is located.
"The travel is not significant enough to bother us," Anderson said. "I'd love to be playing in front of our home crowd, but that's the way it is any time you travel."
Appalachian State is in its second season in the Sun Belt and has won 10 consecutive Sun Belt games, including a 37-32 victory at ASU last season. The Mountaineers beat Troy 44-41 in three overtimes Saturday and upset defending Sun Belt champion Georgia Southern 31-13 on Oct. 22.
ASU has won four consecutive games, including Saturday night's 48-34 home victory over Georgia State.
"This is where we wanted to be," Anderson said. "But, it's not the end of the season if you lose it, and the season is not over if you win it. You still have work to do."
Sponsor Content