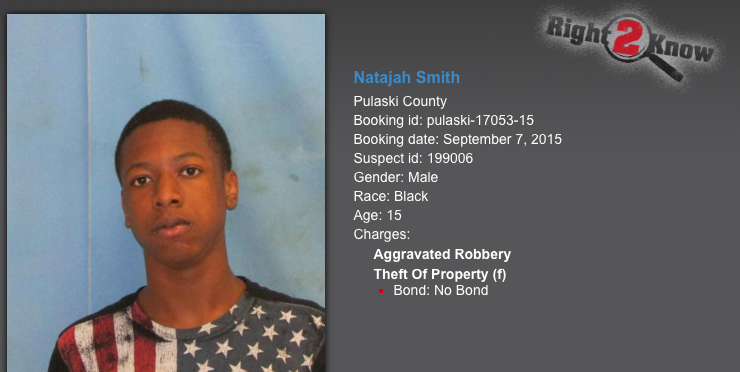 Natajah Smith ( Pulaski County sheriff's office )
A 15-year-old Little Rock boy accused of putting a gun to a man's head to steal his cellphone was ordered Monday to stand trial as an adult after prosecutors argued that his juvenile criminal history shows a pattern of escalating violent behavior.
Natajah Smith, who will turn 16 in January, had petitioned Pulaski County Circuit Judge Leon Johnson to transfer the aggravated robbery and theft charges against him to juvenile court.
He's already facing misdemeanor charges of battery and resisting arrest in juvenile court and has juvenile convictions for criminal trespass, criminal mischief and two counts of disorderly conduct.
Deputy prosecutor Jayme Butts-Hall argued that the evidence shows Smith's crimes are growing more dangerous.
She pointed out that the robbery he's accused of committing, the Aug. 29 holdup of Ryan Moulliet in the 2700 block of South Harrison Street, came two days after Smith was released from juvenile detention.
Moulliet's testimony that the robber walked away laughing, apparently with no concern for getting caught, showed Smith's "blatant disregard for our society," she told the judge.
Johnson denied the teen's request to transfer jurisdiction of the case, citing its "aggressive, violent and premeditated" nature.
The "protection of society" requires Smith's prosecution as an adult, the judge said.
Both of those descriptions are findings the judge is required to make in deciding to prosecute a juvenile in adult court.
"He should know there's some consequences to not following the rules," the judge said.
Defense attorney Lou Marczuk asked the judge to send the boy to juvenile court for another opportunity at rehabilitation. The teen did not testify.
The lawyer asked Johnson to consider a psychological assessment of the teen that showed he has struggled with feelings of worthlessness, helplessness and hopelessness, and suffers from occasional crying jags, homicidal ideations and difficulty managing his anger.
The teen is impulsive, displays attention-seeking behavior that makes him easily influenced by his peers, and has been deeply affected by witnessing years of domestic violence between his parents, Marczuk told the judge.
A letter dated Oct. 27 shows his therapist is confident that Smith can overcome his behavioral issues and recommends continued counseling and medication, the attorney said.
The boy's mother, Sulanda Nelson, testified that her son had once been a "straight-A honor roll" student but that his behavioral problems had caused his grades to fall.
The 37-year-old mother of three also told the judge that Smith had witnessed years of physical and emotional abuse between her and the boy's father, Nathaniel Smith IV.
The senior Smith is now serving a 10-year federal prison term on a human-trafficking conviction for transporting a woman to Little Rock to engage in prostitution.
According to testimony, two women who were caught selling sexual services at local motels in April 2014 described Smith as their pimp and said he subjected them to beatings and "painful, forced sex" if they failed to earn at least $500 a day by prostituting themselves.
Court records show his street name is "Traffick" and that authorities say he helped establish a violent street gang in Little Rock about 25 years ago, although the older Smith has denied the accusation.
According to police testimony, he was still a member of the Blood-affiliated gang, the Monroe Street Hustlers, when he was arrested in April 2014.
Metro on 11/03/2015
Print Headline: LR 15-year-old to be tried as adult on robbery charge
Sponsor Content