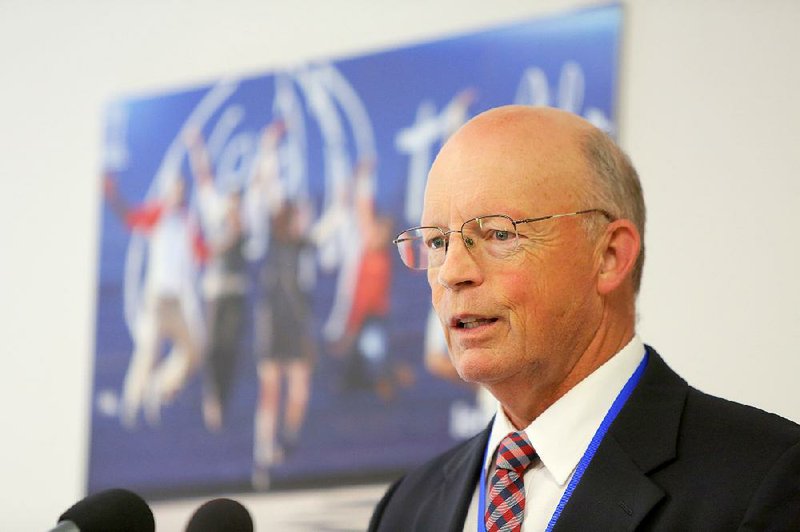 Little Rock School District Superintendent Baker Kurrus is shown in this file photo. ( Stephen B. Thornton)
Superintendent Baker Kurrus said Tuesday that the Little Rock School District can't sustain its more than two dozen small elementary schools while trying to cut at least $40 million from its annual operating budget.
Photo by Source: Little Rock School District / Arkansas Democrat-Gazette
Information about Little Rock School District enrollment.
Kurrus warned that the state's largest district is annually losing students of the middle- and upper-middle classes -- both black and white -- and is in jeopardy of becoming like the Detroit school system, which is, in large part, a shriveled district of last resort for students who don't have other school options.
"The Little Rock School District will not survive if all the kids it serves are children of great need," Kurrus said. "Don't think for a minute that we can continue to have students leave our school district who are easier to educate, more affluent and without special needs, and still have the good old Little Rock School District. It won't be there for you."
Speaking to almost 200 of the city's business and civic leaders at the Rotary Club of Little Rock's weekly meeting, Kurrus -- the state-appointed superintendent since May 6 -- gave a wide-ranging report on the good, the bad and the dire he's found in the district, which was taken over by the Arkansas Board of Education in January because of six academically distressed schools.
Kurrus projected onto screens in the Clinton Presidential Center's Great Hall pictures of happy children he has met in his frequent visits to the schools, often slipping in the back door, seeking out the custodians and eating lunch with the children. He said visiting the schools and meeting the students "makes it real." The students are not widgets but human beings with big dreams, he said.
He also said the state's largest district has huge challenges that include finding ways to compensate for the end of state desegregation aid after the 2017-18 school year, to operate more efficiently and to upgrade school buildings.
The district's total enrollment is 24,829 when 3- and 4-year old pre-kindergarten children are included in the count. Approximately 70 percent of students qualify for free and reduced-price school meals, an indication of low income. There are 2,657 special-education students this year, a number that is about 11 percent of its 23,164 kindergarten through 12th grade student enrollment. The district also has 2,855 students who are learning English as a second language.
He said the district "serves and loves every one" of its special-needs students.
"But if Little Rock School District becomes just the place where kids go when their parents don't elect to send them to private schools, don't elect to move them into other communities or don't elect to send them to charter schools," he said, 'then the Little Rock School District will not continue to exist" as it does now.
He said he is leaving it to the community to decide what to do.
"If you like Detroit, you are going to love Little Rock," he said. "It's that simple. I would be lying to you if I didn't tell you what I know and what I have learned from my studies, which is if we don't change, this community is going to be like Detroit."
Kurrus said he is working with the state-appointed Civic Advisory Committee to look at the possibility of reducing the number of schools in the district as a way to reduce costs.
The Little Rock district has 26 elementary schools of fewer than 500 pupils and six schools with more than 500, according to an Oct. 1 enrollment report on the Arkansas Department of Education website.
Draw circles with three-mile diameters around each of the Little Rock district's elementary schools, Kurrus told the civic club. Some pupils live within 1½ miles of four different Little Rock elementary schools, he said.
"It's not a sustainable model," said Kurrus, who has said the multiple small campuses result in expensive bus transportation costs and inefficient sharing of staff members such as nurses, counselors and music and art teachers.
"We've got to fix this," he said.
Greg Adams, a former Little Rock School Board member and co-chairman of the Civic Advisory Committee, said later Tuesday that a subcommittee is studying the data and the rationale for reducing the school numbers so that it can provide advice to the full committee and to Kurrus.
The subcommittee members include co-chairmen Marq Golden and Kathy Webb, as well as Adams, Joy Springer, Tiffani Jones and FrederickDickins, plus some student representatives.
"I find the argument that we are going to need fewer schools pretty compelling," Adams said, speaking as an individual, not for the advisory committee. "It's hard to imagine that we are going to be a healthy school district five or 10 years from now if we have the same amount of schools and the same amount of empty seats. I don't see that changing. I don't think that in a few years we are going to be able to fill those empty seats."
In contrast to the high number of small schools in the Little Rock district, the Springdale School District -- which is almost as large as Little Rock's district -- has just 17 elementary schools, the smallest of which has an enrollment of 499, he said.
Kurrus cited Roberts Elementary in west Little Rock as a model school. Roberts has about 900 students, the vast majority of whom are achieving academically at their appropriate grade levels.
"It's a great big beautiful school. It's brand new. It's state of the art. Every kid in Little Rock needs to go to a school that is just that good," he said, adding that the state desegregation aid to the district over the years should have been going toward new and improved school buildings.
The district will now have to find ways to cut $37.3 million in state aid from its $319 million budget, and find $10 million more to help finance a bond issue to pay for a new high school in southwest Little Rock and a middle school in the northwest part of the city.
That middle school could help the district retain some of the elementary school families who tend to leave the district when their children reach the age to go to middle school, he said. Two-thirds of the pupils who attend Roberts Elementary leave the district for their middle school and high school educations.
In response to a question from a Rotary Club audience member about the student loss, Kurrus said that the district needs to make sure all pupils finish elementary schools academically prepared for middle school. He said the district's state-labeled academically distressed middle and high schools are so categorized in part because students arrive at their campuses without the academic skills they should have learned at their previous schools.
"Parents want their kids to be around other kids who are on fire to learn," Kurrus said about families leaving the district.
He also said parents want their children to attend middle schools that are close to their homes, and the district is working on that in regard to the northwest part of the city.
The district had 29 more students this year on Oct. 1 than last year, but the increase was the result of the district enrolling a greater number of pre-kindergarten children.
Middle school enrollment fell this year from 5,134 last year to 5,037. High school enrollment dropped from 6,546 to 6,468 this year.
The district's black enrollment dropped from 16,273 last year to 16,184 this year. The white enrollment dropped from 4,451 to 4,354 this year. The enrollment of students classified as "other," increased from 4,076 to 4,291.
Kurrus told Rotary Club members that the district's enrollment of black students has remained relatively constant since the time of a 1998 settlement in a long-standing federal school desegregation lawsuit. That year the black enrollment was 16,753. The white enrollment, however, has dropped by half. The white enrollment in 1998 was 9,790. Only 294 students were listed as "other" that year.
Metro on 11/04/2015
Print Headline: Close schools to cut excess, LR chief says
Sponsor Content